What the 2017 NHL Entry Draft lacks in franchise-altering star power it makes up for with depth and intrigue. Over the past four drafts, Auston Matthews, Connor McDavid, Aaron Ekblad and Nathan Mackinnon were all slam-dunk selections at first overall. This year, we've been treated to intrigue and debate right from the get-go between Nolan Patrick and Nico Hischier.
The debate hardly ends with those two. In all honesty, I can't remember a draft with so much parity and dissent amongst experts and prognosticators. Moreover, the looming expansion draft and expected flurry of activity leading up to it will alter rosters and organizational needs. In one or two instances we could be treated to nothing short of sea change.
It's difficult to pinpoint who will or even might be available when the Bruins select at 18th overall. In fact, it's a pick they might not even make. On June 2, Don Sweeney stated that he's open to the idea of moving the pick for immediate help. Should a deal fail to materialize, Boston's depth and variety of prospects will enable them to select the best player available; a luxury they haven't been afforded in quite some time.
Sweeney has gone off-the-board each year that he's been at the helm; an important thing to remember. Zachary Senyshyn and Trent Frederic were both considered a reach at their respective draft spots within the first round. Senyshyn immediately developed into one of the OHL's premier scorers, while Frederic averaged over a point per game as a freshman at the University of Wisconsin. It has become evident that Don Sweeney has an eye for talent, and isn't afraid to go against the grain to find his guy.
There will be talent on the board when Sweeney steps up to the podium, that much is certain. But which players might still be available at 18th overall while also representing a good fit in Boston?
"The Boston Bruins Are On The Clock…"
Someone is going take a bit of a tumble come draft night. There are just too many players of comparable talent for that not to happen. For one reason or another, Boston could have a real gem fall to them at 18th.
Remember, it was only a year ago that Charlie McAvoy "fell" to 14th overall. And while the three defensemen selected ahead of him could become standouts in their own right, the fact that McAvoy dressed for all of his team's playoff games and looked composed, impressive and beyond his years just ten months after being drafted represents at least an early "steal" for Boston.
Best Case Scenario at the 2017 Draft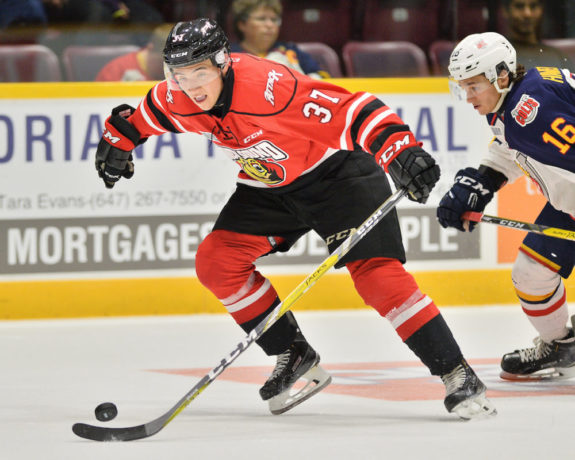 The Bruins don't need 17 teams to pass on Nick Suzuki; he won't represent the best available player or fit for every team ahead of Boston. Realistically, they would only need a couple to pass.
I love Suzuki's game. He has a relentless motor, a high hockey IQ, and a finisher's touch, as evidenced by his 45 goals and 96 points over 65 games in the OHL.  He skates like the wind, gets his nose dirty battling for pucks and plays a strong 200-foot game. Suzuki was featured on Owen Sound's top power play and penalty kill units, showcasing his multifaceted skill set.
His size (five-foot-eleven, 183 pounds) and the fact that he's been a bit of a late-riser could leave him on the board through 17 selections. However, with fewer and fewer teams eschewing real talent because of the size of the package, Suzuki is unlikely to fall past both the Calgary Flames and Toronto Maple Leafs in the two slots ahead of Boston. Should he slip through the cracks because he, say, couldn't do enough pull-ups, Boston must snatch him up. He looks like a future star to me.
Realistic Fits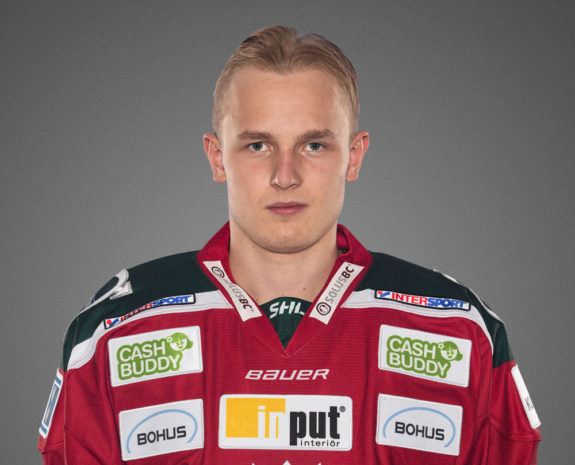 Standing six-foot-three and weighing 207 pounds, Kristian Vesalainen has the kind of size that can't be coached. The big-bodied Finn won't invoke memories of Milan Lucic with his playing style, but is still man-strong, using his frame well to shield the puck and muscle others off of it.
He's a smooth, powerful skater as well, reminiscent of Chris Kreider with his size/speed combination. He's also a possession monster, who looks confident with the puck.
Over the past two U18 World Junior Championships, Vesalainen has recorded eight goals and 19 points in 14 games. During his hat-trick performance versus Canada this past April, he was the best player on the ice. In my opinion, the three goals were the least impressive part of that game. He looked like a man amongst boys.
The knock on him has been consistency and production at the pro level. In a whirlwind season, split between Sweden and Finland's respective pro leagues, he recorded just two goals and seven points in 35 games. Having turned 18 just several days ago, I'm not alarmed by the low point totals for a 17-year-old playing against men. I'm worried even less when considering how well he fared against his peers playing for his native Finland.
Vesalainen is a bit of a project for whichever team drafts him. A full year of pro hockey with HPK this upcoming season will serve him well, and will likely result in significantly increased production.
TSN's Craig Button has him being selected by Boston with the 18th pick.  Should enough teams be scared off by the fact that he's not a "Finnish-ed Product" the Bruins could stand to benefit.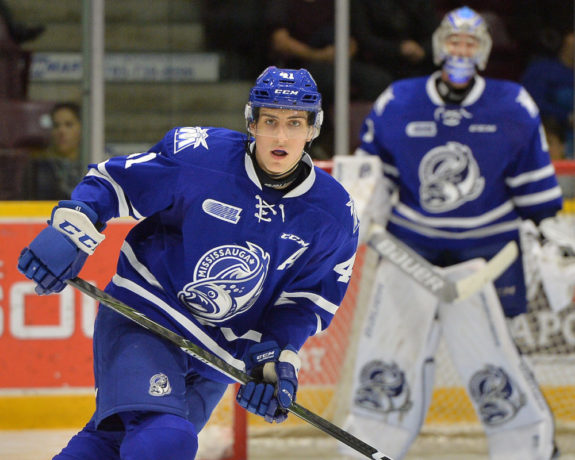 With a towering, left-handed defenseman on his last legs in Boston, his successor could be on the way. Despite being a giant (six-foot-six, 220 pounds), Nicolas Hague is hardly a pylon. Though not as fleet-of-foot as some of his fellow defense prospects, he's not Hal Gil either.
He moves very well for a guy of his size, particularly in a straight line. He's a reliable (if unspectacular) puck-mover and has a booming shot from the point. His 18 goals and 46 points in 65 games are a testament to his growth and confidence in the offensive zone. Defensively, he uses his size and reach nicely, looking like a future shut-down defenseman.
Hague's lack of electrifying two-way ability and his simple, steady game caused him to cede ground in the draft to players like Miro Heiskanen, Cale Makar and Timothy Liljegren. Furthermore, smaller, shiftier players have found some success against him when given time and space.
Zdeno Chara is no stranger to utilizing size and reach to negate an opponent's speed and could serve as an excellent tutor for his potential successor. Plus, the NHL game is less open than the OHL. The commitment to team defense in the NHL (especially in Boston) would go a long way toward hiding Hague's lack of speed.
With Charlie McAvoy looking like the future anchor of the unit, Hague's skill set would be the perfect compliment to his dynamic abilities.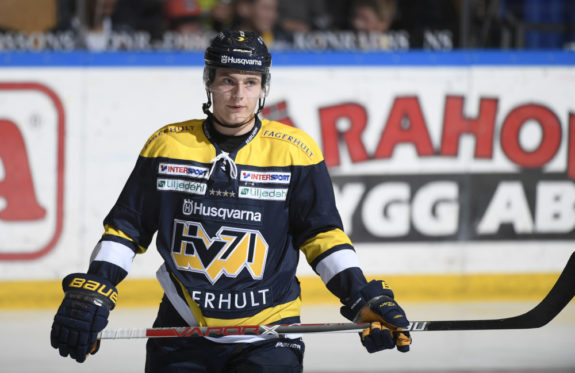 I toyed with including Shane Bowers or Ryan Poehling here, but ultimately Andersson won out. The son of a former NHLer and current scout, Andersson's game is as impressive as his bloodline. Much like fellow countryman and Bruins prospect Jakob Forsbacka-Karlsson, Andersson does it all.
He's a three-zone player, utilizing his swift skating to put opposing defenses on their heels, hem them in on the forecheck or disrupt plays on the backcheck. He processes the game at a high level, and his work ethic and leadership are off the charts. The enthusiasm and effort with which he plays are contagious, and he's capable of playing all three forward positions. Moreover, his wrist shot is lethal.
Production-wise, Andersson can already play with the big boys. At 18 years old, Andersson recorded nine goals and 19 points through 42 games in Sweden's top league, despite playing almost exclusively in a bottom six role. Internationally at the U20 level, he recorded six goals and 15 points through 17 games this past year.
The only critiques of his game are that he might not possess elite talent in any singular capacity and that at five-foot-eleven he lacks ideal size for a center. His versatility, however, makes him one of the safer picks in the 10-20 range. I've seen Andersson go as high as ninth to Detroit and as low as 24th to Columbus in various mock drafts. He'd be hard to pass on for Boston at 18th.
The NHL Draft Contingency Plan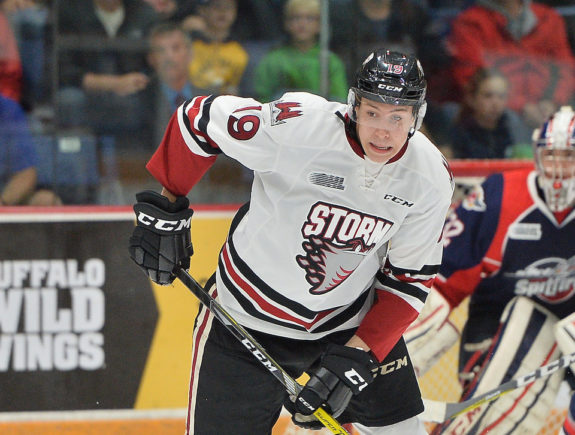 There's a chance that all of the aforementioned players are off the board once Boston steps up to the podium. Should the chips not fall Boston's way, Isaac Ratcliffe is a guy who will likely still be available. Though he's a bit of a reach at 18th, Sweeney and Cam Neely have a history of bucking trends to get their guy. Furthermore, they wouldn't necessarily need to select him at their current draft spot.
Ratcliffe is already a monster at six-foot-six and 205 pounds. He could wind up at 220 or 225 once he's matured; the kind of size Neely, in particular, would fall in love with.
As one might expect, Ratcliffe does most of his damage in front of the net. His 28 goals in 67 games led the way for a Guelph team devoid of any elite playmakers. OHL and Scouting Post writer Dominic Tiano is particularly impressed with Ratcliffe:
 I think he's underrated offensively in some circles. He's a physical beast who can play a very mean game. Almost impossible to knock off the puck and uses his size and strength to maintain possession. Right now, he's probably the best prospect in front of the goal, battling for space and loose pucks and banging in rebounds. We caught a glimpse of that in the Top Prospects game. The scary thought is he's still going to grow and get stronger.
Should none of the aforementioned players be available at 18th, Boston would be well-served to field offers for their selection, with Ratcliffe in mind for later in the round. Last year, Washington swapped picks with St. Louis, moving back just two spots from 26th to 28th. In doing so, they added a third round pick to their repertoire.
The Bruins are without their third round pick this year thanks to the Zac Rinaldo trade. Moving back several spots, selecting Ratcliffe and recouping their missing third rounder makes for a solid contingency plan.
Bruins Draft Targets – Recap
Between their prospect pool, salary cap and good standing leading up to the expansion draft, the Bruins have a bright future ahead of them. June 23 represents an opportunity for the team to further bolster that future at a very deep entry draft. Furthermore, their impressive and varied prospects already in-house will enable them to select the best player available.
All of the first four players listed above would represent good to great value at 18th overall. Should they be off the board once Sweeney steps up to the podium, Isaac Ratcliffe represents an excellent target toward the back end of the round, giving Boston a solid contingency plan and an opportunity to recoup a mid-round pick.
If their first round selection is not used as currency to acquire immediate help, the Bruins will be landing a promising player come draft night.
See you in Chicago.