At face value, the Montreal Canadiens re-signing depth forward Andreas Martinsen is a nothing transaction. It means very little in the grand scheme of things. The one-year, $675,000 price tag is little more than a drop in the bucket. It's damn-near inconsequential to all parties involved. The optics are just horrible, though.
one year, $675,000 https://t.co/I3SVFUzfPG

— Pierre LeBrun (@PierreVLeBrun) June 5, 2017
The Martinsen/ Andrighetto Trade
This is a player that didn't manage a single point in 11 total games with the Canadiens (albeit as a fourth-liner with minimal ice time).  This is a player that got traded for a Sven Andrighetto, who managed 15 points in 19 games as a member of the Colorado Avalanche.
This is a player (Martinsen) that dressed in only the first two of six playoff games against the New York Rangers, before it became tragically clear that the team needed more scoring depth up front to make it to the second round. And this is a team that obviously didn't get it.
No, they didn't get the scoring then. So, naturally, general manager Marc Bergevin re-signs him. They don't seem to get it now, either.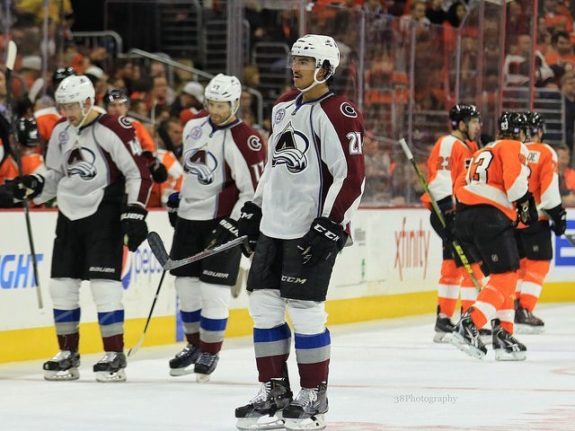 It would have been easy for the team to do its best to sweep the deal under the rug. The Habs would have likely failed miserably in so trying, but at least it wouldn't seem as though they were doubling down on this ridiculous idea Bergevin's moves up front at the deadline paid off.  Dwight King didn't. Steve Ott, now retired, didn't.
Defensemen Brandon Davidson and Jordie Benn were admittedly savvy pick-ups, but they cannot be relied upon to put the puck in the net regularly if at all. And one of the two may be on their way out of town thanks to the Expansion Draft.
A Missed Opportunity
In any case, this was an opportunity for the team to move on and evolve. It must be disheartening for Habs fans to see Bergevin whiff so soon on his first real move of the summer. The one saving grace is he didn't whiff badly. This can all still be somewhat salvaged.
Martinsen promises to be little more than an extra body, a thirteenth forward, if you will. With King, Ott and Brian Flynn poised to hit unrestricted free agency, Bergevin needed to get someone under contract. It technically didn't have to be Martinsen, but here we are.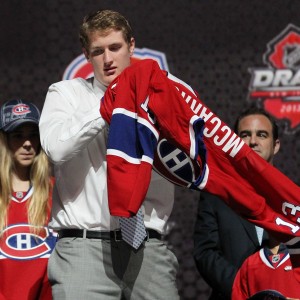 What's perhaps most discouraging is it didn't really have to be anyone, in that players like Michael McCarron, Nikita Scherbak, Charles Hudon, Daniel Carr, Jacob De La Rose and Martin Reway could have conceivably battled it out for the potentially five (now four) open spots available up front. Martinsen's deal is one-way, so at least one is gone for good.
Granted, it's unorthodox for teams to devote so many spots to farmhands, but McCarron has 51 NHL games played to Martinsen's mere 119. That's hardly a game-changing difference. Meanwhile, Carr has 56. De La Rose has 64. Furthermore, the Nashville Predators are icing a line-up in the Stanley Cup Final featuring the likes of Pontus Aberg (15), Frederick Gaudreau (9) and Miikka Salomaki (67).
Sure, that's in part due to the team's injury situation, but, prior to getting hurt this spring, Kevin Fiala had only 60 games of experience too. Over on the Penguins, Jake Guentzel (40) and Josh Archibald (11) have seen the ice to varying degrees these playoffs.
The point is, entrusting young players with responsibility and ice time can be done successfully, as long as those players know what to do with the puck.
Barring a huge free-agent signing, be it Alexander Radulov or someone else with high-end skill, Bergevin had best seriously consider blocking off some of those open spots to be filled internally on a permanent basis, and not just should injuries arise.
There's still hope the Martinsen deal was just one out of convenience and necessity, that he will only draw into the lineup in such an instance, that this isn't a hint of things to come, that Bergevin isn't letting Brian Burke's recent praise and noted affinity for truculence in a given lineup go to this head. It's still early June. There's still time.
It looks worse than it really is, in other words. That doesn't mean it's not bad. There is still hope, though.