Isaac Ratcliffe
2016-17 Team: Guelph Storm (#19)
Date of Birth: February 15, 1999
Place of Birth: London, Ontario
Ht: 6'6" Wt: 203 lbs
Shoots: Left
Position: LW
NHL Draft Eligibility: 2017 first-year eligible
Twitter: @isaacratcliffe
Rankings
THW Alternate Rankings: 38th (January)
Future Considerations: 23rd (Spring)
ISS Hockey: 20th (April)
Hockeyprospect.com: 13th (February)
McKeen's Hockey: 30th (February)
Bob McKenzie: 28th (Mid-season)
Craig Button: 28th (March)
Sometimes, a team's regular-season record doesn't reflect upon a player's individual season. This is the case for Guelph Storm left-wing Isaac Ratcliffe.
Ratcliffe made huge strides in his draft season. In 67 games, he scored 28 goals and 54 points while playing on a team who was near the bottom of the standings all season. To finish with a -2 rating on a team who won just 21 of 68 games is somewhat impressive.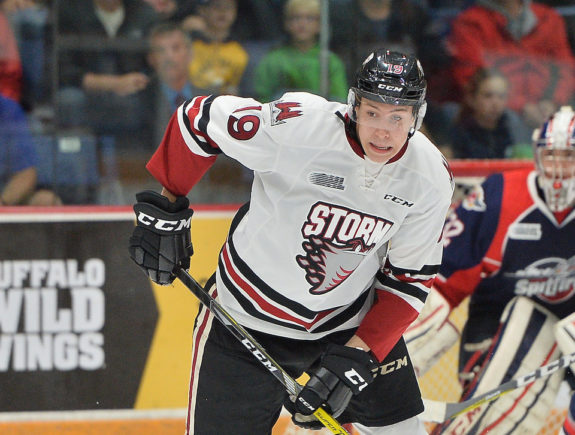 Not only are you getting an intriguing power forward in Ratcliffe, you're getting someone who plays both ends of the ice well. Once he gets the puck, it's hard to get it off him. At 6-foot-6 and over 200 pounds already, he's one of the biggest players in the league. What makes him scary is if his skating improves to go with his size and strength. He showed flashes of this in this year's CHL/NHL Top Prospects Game. He was one of the best players on Team Cherry.
Ratcliffe is a prospect that is likely 2-3 years away from the league. But with the right development and situation, he could become one of the better picks of the draft.
NHL Draft Projection
Ratcliffe should go somewhere in the 25-40 range come draft night. Depends on which teams are there at the end of the first, beginning of the second. His combination of size and skill alone put him in the first-round discussion. A lottery team could take advantage if he falls out of the first round coupling him with a top prospect. Imagine New Jersey adding Ratcliffe to Nolan Patrick or Nico Hischier. I have him 32nd on my list, the first pick of day two.
Quotables
"Tall and gangly with lots of room to add muscle but his on-ice game is progressing at a very good clip this season. Skates better than you would expect a growing 6-6 kid too and has some real offensive potential. Dangerous anywhere around the crease." –Dan Stewart (Future Considerations Scouting Director)

"The power forward who can skate and possesses very soft hands has been coming on lately. I think he's underrated offensively in some circles. He's a physical beast who can play a very mean game. Almost impossible to knock off the puck and uses his size and strength to maintain possession. Right now, he's probably the best prospect in front of the goal, battling for space and loose pucks and banging in rebounds. We caught a glimpse of that in the Top Prospects game. The scary thought is he's still going to grow and get stronger." – Dominic Tiano, OHL Writers

"Had a very impressive Top Prospects game performance where he stood out for his size, offensive ability and his defensive play. While the NHL is allowing smaller skill players more regularly into the league, there will always be a preference to bigger players if all things are equal. Ratcliffe may not have elite hands for the NHL but he is more than adequate and skating is not a liability either. Already at 6-5 at 18-years-old he should project as an ideal power forward." – Peter Harling

 
Statistics
Strengths
Hockey IQ
Play around the net.
Strength
Under Construction (Improvements to Make)
NHL Potential
Ratcliffe projects as a middle-six power forward with some upside. With continued improvement in his skating, he could make a run at becoming a consistent top-six player. The size is tantalizing and he's not done growing. He could approach 220-225 pounds. He could be a force in front of the opponent's net for years to come.
Risk-Reward Analysis
Risk – 3.5/5, Reward – 3.5/5
Fantasy Hockey Potential
Offence – 7.5/10, Defence – 7/10
Awards/Achievements
Isaac Ratcliffe won league championships in three-straight seasons from 2011-12 to 2013-14. He followed that up with a silver medal at the OHL Gold Cup in 2014-15. He also played on Canada's U-18 team, scoring two goals in five games played.
Interview/Profile Links
Videos