As the Philadelphia Flyers head into year four of their rebuild, Ron Hextall, the team's general manager has a lot to be happy about. With five, first-round picks coming through the pipeline and the upcoming No. 2 selection in the 2017 Draft, fans too have placed high expectations on the 2017-18 season.
Hextall's background in scouting, player personnel, and hockey operations has given him an advantage in the draft, as general managers with these kinds of backgrounds tend to fare better with their selections. Since his arrival in May 2014, he's made sure to include both forwards and defensemen in their pool of prospects because he didn't want to end up like Tim Murray, the Buffalo Sabres most recently fired GM, who failed to secure enough half-decent defensemen.
The Sabres have fired both Tim Murray and Dan Bylsma. https://t.co/7Yioumopqw

— John Vogl (@BuffaloVogl) April 20, 2017
Hextall & Defense
After the Philadelphia Flyers finished the 2016-17 season with 88 points, clinched a playoff spot last year and tallied 84 points in Hextall's first year as GM, they managed to stay ahead of the New Jersey Devils every step of the way.
Every way except one that is.
Although their back end is doing quite well, having five out of seven blueliners increase their point production since last year, the Devils rank ninth in the league for highest percentage of goals contributed by defensemen. The Philadelphia Flyers rank 11th and of their 212 goals this season, 16.5 percent were scored by blueliners.
That's not bad considering the league's top 10 teams for highest scoring contribution by defensemen can account for 50 percent of the league's 36 highest-scoring blueliners, with each team having one to three on their roster. The Philadelphia Flyers don't have any, yet they still contend among the best teams for scoring by defense.
This is to be expected because team's without elite scorers find ways to get their defensemen to score goals. Sometimes it's just one defender, like the San Jose Sharks' Brent Burns who leads the NHL's defensemen in goals, while other times, it's the entire defensive corps.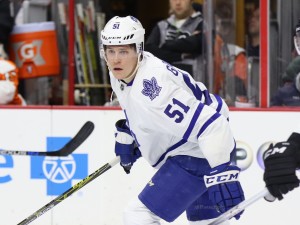 Philadelphia's blueliners have been playing bigger offensive roles since Hextall's arrival and that's indicative of a new style-of-play. They're not the only teams incorporating offensive defensemen into their tactics either.
As we recently witnessed during the first round of the 2017 playoffs during the Toronto Maple Leafs and Washington Capitals series, the Capitals were using way too much physicality against the Leafs' forwards, which gave way to their backend. The result was multiple goals scored by Leafs' defensemen, proving the Toronto Maple Leafs to be worthy contenders for the league's number one ranking team.
In a matter of days, the world of hockey was shocked.
Philadelphia Flyers: Backend to Get Bigger
If we take a look at the Flyers' roster, we'll see their forwards have the exact same average size as their defensemen. The average height of both their forwards and defensemen are six-feet and their average weight is 195 pounds. Interestingly, the average size of their 14 non-roster forwards is 5-foot-11 and 184 pounds. The average size of their 10 non-roster defensemen is 6-foot-2 and 203 pounds. These non-roster players are four to five years younger, on average, and down the road, they'll fill out and gain more weight. The most we can expect them to gain, on average, is 10 pounds.
It would appear that Hextall is interested in using defensemen who're about two inches taller and 10-15 pounds heavier than his forwards.
This is why predicting who Hextall is going to draft at the No. 2 selection in June is challenging. Assuming the New Jersey Devils pick Patrick Nolan at No. 1, the next obvious choice would be Nico Hischier of the QMJHL's Halifax Mooseheads. He tallied 86 points in 57 games during the 2016-17 regular season. Then he scored three goals and four assists during six games of playoffs rights after. He also happens to be the perfect size the Flyers are trending towards.
However, Hischier might not be the next obvious choice at all. Instead, it might be Timothy Liljegren, the draft's top defenseman and here's why.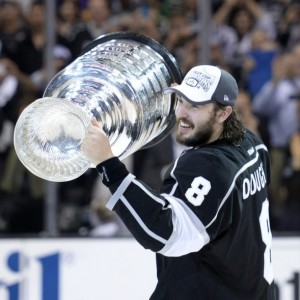 Before Hextall came to the Philadelphia Flyers, he served as the Assistant General Manager of the Los Angeles Kings for six seasons. During his tenure there, the Kings drafted Drew Doughty, one of the league's best defenders. Already, a number of industry experts have pointed out the similarities between the two. Plus, the premium value placed on blueliners right now may encourage Hextall to take advantage of the opportunity. In fact, he might even be uniquely qualified to develop Liljegren into an elite defenseman. If a different team had landed themselves the No. 2 draft pick, perhaps Liljegren wouldn't be so appealing… unless the Buffalo Sabres had the No. 2 pick of course.
As teams begin to combat each other using the same weapons, the league's parity continues to rise. More often than not, winning teams are determined by menial mistakes such as bad passes, lost edging or faked injuries (Alex Ovechkin cough, cough). Obviously, relying on elite-scorers can't be the one and only strategy to win games. An extra layer of scoring on defence is mandatory when it comes to winning them consistently and that's why we're seeing scoring responsibilities distributed more evenly throughout rosters.