The Defensemen Drafted in 2008
The NHL landscape is littered with highly touted defensemen who could never quite fulfill the expectations that come along with a 1st round selection. In fact, you can go year by year for the past decade and come across countless 'blue chip' blueliners who were once upon a time considered the hope of a franchise. Of course you could do this with any position. Everyone suffers from a flare up of failed prospect syndrome every now and then, but compared to their forward counterparts, drafting a defenseman in the 1st round is a much riskier proposition.
With this being such a widely accepted belief it raises the question of why do teams continue to roll the dice on d-men in the first round? There are the obvious answers of drafting the best player possible or taking someone that fits your organizational need, but there is also the hope that they'll hit the blueline jackpot. They're hoping that they'll sift through the A.J. Thelen's of the hockey world and pull out a Chris Pronger or Scott Niedermayer. They're dreaming of drafting a franchise defenseman that will lead them to the promised land.
Of course that jackpot dream doesn't blind anyone of the harsh reality that the odds of snagging an elite defensemen in the 1st round are not in their favor. Since 2000 you can pretty much count these types of franchise cornerstones on a single hand. NHL GMs understood this risk when 12 defensemen were selected in the first round of the 2008 draft. They knew that some of them would inevitably falter and earn the brand of 'flop' (looking at you Colten Teubert and Tyler Cuma), but they also knew that someone in the bakers dozen of talented blueliners could potentially be their jackpot. What none of them could have guessed was that of the 12 d-men taken, three of them would become the best defensemen the NHL has to offer.
Drew Doughty – 2nd Overall Selection – Los Angeles Kings
There was no denying who the best defenseman in the 2008 draft class was. Standing six feet tall and weighing in at 213 pounds, Drew Doughty was physically ready to skate at the NHL level. Scouts had gushed about his ability to join the rush and the offensive prowess he displayed in the OHL in his three seasons with the Guelph Storm. NHL Director of Central Scouting, E.J. McGuire, even went as far to say that 'he is a defenseman around which a team is going to build their next 10 years'.
It didn't take long for Doughty to justify that praise. As an 18 year-old rookie he logged the most minutes per game for the Kings (23:49) and tallied 27 points in the process. In his second season he saw his minutes increase to 24:58 (13th amongst NHL d-men) and more than doubled his point production to 57, which placed him third amongst NHL defensemen.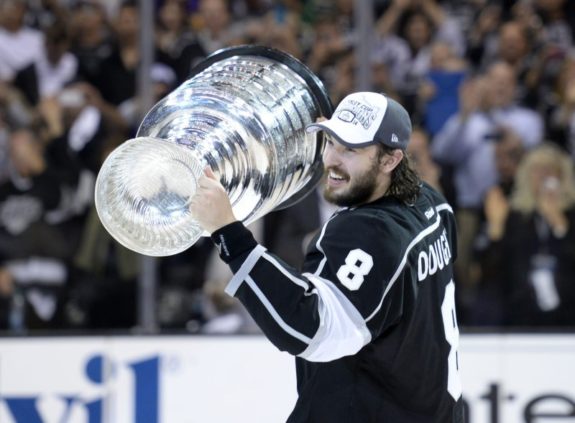 Although he hasn't come close to that 57 point mark in the three seasons since, Doughty has still managed to develop into one of the premier blueliners in the game. He has evolved into a physical presence on the ice (something scouts had worried about) that acts as a shutdown defenseman who is more than capable of providing a jolt to the offense at any given moment. Basically, he's turned himself into the swiss army knife of defensemen.
After five years it's safe to say that the Kings struck gold with Doughty. At the age of 24 he already has a Stanley Cup and two Olympic gold medals to his name. All thats left is the coveted Norris trophy, and with the way that he is playing in 2013-14, that might come sooner rather than later.
Alex Pietrangelo – 4th Overall Selection – St. Louis Blues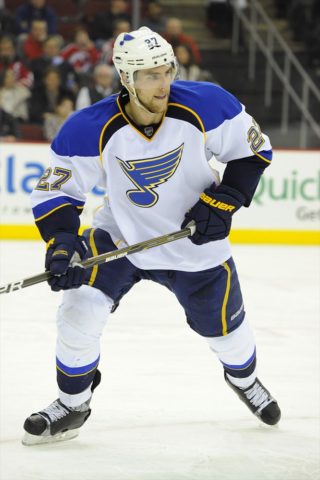 The theory with Alex Pietrangelo was that at the time he wasn't  considered the best defenseman in the 2008 class, but he just might develop into that title in the next five years. He was the type of player that had all of the necessary tools for an elite defenseman (size, skating, poise, etc), but no one could guarantee that all of those tools would fully blossom at the NHL level.
The St. Louis Blues accepted that risk when they took him 4th overall and have been reaping the rewards ever since. In his first full season with the Blues he tallied 43 points and logged 22 minutes per game. In his second season he boosted both of those totals, racking up 51 points and 24:43 of ice time per game while anchoring the best defensive team in the entire NHL. All of that led me to believe that he was the heir apparent to Nick Lidstrom's Norris throne.
The lockout shortened 2012-13 season was a step back for Pietrangelo (24 points in 47 games with a +0 rating) but the memory of that tainted season has been all but wiped clear thanks to a superb showing in 2013-14. His 44 points in 66 games puts him on a pace to shatter his career high of 51 and he is once again the anchor of a Blues team that has the Presidents trophy in their gaze.
Erik Karlsson – 15th Overall Selection – Ottawa Senators
Six defensemen were drafted before Erik Karlsson's name was called by the Ottawa Senators. None of those six d-men can claim that they were once considered the best defenseman in the entire NHL. Erik Karlsson can.
No one can necessarily blame the GM's who passed on Karlsson during the draft. Although he had been named best defenseman at the IIHF World U18 Championship there wasn't a lot of information on him out there. That didn't deter the Ottawa Senators from moving up in the draft (from 18th to 15th) to take snag the talented offensive-defenseman.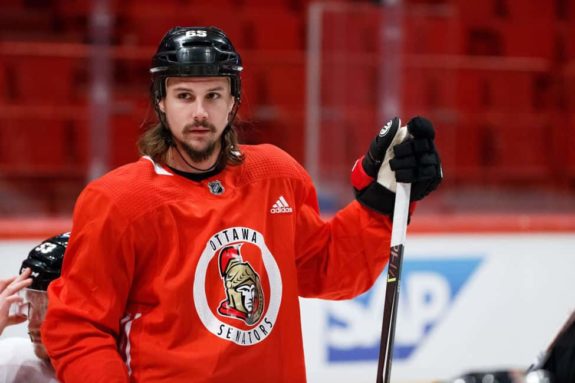 In the span of five years he has gone from a talented offensive-defenseman to the best the NHL has to offer. His ability to jump into the rush and find holes in the offensive zone is unparralleled amongst blueliners. He proved as much when he went on an offensive tear in 2011-12, accumulating the most points by a defenseman (78) since fellow Swede Nick Lidstrom bagged 80 in 2005-06.
He'll always be criticized for his apparent lack of defensive gifts (whether that's justifiable is debatable) but with the way that the defensive game is trending (more value being placed on the offensive side of the puck) he will always be considered one of the best in the league. And as long as he keeps putting up a near point per game pace (2013-14: 0.89 points per game) he'll be in the discussion for the Norris for years to come.
The Six Defensemen Drafted Before Erik Karlsson
The first round of the 2008 NHL Entry Draft featured no fewer than 11 defensemen, most of whom have achieved some measure of success at the NHL level over the past 4 years. From a Senators perspective, this particular draft class yielded Erik Karlsson, a Norris Trophy winner and a star who will remain in Ottawa for at least the next 7+ years.
Selected 15th overall, Karlsson was actually the 6th D-man to be selected, and, in looking at those who were taken before him, it can be argued that at least 4 of those teams may have made a big, big mistake.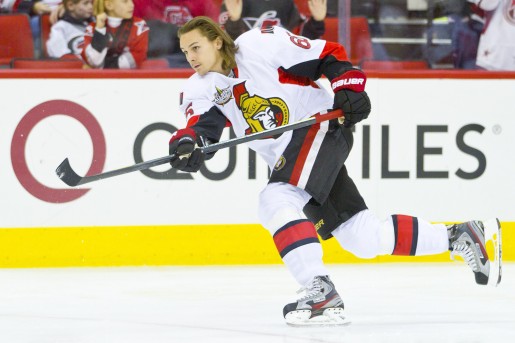 Let's take a look at the list, with a brief comment about the current state of the respective player's career to date:
Drew Doughty (2)
Doughty is right there with (if not ahead of) Karlsson in terms of all-around skills & potential, and already has a Stanley Cup and Olympic gold medal on his resume. Doughty has 13 more career points to his name, but has played 100 more games than Karlsson; stack up their point per game averages (0.51 for Doughty vs 0.68 for EK) and it's really no contest in terms of offensive production.
Zach Bogosian (3)
His game appears to be taking a bit longer than expected to develop, although he did reach a career high in points (30) and +/- last season (-3) in only 65 GP. Bogosian is only 22 years old, and still has time to become the bruising defenseman with a scorer's touch that the Thrashers were hoping he would become when they drafted him.
Alex Pietrangelo (4)
A key piece of the puzzle for the Blues in 2011-12, many have pegged him to be the next young defenseman to enter into the Norris echelon in the very near future. (more on Pietrangelo above)
Luke Schenn (5)
As a member of the Maple Leafs, Schenn's struggles were fairly well documented. This past summer, he was shipped to Philadelphia for James Van Riemsdyk, and the Flyers are hoping that a new city and a reunion with his brother can launch him to a level he was never able to reach in Toronto.
Tyler Myers (12)
Myers made the most immediate impact by taking home the Calder Trophy in 2009, and rebounded nicely during an injury-shortened '11-'12 season from a bit of a slide through his sophomore season. Under contract in Buffalo for another 7 years (including a $10 million bonus during the lockout), he'll be counted on by Pegula & Co. to lead the Sabres resurgence and their quest for a Cup.
Colten Teubert (13)
The main component in the deal that sent Dustin Penner out of Edmonton, to say that he hasn't panned out would be an understatement. 24 games played, 1 career point. Just imagine if the Kings had drafted Doughty AND Karlsson. Scary.
Post-Karlsson
Those six players comprise the list of defensemen drafted before Karlsson; as for the rest of the first round, here's the quick breakdown.
Say what you want about Brian Burke, but his acquisition of Jake Gardiner (17) AND Joffrey Lupul from the Ducks for Francois Beauchemin looks more and more like highway robbery. After Gardiner, there's the underwhelming Luca Sbisa (19) and the more promising Michael Del Zotto (20) of the Rangers, a guy who struggled early on, but, like a Pietrangelo-light, was a big factor on a winning squad last season. 3 spots behind him, there's a 'where are they now' post waiting to happen in Tyler Cuma (23), and to round out the first round, the Caps selected John Carlson with the 27th pick, who, until he accomplishes something greater, will always be known for this.
Which brings us back to Karlsson. While he may or may not end up being the best of the bunch in 2028, it's fair to say that only Doughty or Pietrangelo could end up eclipsing him, and if only for the fact that they (for now) possess more complete, all-around games.
Remember, despite Karlsson's impressive offensive stats, there's still room to grow in terms of his abilities in his own end, and whether or not he does so will go a long way in terms of defining his lasting legacy.
End note: It's also very much worth mentioning that the 2nd round of the '08 Draft featured a few guys who are poised to break out and make a mark of their own when NHL play resumes, namely Vyacheslav Voynov, Roman Josi, Justin Schultz & Travis Hamonic.
More to Come on the defensive side?
With Doughty, Pietrangelo and Karlsson, the 2008 NHL draft class is arguably the best defensive class in the past 25 years. What that doesn't take into account though is that there is a distinct possibility that we haven't seen the last of franchise defenseman from 2008. Take Tyler Myers as a prime example. He took home the Calder trophy in 2010 thanks to a 48 point rookie season. He hasn't managed to recreate similar results in his three seasons since but he still has the physical tools to turn into an elite blueliner.
Zach Bogosian was taken with the 3rd overall pick by the Atlanta Thrashers (now Winnipeg Jets) but injuries have plagued his first five NHL seasons. His best year came in 2011-12 when he grabbed 30 points in 65 games while averaging 23:18 of ice time per contest. If he could manage to stay healthy for an entire season (something he hasn't done since 2009-10) its not out of the realm of possibility that he could become the cornerstone defenseman that the Winnipeg Jets desperately needs.
The possibilities don't just end with those two though. John Carlson of the Washington Capitals is on the verge of becoming the top defenseman in the organization and made his Olympic debut in Sochi. Jake Gardiner, taken 17th in the draft by the Anaheim Ducks, has finally been given the chance to consistently play at the NHL level and has shown his promise in Toronto.
With the trio of defensemen who are already considered elite and the potential for more members to join that club in the near future, its clear that 2008 draft will go down in history as one of the best we've ever seen from the bluelines perspective.
The Goaltenders of the 2008 NHL Draft
The Washington Capitals selection of Braden Holtby was a huge steal for George McPhee and the Caps' brass in the 2008 NHL draft, finding the best future NHL goalie to this point. Holtby has become a superstar in the NHL. We'll take a fun look at the goalies selected Before him in the draft. This section was written back in 2013, so please excuse any omitted info from the past few seasons.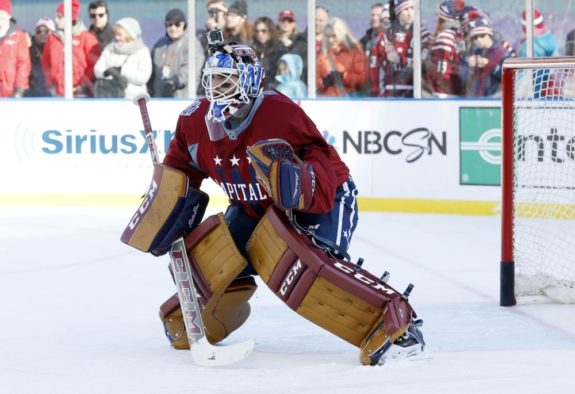 Chet Pickard – Nashville – 1st Round, 18th Overall
Pickard was the first goalie selected in the draft, the first of two net minders selected by the Predators in the 2008 draft. He played his junior hockey for the WHL's Tri-City Americans, where he posted his best numbers during the 2008-09 season, with a 2.28 goals against average and .921 save percentage in 50 games.
"Pickard is a much more relaxed, patient, 'stand-upish' goalie, and waits for the puck more than other guys," described Mitch Korn, goaltending coach for the Nashville Predators in an interview with Hockey's Future.
Pickard needs "to elevate the urgency and quickness," Korn said. He's got the quickness, but he's got to get out of that comfort zone, the junior speed and crank it a couple of notches."
Pickard is playing the ECHL for the Bakersfield Condors this season and has a 2.51 goals against average and .885 save percentage through seven games.
Tom McCollum – Detroit – 1st Round, 30th Overall
McCollum, like Pickard, has yet to make it happen in his hockey career. After time in the OHL's Guelph Storm, the 23 year old goalie has spent his time in the AHL, for Detroit's affiliate, the Grand Rapids Griffins. He's played only 15 minutes at the NHL level.
On an AHL only deal with Grand Rapids, McCollum has a 7-2 record with a 2.28 goals against average and .922 save percentage though 11 games this season. His best save percentage at the AHL level was .904 during the 2012-13 campaign, his first .900 or better performance in the AHL.
Jacob Markstrom – Florida – 2nd Round, 31st Overall
After being recognized as one of the top goalie prospects heading into the 2012-13 season, things have not gone as planned for the Florida Panthers' prospect. After the signing of Tim Thomas, Markstrom is unlikely to find substantial playing time at the NHL level in 2013-14 season until after the trade deadline.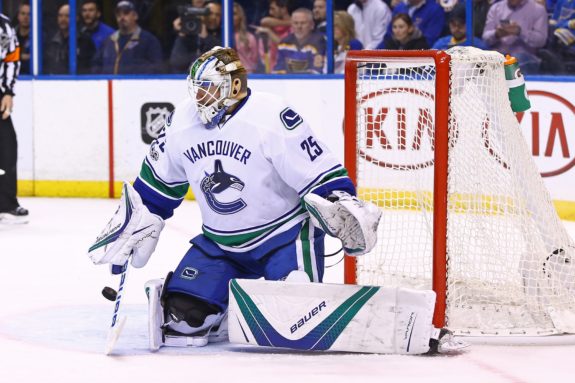 He played in 11 games for Florida this season, but posted a .877 save percentage and 3.36 goals against average. In 23 games during the lockout shortened year, Markstrom only managed a below average .901 save percentage. He's rebounded with a .924 save percentage in eight AHL contests this season and could compete for the Panthers starting goalie spot next season. Markstrom will likely be recalled by Florida after the trade deadline, especially if one their net minders are dealt in the spring.
Jake Allen – St. Louis – 2nd Round, 34th Overall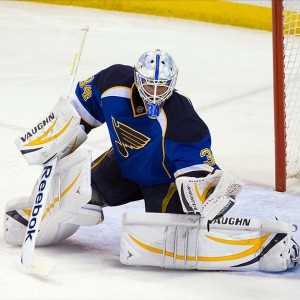 Taken three picks after Markstrom, this Blues goalie received his first NHL action during the 2012-13 season. Allen played in 15 games, posting a 9-4 record with a 2.46 goals against average and .905 save percentage. He's in the first year of a two year two-way deal with St. Louis this season. Allen will be an RFA in 2015.
He's still an intriguing prospect to pay attention to and has posted good numbers in the AHL's Chicago Wolves this season. Allen has a 9-5-2 record in 16 games this year, including an impressive .922 save percentage and 2.30 goals against average.
Tyler Beskorowany – Dallas – 2nd Round, 59th Overall
This net minder was a selection that never worked out for the Stars, playing in zero NHL contests. He struggled in the AHL and has yet to show signs of recovering in the ECHL this season. Beskorowany has a subpar 3.14 goals against average and .903 save percentage in 14 games this season for the San Francisco Bulls. He played in 32 games for the Idaho Steelheads of the ECHL during the 2012-13 season.
Peter Delmas – Colorado – 2nd Round, 61st Overall
The fourth goalie selection from the 2008 draft has had a similar career path in the pro level like Beskorowany. After time with the Hamilton Bulldogs of the American Hockey League, Delmas has skipped around numerous ECHL franchises. He has a 2.63 goals against average and .918 save percentage in eight games for the Gwinnett Gladiators of the ECHL this season.
Third Round Selections
Michael Hutchinson – Boston – 3rd Round, 77th Overall
Marco Cousineau – Anaheim – 3rd Round, 83rd Overall
Jacob De Serres – Philadelphia – 3rd Round, 84th Overall