The Carolina Hurricanes' season is winding down and unfortunately it looks like the 'Canes will come up short of the playoffs for the fifth season in a row. Unfortunately for the 'Canes, the quickly approaching offseason presents a huge issue that the 'Canes are better off solving sooner rather than later – who's going to be the starting goaltender moving forward? The 'Canes have three goaltenders that have each faced over 600 shots this season and unfortunately for them, the guy who was the starter heading into the season has performed the worst of the three. Goaltenders Cam Ward, Anton Khudobin, and Justin Peters pose an interesting dilemma for 'Canes management and hopefully general manager Jim Rutherford and his team have watched how other teams handled these goaltender dramas over the last ten years and have learned from their mistakes.
How Not To Handle This
Rutherford has plenty of other examples on how not to handle these goaltender dramas. In 2003-2004 the Detroit Red Wings attempted to balance Domink Hasek, Curtis Joseph, and Manny Legace. Ultimately the drama boiled over after the Wings sent Joseph down to the minors for a stint while they attempted to trade him. The trade never panned out and ultimately the issue was solved when Hasek was shut down for the season after a groin injury. We all have the more recent Vancouver Canucks drama fresh in our minds as the Canucks tried to balance Roberto Luongo and Cory Schneider. For some strange reason, the Canucks traded both of their goaltenders and now are in full-on rebuilding mode. Those are two classic examples of how not to handle the goaltender overload and hopefully Rutherford has a plan in place.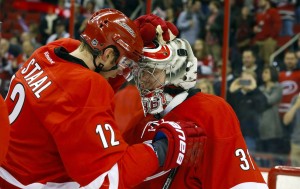 Background On Goaltenders
Cam Ward – Career: 221-165-52, 2.76 GAA, .910 SV% ; Season: 7-10-5, 3.11 GAA, .894 SV%. Ward is 30 years old, has two years, at $6.3 million per season left on his contract and has a no-trade clause.
Anton Khudobin – Career: 28-14-1, 2.19 GAA, .928 SV%; Season 14-9-0, 2.31 GAA, .925 SV%. Khudobin is 27 years old, and was just signed to a two-year, $4.5 million deal last month.
Justin Peters – Career: 22-31-8, 3.05 GAA, .904 SV%; Season 7-9-4, 2.50 GAA, .919 SV%. Peters is 27 years old and is an unrestricted free agent this summer
Shot Analysis 
On career and season numbers alone this decision is far too difficult. Ward has the best career numbers but has played the worst this season. Both Khudobin and Peters have limited NHL experience, but both have played better than Ward this season. I decided that the only way to narrow this decision down was to go back and watch the game tape on each goaltender this season to see who is giving up bad goals, who is not getting help from the defense, and who is actually playing the best. I reviewed each of the 1,976 shots that have been directed at a Carolina goaltender this season and charted the shot distance, shot type, and the shot situation (i.e even strength, power-play, etc.). The purpose of tracking shot distance is two-fold. One, you can see the average distance of shots faced to partially determine the quality of shot faced. Two, you can see if the goalie is regularly getting beat on long-range shots or if he is getting beat from in close on shots that are generally difficult to stop. Shown below is the analysis:
| Goaltender | Average Shots Faced/60 minutes | Average Shot Distance | Average Goal Distance | SV% Even Strength | SV% Shorthanded | SV% On Powerplay |
| --- | --- | --- | --- | --- | --- | --- |
| Cam Ward | 29.5 | 35.5 feet | 22.1 feet | .907 SV% | .820 SV% | .882 SV% |
| Anton Khudobin | 30.6 | 34.8 feet | 20.2 feet | .936 SV% | .882 SV% | .722 SV% |
| Justin Peters | 30.7 | 34.6 feet | 18.8 feet | .921 SV% | .898 SV% | 1.000 SV% |
This analysis shows that not only does Cam Ward face the fewest shots of the three, he also faces shots from farther out, allows goals from farther out, and has the worst save percentage at even strength and on the penalty kill. Khudobin and Peters on the other hand have been phenomenal at even strength and on the penalty kill. Peters especially has been hung out to dry as he faces the most shots, the closest shots, and he's getting beat on average from inside 20 feet which indicates that the defense is not doing a good job in front of him.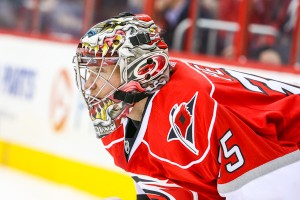 Verdict
In my personal opinion, I believe that the Hurricanes should explore moving Cam Ward at the draft this year. His contract is not too terrible, and if Canucks' GM Mike Gillis was able to move Roberto Luongo's contract, I think Rutherford can find a taker for Cam Ward. The Hurricanes should be looking for a prospect and a pick in return. In my personal opinion, Ward is on a decline that I don't think he can stop. It's clear that his play has been trending downward the last few years as his save percentage has dropped and his goals against average has risen in each of the last three years. For too long we've attributed the worsening statistics to a shaky defensive corps, but when you look at the numbers this year, you have to discard that reasoning. He's had the best defensive support in front of him out of the three goaltenders but has performed far worse. I know it's risky turning over the net to Khudobin, a goaltender who has a total of 28 career wins to his name, but the fact is that Khudobin has been a stud since 2009 in his limited workload. Mr. Rutherford if you're reading this, sign Peters to a two-year deal, explore a deal for Ward at the draft that can bring back a prospect (either defenseman or goaltender) and a pick, and turn the net over full-time to Khudobin for next year.