After winning the Stanley Cup in the spring of 2011, the Boston Bruins carried their good fortune over to the NHL's Entry Draft.  Defenseman Dougie Hamilton, regarded as one of the top five players in his draft class, slipped to #9, allowing the Bruins to add a blue chip prospect to their organization.
Draft
At 6'5", Hamilton possessed the elite size that teams look for in a top NHL defenseman.  He had demonstrated above average offensive skills in his time with the Niagara Ice Dogs of the Ontario Hockey League (OHL).  He was one of the youngest players in his draft class, maximizing his development window.  Perhaps most importantly, though, was his intelligence, a category that had Hamilton ranked off the charts.
Rookie Season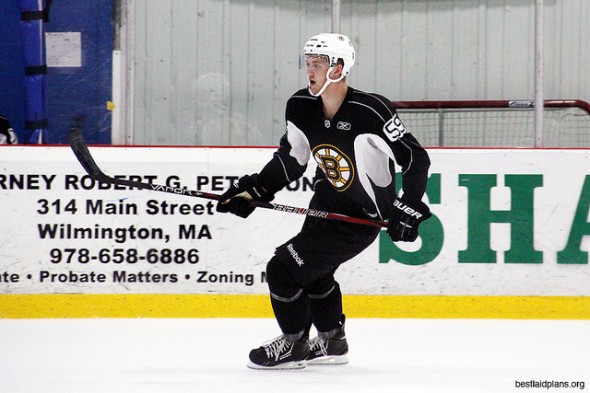 Flash forward to last season, as Hamilton began his rookie campaign.  He wasted little time getting acclimated, instantly becoming a fixture on the Bruins power play.  Not long after that, Hamilton ascended into the Bruins top four, securing ice time alongside the likes of Zdeno Chara and Dennis Seidenberg.  Despite a positive showing in the regular season, Hamilton's year ended on a sour note, as he frequented the press box during the latter stages of Boston's run to the Stanley Cup Finals.
This Season
Hamilton's sophomore season represented his first full NHL season, as the lockout cut short his rookie campaign.  Out of the gates, Hamilton was projected to be part of a rotation with Matt Bartkowski and Torey Krug, where one of the three young defensemen would sit out each game.  Hamilton never let it get that far, earn himself a permanent role in the Bruins top four.  Along with Krug, Hamilton helped to transform the Bruins power play into a legitimate offensive weapon, while showing solid progress in his defensive end.
In early December, Hamilton was bit by the injury bug, forcing him out of action for almost a month.  Shortly after returning from that injury, the Bruins young defenseman was dealt another blow, sustaining a "mild" concussion that would sideline him for another two weeks.  Following the concussion, Hamilton has actually raised his play to a higher level than earlier in the season.
Present
Offensively, Hamilton has three goals and five assists over the course of his last 14 games.  Compared to his four goals and six assists through the first 33 games, Hamilton has almost doubled his points per game pace.  Defensively, Hamilton is still a work in progress.  His positioning is occasionally a cause for concern, but overall, he's progressing much faster than expected in his own end.
So why has Dougie Hamilton been the odd man out over the last two games?
To put it simply, the Bruins are resting him.  In his rookie season, he played in 47 of Boston's 48 regular season contests, while earning a spot in the lineup for seven postseason games.  All told, that's 54 games.  This season, even with the Olympic Break and the time of due to injuries, Hamilton has already played in 47 games, averaging just shy of 20 minutes of ice time per game (up from 17:08 per game last season).  With 17 regular season games remaining, along with a lengthy playoff run (hopefully), Hamilton is likely to shatter his previous high for games played in a season.
While the experience is great for his development, burning out in the regular season is counterproductive to the team's greater goal, winning the Stanley Cup.  If Hamilton was a bubble player, ranking 6th, 7th, or 8th on the depth chart, his absence might not even be noteworthy.  That, however, is not the case.  Hamilton is one of the Bruins top 4 defensemen.  He's an integral piece to the Bruins power play, playing the quarterback role.  He's, arguably, the best defenseman the Bruins have when it comes to break out passes, an area that has plagued Boston in years past.
Some people want to criticize Hamilton and suggest that the Bruins are sending him a message by scratching him, when in reality, the team's motives are quite different.  They view him as one of the keys to their success in the playoffs.  While they were able to overcome a month and a half without him due to injuries, the Bruins can't afford to find themselves in that position come April.  With that in mind, the team has taken this opportunity to give him some in season rest, while thrusting newcomer Andrej Meszaros, into a top four role.
What do you think?  Is Hamilton sitting because the team expects more from him or are they beginning to rest him for the playoffs?  Feel free to weigh in below or on twitter @kirkvance.