Goaltending is always a major theme for most teams. Either they have it or are looking for it, and no other position is a singularly important as a team's netminder.
This season it has been an especially hot button topic. Coming off a record number of goaltenders being moved by the trade deadline, there are a number of new faces on different teams and no end of storylines. Especially with big name goaltenders like Ryan Miller and Roberto Luongo being moved.
We have also seen some exciting young goaltenders come up and impress in their rookie seasons. Names like Martin Jones, Antti Raanta, Frederick Anderson, Eddie Lack and Darcy Kuemper among others have dazzled at time in their NHL debuts en route to earning a regular role.
So who is next in line? Who are the top young prospects ready to make their mark?
Here's a look at the top ten goaltenders waiting in the wings.
1. John Gibson
Current Team: Norfolk Admirals (AHL) NHL Team: Anaheim Ducks  
Arguably the top goaltending prospect in hockey, Gibson is the future No.1 in Anaheim. Possesses all of the attributes, skills and mental toughness you could want in a goaltender.
Currently starting for Norfolk but with Jonas Hiller a free agent and Viktor Fasth traded to Edmonton, the writing is on the wall for him to seize a job next season.
He has been impressive at every stop including junior and his first year of pro. He also has a decorated international career with impressive performances at the World Junior Championships and was even named to the USA Men's World Championship team last year as a 19 year old and did not look out of place.
ETA: 2014-15
2. Malcolm Subban
Current Team: Providence Bruins (AHL) NHL Team: Boston Bruins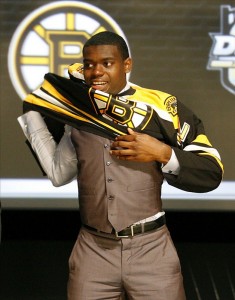 One of the most athletic goaltending prospects since Marc-Andre Fleury, Subban is an intriguing combination of quickness,  athleticsm, positioning and poise. Has all the tools to be an elite goaltender, but is still a couple of years away.
Has had a very successful junior career with the Belleville Bulls and has adjusted to the pro game in Providence better than many had expected.
Currently blocked in the Bruins system by Tuukka Rask, but whether it's in Boston or another city, if Subban continues to progress as he has so far, he will be a No.1 for a long time. 
ETA: 2015-16
3. Andrei Vasilevski
Current Team: Ufa Salavat Yulayev (KHL) NHL Team: Tampa Bay Lightning  
The play of Ben Bishop this season has halted some of the desperate cries for Vasilevski to get to North America and all of a sudden the Tampa Bay Lightning goaltending goes from a weakness to a potential position of strength. The emergence of Bishop gives Vasilevski the necessary time to mature and progress and and be ready to make the jump.
He has excellent size and mobility, which combined with solid positioning and fundamentals, make him one of the top goaltending prospects in hockey.
ETA: 2015-16
4. Jake Allen
Current Team: Chicago Wolves (AHL) NHL Team: St. Louis Blues  
Looked good when he got into game action with the Blues last season and waiting on his turn to get the call again. Previously blocked by Jaroslav Halak and Brian Elliott, he is now blocked by Elliott and Ryan Miller. Whether or not Miller resigns in St. Louis will greatly affect Allen.
He has been arguably the AHL's best goaltender this season for the Wolves and is at or near the top in most goaltending categories.
It's not a question of if he will get his chance, but when.
ETA: 2014-15
5. Philipp Grubauer
Current Team: Hershey Bears NHL Team: Washington Capitals  
Grubauer has already shown in limited action this season what he can do at the NHL level.
The Capitals goaltending as a whole has been disappointing this season, sparking the trade of Michael Neuvirth for Jaroslav Halak amongst other pieces. That doesn't diminish Grubauer's stock in the Caps system though and he should be ready for full time duty with the team next season.
Halak is a free agent and aside from an inconsistent season currently, Braden Holtby will likely return as the starter next season. Should he falter though, Grubauer will be ready to assume a bigger role.
ETA: 2014-15
6. Joni Ortio
Current Team: Calgary Flames (NHL)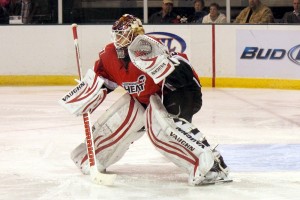 Just recently called up and started his fifth NHL game, Ortio has spent the majority of the season tending net for the AHL's Abbotsford Heat.
With a trade deadline deal of Reto Berra to the Colorado Avalanche, Ortio has been given his opportunity and has a 2.24 GAA in his five starts.
The 22 year old Finnish product was a 6th round pick in 2009, and will have the rest of the season to prove he belongs to stay in the NHL.
ETA: 2014
7. Jack Campbell
Current Team: Texas Stars (AHL) NHL Team: Dallas Stars  
Campbell entered professional hockey with a lot of hype and expectation as a No.11 overall pick in 2011. His transition to professional hockey has taken a little longer than expected, but the 22 year old Campbell is poised to take the next step and is comfortable where he is in his development;
"If you were to ask me when I was 18 and drafted [No. 11], when I thought I would be playing in the NHL, I would have thought I would have been able to make it by now for sure,"

"I know it's all about growing up," Campbell said. "Even if I did dominate the last three years, I probably still wouldn't be out there because it's all about the process of maturing a goalie and not rushing him … I get that now. I'm just trying to be the best goalie I can be, wherever that may be. I just want to play a lot of hockey this year and wherever that is, I'm ready to succeed."
The Stars currently have a tandem of Kari Lehtonen and Tim Thomas as they push for a playoff spot. Past this season though Thomas is a rental and Lehtonen, while talented, is often injured. With a spot open on next year's roster he will have the opportunity to battle with Christopher Nilstrop for the opening.
ETA: 2014-15
8. Petr Mrazek
Current Team: Grand Rapids Griffins (AHL) NHL Team: Detroit Red Wings  
Mrazek has already seen time with the Red Wings over the past two years, primarily due to the injuries to starter Jimmy Howard. In 10 appearances he has a 2.01 GAA and .918 save percentage. With Howard signed through 2018, it would appear top spot in the Red Wings net is locked up for some time. However with Howard's injury history a lot can happen between now and then.
Of the other options in Detroit, Mrazek has the most upside. Jonas Gustavsson is a pending free agent and Mrazek has soundly outplayed his partner in Grand Rapids, Tomas McCollum.
He may not be ready for full time duty just yet, but he's not far off.
ETA: 2014-15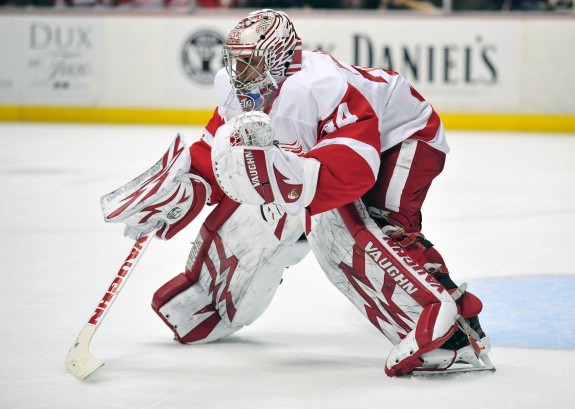 9. Mark Visentin
Current Team: Portland Pirates (AHL) NHL Team: Phoenix Coyotes  
Another first round pick from 2011, Visentin may not have had the same success in the AHL that he had in junior, but his progression is still right on track.
Seeing the lion's share of the starts for a last place Portland Pirates team, his numbers are certainly not near the top of the heap, but don't tell the whole story. He leads the AHL with 43 games played and is in the league leaders in shots against.
With Mike Smith signed through 2019, Visentin will have plenty of opportunity to develop before being promoted. With improved play he could also be a very valuable trade chip for the Coyotes and see an NHL net before 2019.
ETA: 2015-16
10. Zach Fucale
Current Team: Halifax Mooseheads (QMJHL) NHL Team: Montreal Canadiens  
Ranked 10th on this list because of his age and is still years away, being drafted less than a year ago, but has as much potential as anyone here. He has great mental makeup and all the tools you would wish for in a starting goaltender.
He still has a lot of seasoning to go through and is just 18 years old, but will no doubt climb this list in the coming years and could get to the NHL faster than people think.
Blocked right now by Carey Price, there's a lot that can happen over the next few years which will largely depend on Price's play and Fucale's progression.
ETA: 2017-18
__________________________________________________________
 Follow Carl on twitter @carlTHW and Google+ for more articles