Before the commencement of his rookie season under the glistening lights of Broadway, there were various clouds of uncertainty surrounding how talented New York Rangers winger Jimmy Vesey would be used in Alain Vigneault's speed-driven system. With the Rangers featuring a loaded group up front, many weren't sold on the fact that the former Hobey Baker Award winner would be granted a spot in the top six in his first season on the big stage.
Now following a year in which the 24-year-old's name sprung up and down the depth chart, many have similar concerns regarding where Vesey will see his name in the lineup next season. Although there were times where Vesey showed promise, there was also an abundance of instances where you would forget he was on the ice, leading to constant demotions to the fourth line, along with stretches late in games where he would find himself watching from the bench.
Yes, this is a process that we have seen many young guys go through under Vigneault, including Vesey's Russian colleague Pavel Buchnevich.
But if the Blueshirts want the former Harvard standout to blossom as a player, a more consistent and defined role is necessary for the upcoming season. He has the skillset to become a quality forward in this league, but it will be difficult for him to utilize that talent if his linemates are changing on a nightly basis while only receiving limited ice time.
What should that role be exactly? Let's take a closer look.
What Vesey Has Shown Us
Although there were times last year in which Vesey showed a flare for the dramatic and the ability to dominate a game with his exquisite skating and quick hands, many of the negatives outweighed the positives in Vesey's first year in Broadway Blue.
Vesey struggled to win board battles, faltered in defensive zone coverage, and played too conservative at times with the puck. It seemed at times that the crafty forward played with the motive of not making mistakes rather than trusting himself to generate offense.
The good news is that can all change with just a little bit of confidence and that is exactly what happened for Vesey in the postseason. He played a much more aggressive brand of hockey, as he glided smoothly with the puck from zone to zone with ease, won puck battles along the boards, and took calculated risks with the puck which often resulted in high-quality chances for his teammates.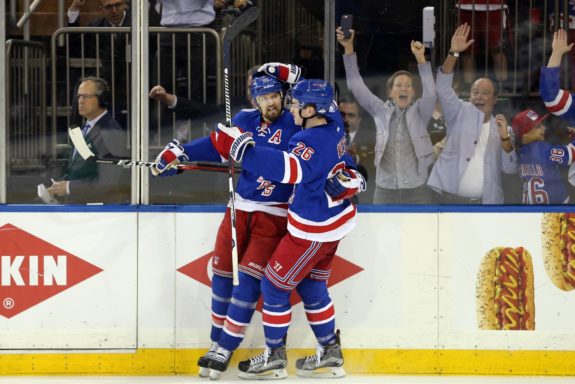 He became the consistent catalyst that everyone believed he could be and was arguably the Rangers most productive forward outside of Rick Nash.
It was evident that Vesey was benefitting from playing on a more consistent basis in his first sniff of playoff hockey. Throughout the postseason, he was placed alongside Nash and Derek Stepan in a top six role and had success. The numbers tell a similar story, as his postseason high danger chances for percentage  (HDCF%), 51.8%, was way up from his regular season HDCF% (45.8%), as well as his CF% (50.2% in the postseason compared to 44.5% in the regular season).
It's clear that this kid is capable of handling an impact role in high-pressure situations.
Who Should Vesey Play With?
In a perfect world, Vigneault would likely pair Vesey with Nash along with one of the four Rangers talented centers and he would have himself a more than formidable trio that could be trusted anywhere on the ice.
Unfortunately, with the Rangers thirsting for reinforcements on their blue line and the expansion draft looming, the likelihood that Nash (and his $7.8 million cap figure) is still a Ranger come the start of next season is awfully low. So that route looks to be closed off for now.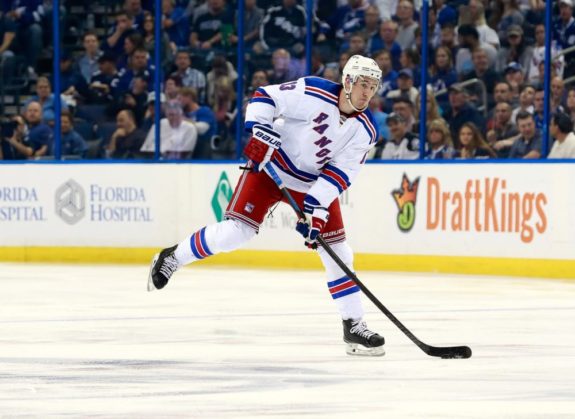 One combination that could come to fruition is Vesey along with Kevin Hayes and JT Miller.
This group is one that we didn't really see at all last season due to Michael Grabner's goal-scoring prowess, but with the speedy Austrian likely regressing back to his normal self next year (he shot a career high 16.7% a season ago), he should find himself back on fourth line duties. That leaves a spot for Vesey in the top nine.
In terms of fluidity, Vesey's game complements that of Hayes and Miller. The two bright young Americans are playmakers who can open up the ice for their teammates, which is exactly what No. 26 needs. Miller and Hayes ranked third and fourth among Rangers forwards respectively in FirstA/60 last year while also showing the ability to put the puck in the back of the net. Vesey's quickness and finishing touch (.88 G/60 was tied for sixth on Rangers) make him a perfect match for that line, almost assuring an increase in production.
Will the Rangers Let It Happen?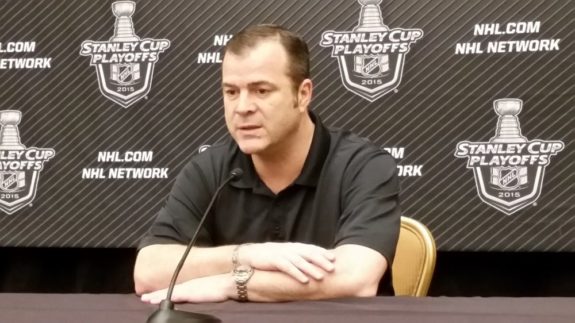 With the way Vigneault favors some of his veterans as opposed to his youngsters, the chances of Vesey actually earning a more advanced role is lower than one might expect.
However, if the Rangers want to speed up his development as a complete player in this league, treating him as a top-six threat is what needs to happen.
It's time for the Blueshirts to take the training wheels off of Vesey and just let him ride.