David Staples of the Edmonton Journal recently took a look at the pleasant and not-so-pleasant surprises for the Edmonton Oilers since Mattias Ekholm and Nick Bjugstad were acquired at this season's trade deadline. Saying Connor McDavid and Leon Draisaitl have continued to look other-worldly and Ryan Nugent-Hopkins is impressing with a career-best season, Staples noted a few Oilers haven't taken a step forward since the team got hot after the GM put his final touches on the team.
---
Latest News & Highlights
---
Specifically, he mentioned Jack Campbell, Stuart Skinner, Zach Hyman, and Evander Kane as players who have regressed. He noted, "But one of the key questions heading into the playoffs is whether Campbell, Skinner, Hyman, and Kane can find their "A" games in the stretch run."
Jack Campbell Hasn't Been Good Most of the Season
Outside of a short stretch of eight games where Campbell fooled people into thinking he was potentially going to be the starter for the rest of the season, he's not looked good. Those eight games proved to be an anomaly and for the duration of the season, he's been shaky, has looked lost, and seems unsure of himself as an NHL netminder.
Campbell has only played in two games since the trade deadline and in those two games has an .857 save percentage. The team might say they have confidence in him and the organization isn't ready to throw in the towel and admit they made a mistake in free agency, but the Oilers aren't going to give him any more chances outside of back-to-back contests and in the event of an injury. The team better cross their fingers Stuart Skinner can stay healthy.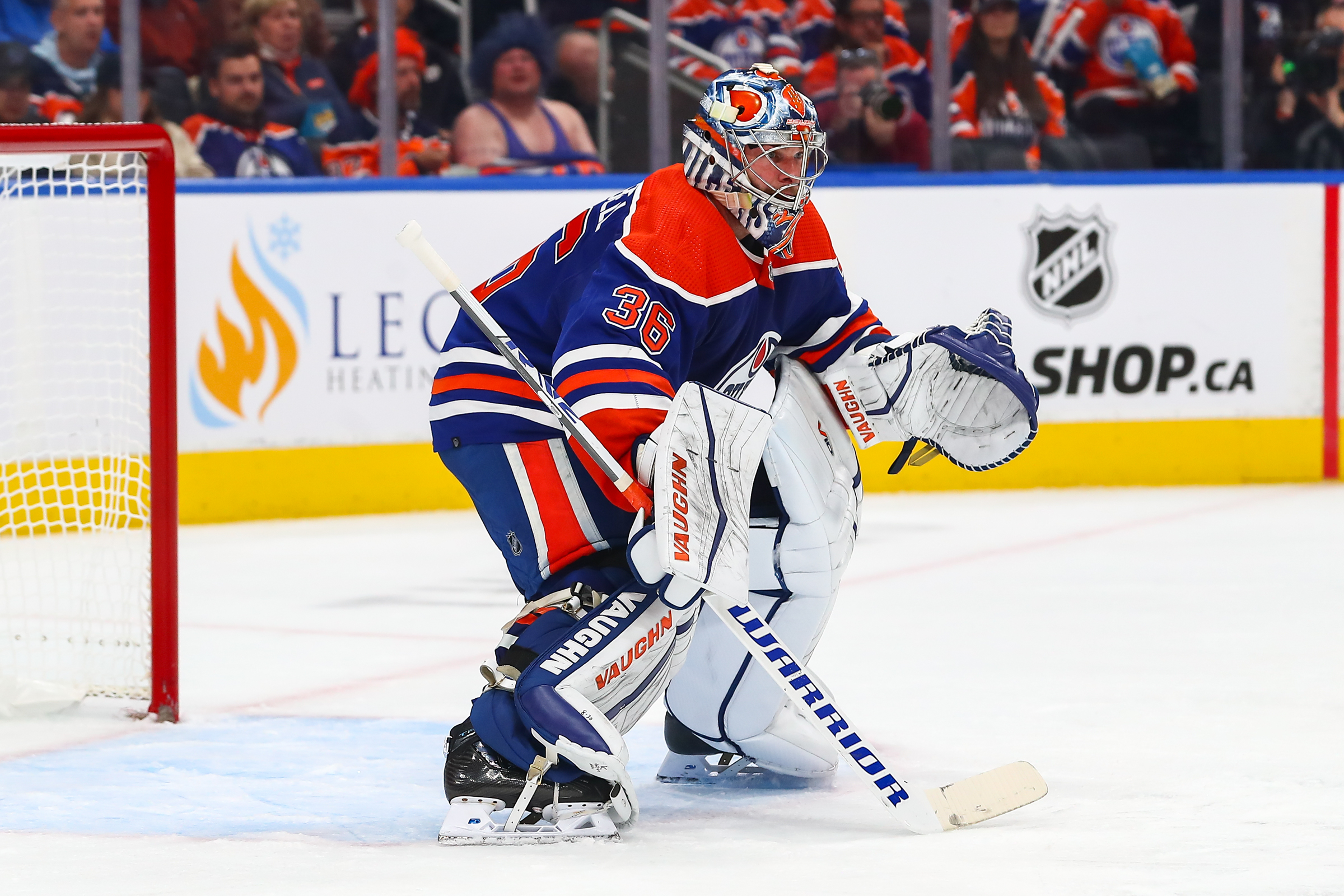 It's not clear what Campbell's "A Game" actually looks like, but if he can get back to the level he was at when he won eight-straight starts for the Oilers, they'll be in much better shape.
Skinner Has Taken a Step Back Too
While he's clearly been the better goaltender, Stuart Skinner has also started to show signs that he's running out of energy. In the 10 games he's played since the deadline, he's got a .902 save percentage. He's let in the first goal on the first shot of some games, he's let shots through that he didn't earlier in the season and he's started to show signs that maybe he's not fully prepared to battle against the best-of-the-best in the playoffs. After all, this is his rookie season. Asking him to take the starting job and play the bulk of the games was a tall task.
Related: Edmonton Oilers Gameday Preview: Arizona Coyotes – 3/27/23
This could be less about his skill and ability to make the stop he needs to and more about the workload. It's not ideal and it's not Skinner's fault that the Oilers have felt gunshy about putting Campbell in net. They've needed the wins and are going with the netminder they think can get them the two points. The good news is that Skinner doesn't need to take a huge step to get his "A Game" back. If he simply makes the saves he's supposed to, he'll be just fine.
Zach Hyman and Evander Kane Are Consistently Inconsistent
Staples writes that both Zach Hyman and Evander Kane have been up and down when it comes to playing consistent 200-ft hockey. If you go back and watch some of the recent games, he's right in that there are some obvious lapses in coverage in their own zone that have led to goals against. When the Oilers lost to Vegas in overtime, it was Kane who left his man wide open in front of Skinner which led to two attempts to score and an eventual goal.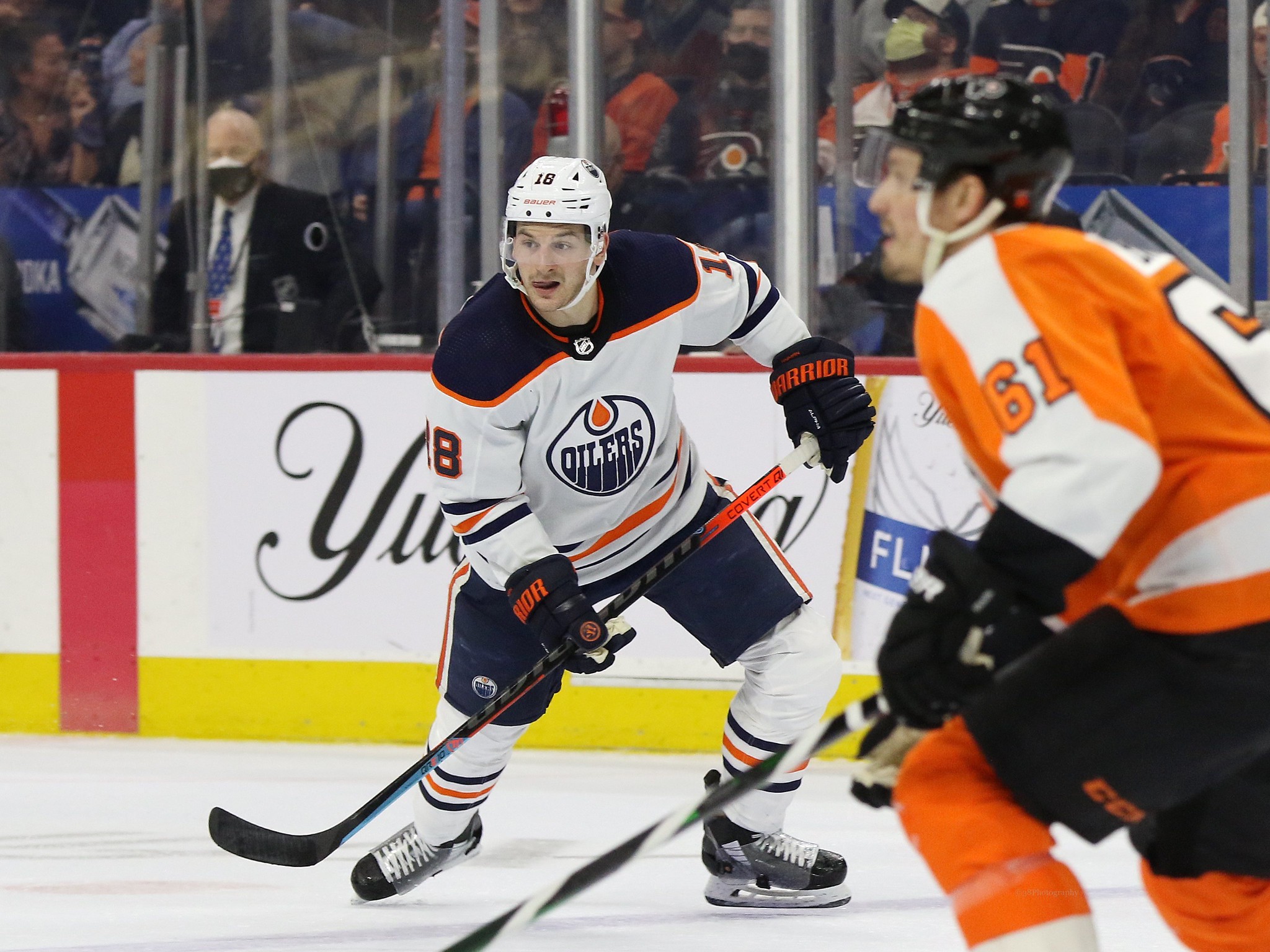 Staples writes of Kane:
Since his return to action, Kane has five points in eight games, but three of them came in one hat trick game. He's otherwise been below average and not close to his former level of play. He's leaking Grade A shots at even strength, the bad stuff culminating in his blown coverage on the Vegas goal in overtime on Saturday.

source – 'Excellent surprises for Edmonton Oilers since Ekholm deal but also not excellent ones' – David Staples – Edmonton Journal – 03/26/2023
With Hyman, it's hard to argue against his effort level. He's typically the one guy who puts in 110% no matter what. A nagging injury or something like it might be a factor that has accounted for a downturn in play, but there's another concern. Hyman's consistently having goals he scores called back. Again, it's hard to hate a player who goes to the front of the net and is willing to take punishment to score, but he's got to find a way to produce without disrupting the goaltender and opening up every goal for review.
For these two players to find their "A Game" it might be about better health. In Hyman's case, feeling up to speed might be all he needs. For Kane, it's finding his groove after a series of nasty injuries.