With the acquisitions of Frans Nielsen and Steve Ott on July 1st, the Detroit Red Wings added two more natural centers to go along with the six they already have under contract.
Let's put all eight—Nielsen, Ott, Henrik Zetterberg, Dylan Larkin, Riley Sheahan, Andreas Athanasiou, Darren Helm and Luke Glendening—under the microscope, as they say, and see where they each fit among the four lines.
First Line Center
One of the biggest questions among Detroit's plethora of forwards is whether Zetterberg or Larkin will center the first line. Turning 36 at the start of the season, Zetterberg showed real signs of aging last season with his worst point per game output of his 13-year career.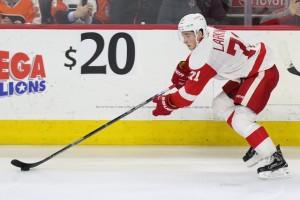 A career 51.5% faceoff winner, Zetterberg may be asked to help ease Larkin into a number one center role or potentially relinquish it to him altogether.
In his rookie season, Larkin took just 100 faceoffs, winning only 41% and displaying an area he needs to grow in.
It would be a gamble to throw Larkin into a full-time center role, especially if it means Zetterberg will be shifted to the wing permanently, letting his experience and face-off percentage go to waste.
Second Line Center
Nielsen signed a six-year, $31.5 million contract with the Red Wings on July 1st to be Detroit's full-time number two center.
There is some belief that Nielsen may be asked to center the top line to allow Larkin to be sheltered as he hits the ground running as the second line center.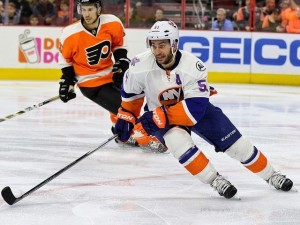 The sticking point here is that Nielsen has been the sheltered one, playing under John Tavares for nearly his entire career. It would be unfair to ask him to step into number one duties and expect the same annual point production against better opponents.
Conversely, with Larkin establishing himself as perhaps Detroit's biggest offensive threat, his average ice time will increase from the 16:33 avg TOI he played last season. That increased role will almost certainly come alongside Zetterberg who he showed chemistry with last season.
As the second line center, Nielsen can shift his entire game from New York and adapt to nothing more than a new system and new line mates, which can be argued to be better in Detroit. He will be asked to play the same game that has allowed him to fly under the radar for most of his career.
This role also allows Nielsen to play against familiar second line opponents from other Eastern Conference teams.
Third Line Center
The third line is where the real logjam of centers occurs. Sheahan, Helm and Athanasiou will all be looking to be the middleman this coming year.
In sheer numbers, Helm is a better faceoff man, winning 51.4% of career faceoffs (nine seasons) versus Sheahan's 48.4% (three seasons) and Athanasiou's 41.1% (one season).
But Helm only took 77 draws in 77 games last season, his lowest total in the years that he played in more than 16 games. He spent most of last season on Pavel Datsyuk's wing and may be shifted to the wing full-time this season.
Sheahan, who won 49% of his faceoffs in 2013-14 and 50.3% in 2014-15, clearly struggled in the dot last season and should be able to pull himself closer to the league average (53.1%) in 2016-17.
Then there is Athanasiou, who became a fan favorite during his 37-game rookie season. Athanasiou is another natural center and should see an increased role in 2016-17. He showed flashes of brilliance in those 37 games with his incredible speed, puck control and tenacity.
But much to the dismay of fans, with the aforementioned plethora of forwards, Athanasiou is the only player on a two-way contract that allows him to be sent back and forth between Detroit and Grand Rapids, where he may start the season.
If he earns a spot on the team out of camp it will most likely be as a winger to allow Jeff Blashill to keep a steady four with little change down the middle.
Fourth Line Center
After signing a four-year, $7.2 million extension last week, Glendening is expected to be Detroit's fourth line middleman for the time being.
[RELATED: Glendening Contract Great for Red Wings]
His job wouldn't even be in question if it weren't for the signing of veteran Ott. But due to Ott's injury-plagued 2015-16 season that limited him to just 21 games, his days as a center may be behind him.
Both players bring a heavy game onto the ice and have a knack for getting under their opponents' skin, but it helps that Glendening will be seven years younger than Ott when the season starts and is ultimately lighter on his feet.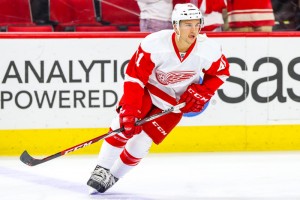 Then there are the faceoffs. While Ott's career faceoff percentage is 55.7%, he hasn't seen regular faceoff time since the start of the 2013-14 season. Glendening, on the other hand, has seen increased faceoff duty in each of his first three seasons as well as increasing his faceoff wins and percentage (48.5%-51.9%-54.6%). His 54.6% ranked 23rd in the NHL last season.
With Ott's increased play on the wing over the past two and a half seasons, he's primed to either earn a spot alongside Glendening or be exposed to waivers and most likely pass through to Grand Rapids.
Who do you think should be the Red Wings four centers and where do they fit on the depth chart? Comment below.