The 2016 NHL Entry Draft was one of the deepest in recent history.
Each and every position was flooded with players of incredible talent, skill and potential, with each team eventually landing a number of highly gifted players looking to bring their abilities to the NHL level.
While the services of select players are quite obviously more valuable than others, there are a particular few who are drastically closer to being NHL ready than others, a fact which immediately increases their prospective value.
While there are not a large number of players who will be ready to play in the NHL come the 2016-17 season, those who are retain both the terrific skill and maturity needed to play at hockey's highest level. While some of which are highly obvious, others are not so much, with said players retaining the incredible ability to make the jump to the NHL as teenagers.
Auston Matthews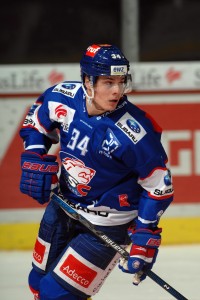 Matthews will play in the NHL in 2016-17, of this there is no doubt.
In 2015-16, the Toronto Maple Leafs were not shy when it came to providing their prospects with NHL experience, as the likes of William Nylander, Zach Hyman, Nikita Soshnikov, Connor Brown and Brandon Leipsic – among others – all made their debuts in the League.
Come 2016-17, Matthews will surely join Mitch Marner in doing so.
At 6'2″, 210 pounds, Matthews has both the physique and skill of an NHL player and is ready to make his mark on the League. As the Leafs' future number one centre-ice man, Matthews will be looking to quickly assimilate himself to the pace and strength of the NHL game. Fortunately, his year spent in Switzerland playing for Zurich HC has already provided him with a wealth of experience playing against men.
Patrik Laine
The second overall selection behind Matthews, Laine is yet another player who is undoubtedly capable of jumping into the NHL and the Winnipeg Jets' lineup come the 2016-17 season.
At 6'4″, 205 pounds, Laine's incredible stature allows him to tower over his fellow players, and in the NHL it will be no different. Laine's physique is eerily similar to that of Alex Ovechkin, and given his massive frame he is in no way afraid to play a physical brand of hockey despite his young age.
An incredibly talented youngster whose game revolves around his wicked release and overpowering shot, Laine will surely make the immediate jump to the NHL in 2016-17, where he will challenge a wide cast of promising young prospects for the Calder Trophy.
Pierre-Luc Dubois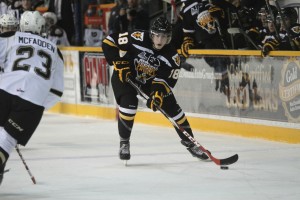 The surprising third overall selection in the 2016 NHL Draft, Pierre-Luc Dubois could join Matthews and Laine in the NHL next season, however his arrival is somewhat less certain than his fellow draftees.
A strong winger selected by the Columbus Blue Jackets, Dubois stands 6'3″ tall and weighs in at a solid 205 pounds, numbers greater than the League average. His 42 goal, 99 point season with the Cape Breton Screaming Eagles in 2015-16 saw his Draft stock soar, eventually ousting Jesse Puljujarvi for third overall.
However, whether or not Dubois will in fact play for the Blue Jackets in 2016-17 remains extremely vague. Columbus is in the midst of what seems to be a long-term rebuild, and therefore are in no rush to insert their large number of prospects directly into their lineup. While Dubois is eligible to return to Cape Breton next season, whether or not he will continue to develop as a player given his dominance in the CHL will be a major factor in the decision.
Jesse Puljujarvi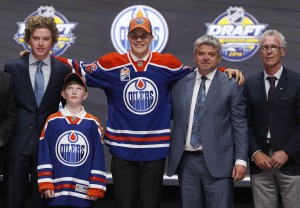 When the Edmonton Oilers fell to fourth overall in the 2016 NHL Draft, their focus immediately shifted to drafting a defenseman, as it had become a virtual guarantee that Matthews, Laine and Puljujarvi would be selected with the first through third overall picks.
However, in what was yet another bit of Draft luck, the Blue Jackets passed on Puljujarvi, allowing him to fall directly into Edmonton's hands.
Like Dubois, Puljujarvi is an intimidating sight, standing 6'4″ tall and 205 pounds. Known for his elite skating ability in combination with his size, Puljujarvi projects to be a top-line right-winger in the NHL for the considerable future.
Although a left knee injury has held him off of the ice throughout the 2016 off-season, when healthy, the Oilers are anticipating he will step directly into their lineup and make an immediate impact.
Matthew Tkachuk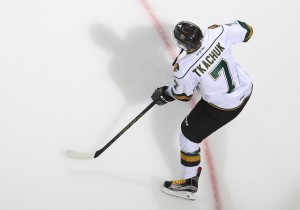 The son of NHL great Keith Tkachuk, Matthew is yet another promising young prospect who could play his way into an NHL lineup in 2016-17.
The Calgary Flames knew exactly what they were getting when they selecting Tkachuk sixth overall in the 2016 NHL Draft: a hardworking, big-bodied winger overflowing with talent. At 6'1″, 195 pounds, Tkachuk has solid size considering he is just 18 years old, and with a full off-season ahead of him will surely begin the 2016-17 season stronger than ever before.
In Calgary, the Flames find themselves in an interesting situation. Despite largely rebuilding their franchise, the team made a surprising playoff appearance in the 2014-15 season, indicating the fact that they are much closer to competing than originally thought.
With the likes of Sean Monahan, Johnny Gaudreau and Sam Bennett set to lead the way for the Flames into the immediate future, inserting Tkachuk into the 2016-17 lineup will only intensify Calgary's potent offense – an addition which could be enough to see them return to the playoffs.
Mikhail Sergachev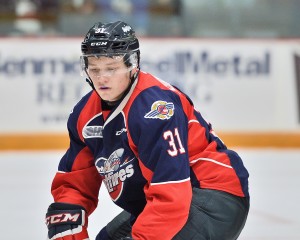 Considered to be the most 'NHL ready' defenseman ahead of the 2016 NHL Draft, Mikhail Sergachev was selected ninth overall by the Montreal Canadiens after narrowly being selected by the Oilers fourth overall.
A 6'3″, 210 pound blue-line behemoth, Sergachev is a steady defender with considerable offensive upside. In short, Sergachev brings it all, and his complete game is a major reason why he will surely challenge for a roster spot with the Canadiens in 2016-17.
Further increasing the odds of Sergachev making his NHL debut this upcoming season is the state of Montreal's blue-line. In 2015-16, the Canadiens' blue-line was porous to say the least, with a lack of depth causing major issues in the team's overall game.
The addition of Shea Weber indicates the Canadiens' emphasis on a defense-first, strength based game within their own zone. The selection of Sergachev clearly supports this direction, and given his size and ability, inserting him into their opening night lineup appears to be the next logical decision.
Jakob Chychrun
Prior to the 2015-16 season, Jakob Chychrun was expected to be a top-5 selection in the 2016 Draft, however, he failed to live up to his lofty expectations as the year progressed, eventually falling, or being stolen, by the Arizona Coyotes at 16th overall.
Coming off of season ending shoulder surgery in 2014-15, Chychrun's offensive and defensive numbers drastically increased in his Draft year, yet it was not enough to prevent a rapid slide down various Draft rankings.
As such, Chychrun is surely more motivated than ever, and his first order of business will be to challenge for a spot on the Coyotes' opening night roster. At 6'2″, 215 pounds, scouts have endlessly remarked on his ability to combine both his size and skill into an effective two-way game.
Furthering emphasizing this possibility is the long-standing futility of the Coyotes throughout their franchise history. Sure, they made it to the Western Conference Finals in 2011-12, but in all have reached the first round in just seven of now 19 years spent in the desert.
Possessing one of the most highly skilled prospect pools in the NHL, the Coyotes will soon begin to provide their prospects with NHL experience, meaning Chychrun could join fellow OHL star Dylan Strome in making his League debut this coming season.
Tyler Benson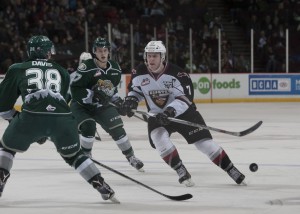 Every NHL season, a select few number of players selected outside of the first round defy the odds and make their League debuts. Names like Andrew Shaw and Anthony Duclair come to mind in recent years, and Tyler Benson could be the next to reach the NHL despite not being a relatively high overall draft pick.
A full-time member of the Vancouver Giants for the past two seasons, Benson's potential of reaching the NHL comes more-so from his incredible level of maturity and leadership rather than his raw skill. As a 17 year-old, the Giants named Benson as their Team Captain as a result of his incredible ability to lead his teammates both on and off of the ice.
However, Benson does much more than just lead his team, he is also a highly effective offensive talent. In his rookie season in the WHL, Benson notched 14 goals and 31 assists for 45 points, while he also scored 28 points over his 30 games played in 2015-16. Yet, it was during the 2015-16 season when Benson suffered a number of injuries, setbacks which led to him missing a considerable number of games and eventually falling out of the first round in the Draft.
A 6′, 200 pound left-winger, Benson is of NHL size, skill, and quite clearly maturity. When Taylor Hall traded to the New Jersey Devils in exchange for Adam Larsson, the Oilers' left-wing position was drastically reduced in terms of its depth. Benson's presence on the left side however, could do wonders to immediately change that fact, as his leadership and drive would certainly be welcome on a team desperate for success.
Brett Slawson is a four-year veteran of The Hockey Writers who covers the Toronto Maple Leafs, NHL prospects, and the OHL's Mississauga Steelheads.
Contact Brett on Twitter @brettslawson92, or by email at brett_slawson@hotmail.com.