The Windsor Spitfires came into their final weekend of the 2022-23 Ontario Hockey League (OHL) season with one goal – win the West Division and Western Conference. It was a serious challenge, but that hasn't stopped them. Mission accomplished!
After losing the OHL Championship to the Hamilton Bulldogs in Game 7 last season on the road, the Spitfires came into this season with something to prove. While they lost a few key players, they were determined to get back to the dance. General manager Bill Bowler shored up his roster at the January trade deadline, and head coach Marc Savard has pushed them since day one. The result is a team that's battled through injuries and illnesses to come out on top of the conference as the regular season winds down. Here are three takeaways from the final weekend of the 2022-23 regular season.
3 Takeaways from the Storm and Knights
Weekend Results:
Wed., Mar. 22 – 4-1 win v. Guelph Storm
Fri., Mar. 24 – 6-3 win at London Knights
Sat., Mar. 25 – 6-3 loss v. London Knights
3. Spitfires Honour Overagers
As is tradition, prior to Saturday night's regular-season finale, the Spitfires honoured their three overage (20-year-old) players. The three – goaltender Mathias Onuska, defenceman Michael Renwick, and captain and forward Matthew Maggio – all came out with family to celebrate their careers with jerseys and a video tribute.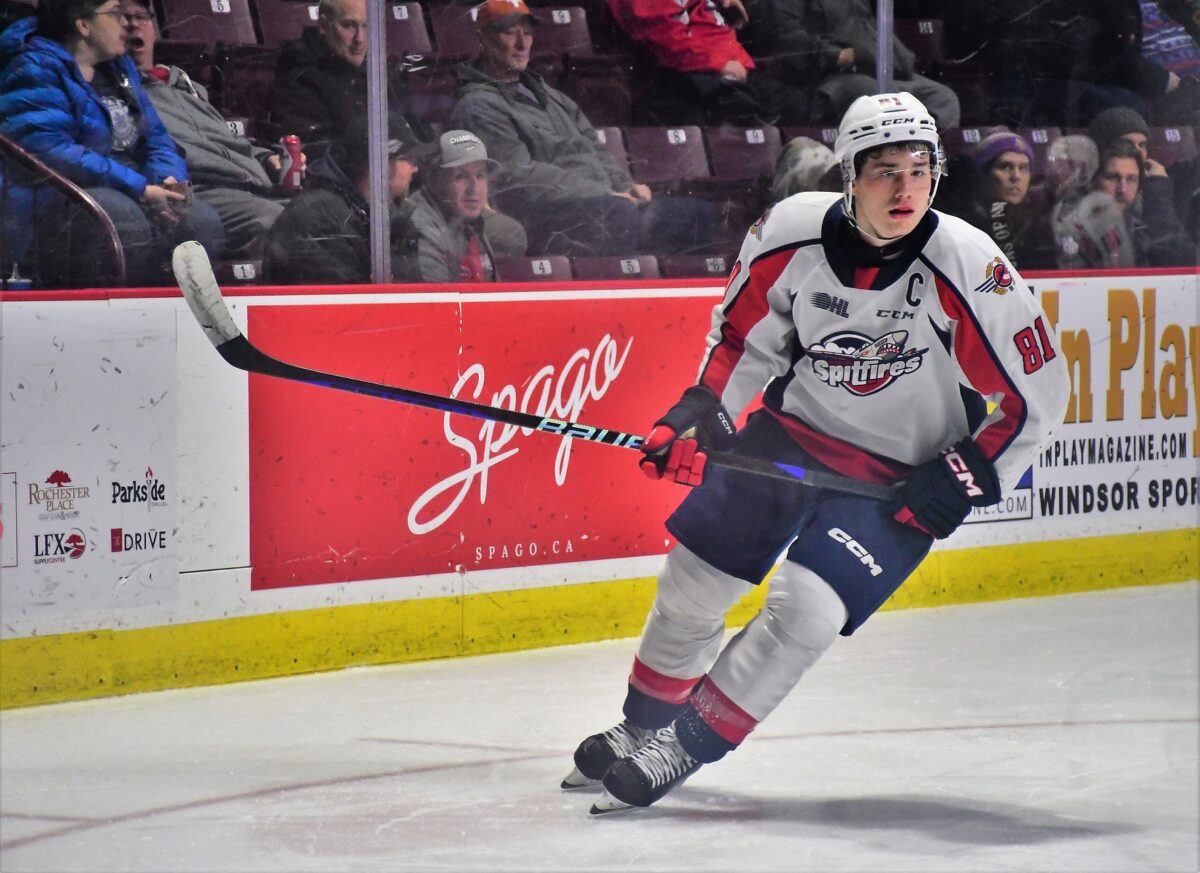 In the video, they thanked the fans and their families and talked about how much they'll miss the family atmosphere and camaraderie. The team became very tight-knit last season, and their run to the championship only enhanced that. Maggio, who hails from nearby Tecumseh, added that it's been the time of his life.
"This is a team I was a fan of growing up, all the way up to my draft year," he said in the video. "Getting traded home (from the Ottawa 67's) was a surreal feeling and it's been the best four years of my life being able to play here in front of the best fans in the world. I'm really grateful for this opportunity and Windsor will always have my heart."
While all three were acquired at various points, they've all had a significant impact on the Spitfires' organization. Maggio is their captain, leading scorer, and heart and soul of the club. Onuska was their rock during the 2021-22 OHL Playoffs, helping them get to Game 7 of the OHL Final. Renwick has been Mr. Steady on defence for the last two seasons, bringing a two-way game and leadership to the room and community.
Related: OHL: Spitfires' Captain, Isles' Prospect Maggio Joins 50-Goal Club
---
Latest News & Highlights
---
The trio has been exceptional on and off the ice for the organization. It's a group that the Spitfires and the City of Windsor have a lot to be proud of.
2. Spitfires Clinch Conference
With Friday night's 6-3 win over the Knights, the Spitfires officially clinched their second West Division title and Western Conference title in as many seasons. It's the first time since 2009-10 that they've accomplished that and only the second time in club history.
They came into the weekend needing a single point to take the division from the Sarnia Sting and just two points to put away the Knights. It became a two-birds, one-stone situation Friday night as they jumped out to a 4-0 lead before earning the 6-3 win… and the titles. Savard said on Saturday that he's like a proud dad.
"I told them all I love them like they're my kids," he said. "…The way they battled (Friday night) in London, they put a lot into that game … 44 wins, first place in the West. If you had given that to me at the start of the season, I'd have taken it."
Savard said he was proud of the entire organization, including Bowler and director of scouting Frank Evola, who added key players this season for another chance. One player the team found last season as a free agent, forward Oliver Peer, said the team has always believed in itself, even if some critics didn't.
"We've believed in ourselves from the beginning," he said on Saturday. "I know a lot of people, not necessarily doubting us, but didn't have us projected to do as well as we did last season … It feels good to prove those people wrong and show we're the same team as last season.
The goal was to surpass the top-ranked 67's (Eastern Conference), but getting the top seed in the West is still huge. With a 25-5-2-2 record at home, they're in a good spot.
1. Injury Questions Remain
One of the biggest X-factors coming out of the weekend remains the health of the Spitfires' lineup. It has been a topic of discussion for almost the entire season, and that doesn't appear to be changing as they head to the playoffs.
This season, they've lost over 140-man games for various reasons. Their list of injuries continues to go up and down and now includes forwards Liam Greentree, Ryan Abraham, and AJ Spellacy, as well as new additions in Renwick and defenceman Nick DeAngelis, who both recently went down.
Playing without a full lineup has become the norm for the club; they dressed 10 forwards earlier this month in back-to-back games on the road. However, relief may be coming. After Saturday's game, Savard said that he expects Renwick and Greentree to return for Game 1 on Thursday night (more to come), but DeAngelis is still a bit away while Spellacy and Abraham are out long term.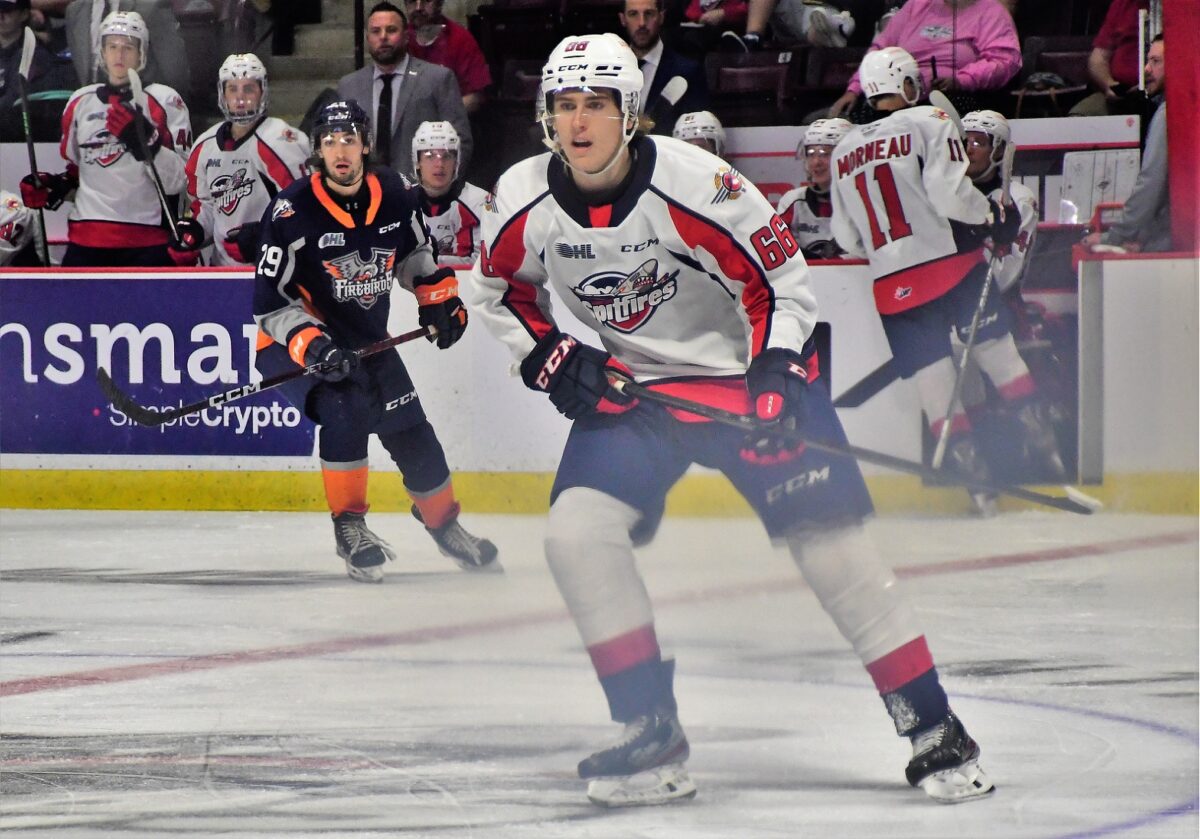 Ideally, Savard can ice four lines and three pairs, but there are no guarantees in the short term. That doesn't seem to bother the club. It's just another bit of adversity they've dealt with all season.
---
---