While the Windsor Spitfires are fighting their way to the Ontario Hockey League (OHL) 2022-23 Western Conference regular season title, captain Matthew Maggio continues to build his resumé. Less than a week after hitting the 100-point mark, he hit another milestone on Wednesday night, joining the elite 50-Goal Club against the Saginaw Spirit.
When the Spitfires acquired the Tecumseh native in June 2019, nobody could have predicted what would come next. After adjusting in his rookie season of 2019-20, he went to Sweden during COVID-19 to play for SK Lejon in the HockeyEttan. When he returned to the OHL in 2021-22, he joined Wyatt Johnston (Dallas Stars) and Will Cuylle (New York Rangers), where his offence took off. He put home 38 goals and 85 points, setting up his big 20-year-old finale, and what a ride it has been.
Maggio Hits Magic 50
Named Spitfires' captain in November after returning from the New York Islanders camp, Maggio wanted to make this season as memorable as he could. The club went to Game 7 of the OHL Championship last season, and now the goal is to take it even further.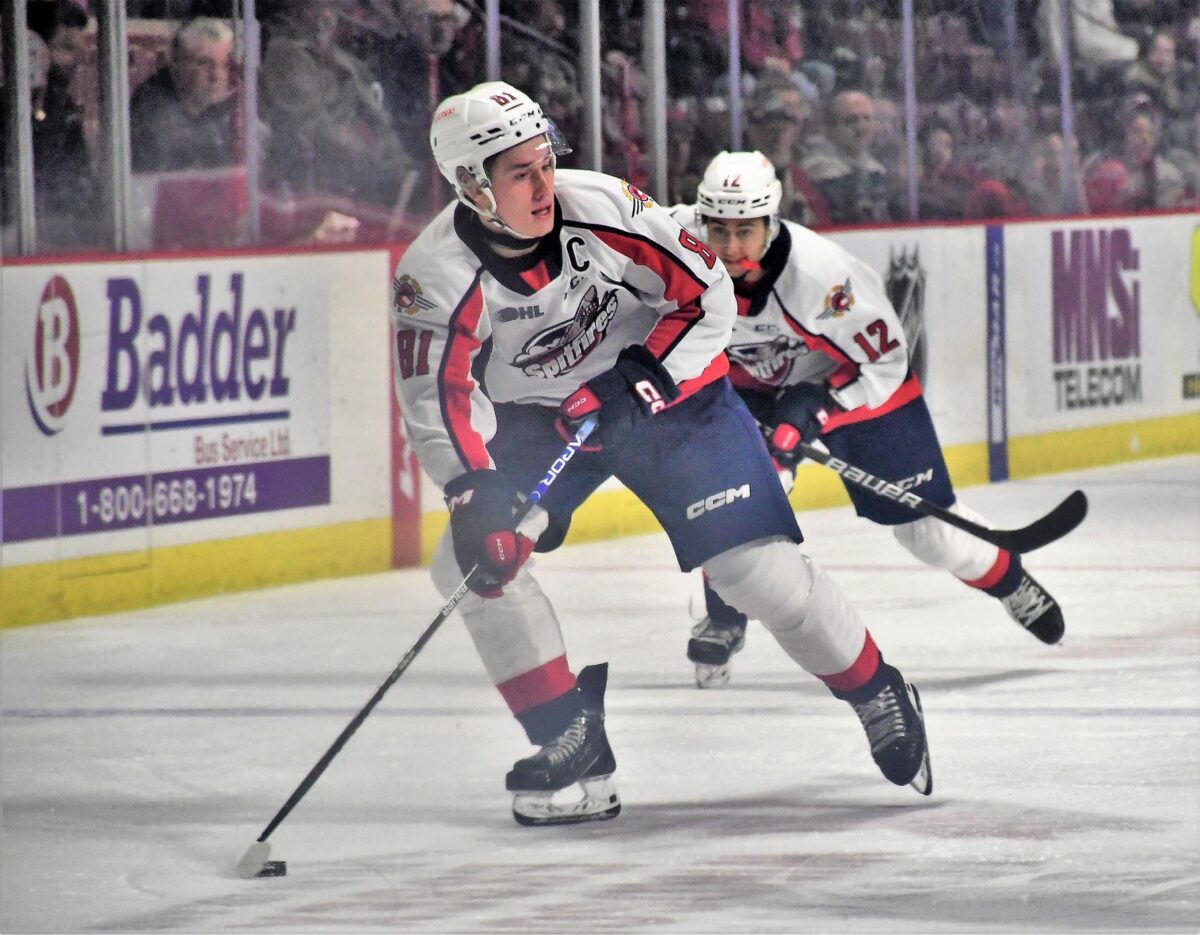 From day one, he's been a team-first guy who shrugs off personal accolades, instead saying it's about the team and playing the right way. However, it's hard to ignore the 50-Goal Club, which he called "a huge honour."
"It's pretty cool, I don't think it's sunk in yet," he said after the game. "I try my best to not think about it, but it's a huge relief and, honestly, a huge honour to be in the same category as the guys that are in the 50-Goal Club. I couldn't have done it without my teammates, and all the credit goes to them for helping me along this ride."
Maggio is the type that wants to outwork everyone on the ice, lead by example, and do the little things that help his team. Head coach Marc Savard said that even if Maggio didn't score, he was going to find a way to contribute.
"He was a heart-and-soul tonight. He's hitting guys, getting in scrums," Savard said. "If he wasn't going to contribute by scoring a goal, he was doing it other ways like working hard. He never quits working; that's the amazing thing about him. He actually had pneumonia playing in a game a couple of days ago, and he had a goal and an assist…I'm proud that he's our captain."
Putting your team first is a great quality for any player (or person) to have, but few will argue if he enjoys this moment.
Savard and Maillet React to the Big Goal
For parts of this season, Maggio has been linemates with 20-year-old veteran Jacob Maillet, who has broken out with 73 points in 62 seasons (up from 31 points last season). Whenever they're on the ice together, the chemistry is undeniable. Somehow, one finds the other, and that's what happened for the 50th. The goal at the 19:13 mark of the second period was another long tape-to-tape pass. Maillet said he saw Maggio streaking, made the pass, and just watched.
"I saw him taking off, so I gave it to him," Maillet said. "I stopped skating because I knew he was scoring! I'm really happy for him. He's a great leader, a great guy, and has been awesome all season."
Maggio made a rare backhand move on goaltender Tristan Lennox, which worked, but it was also partially out of frustration. The anticipation leading up to the game, combined with the Spirit giving him zero space all night, created mental games. Savard said he had to talk to the captain before the goal.
"He was getting frustrated early, and I had a good talk with him in the second," he said. "I grabbed him and said, 'Hey, calm down. Everybody in the rink knows you're mad right now. Just stay with it, and you'll get an opportunity.' I think it was two shifts later that he got the breakaway goal."
Maggio has outstanding talent, and it shows on a nightly basis. He also has a fantastic support system and coaching staff, which is paying dividends.
Spitfires' 50-Goal Club
Since they entered the OHL in 1975-76, the Spitfires have seen hundreds of talents at the Windsor Arena and WFCU Centre. Despite many fantastic seasons, their 50-Goal Club has been tough to gain membership in, with just eight members. General manager Bill Bowler, who had 467 points for the Spitfires from 1991-95, reached the 100-point mark but never had 50 goals. The same for Savard, who had 413 points with the Oshawa Generals from 1993-97.
"The talk tonight was (he) one-upped me and Billy," Savard said, laughing.
"It was a very special night… He's an excellent kid with an excellent family and has really worked hard since I've been here. I'm hoping the Islanders see that and get him signed here real shortly."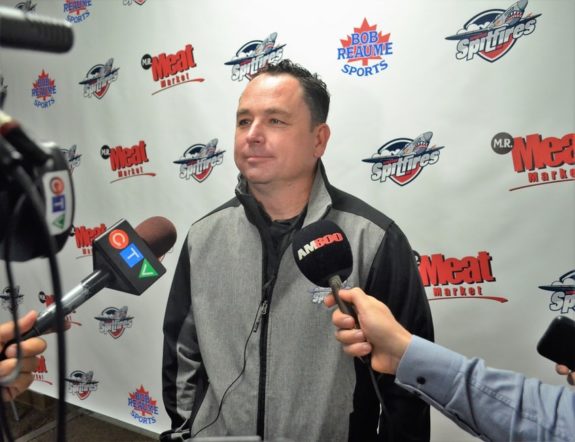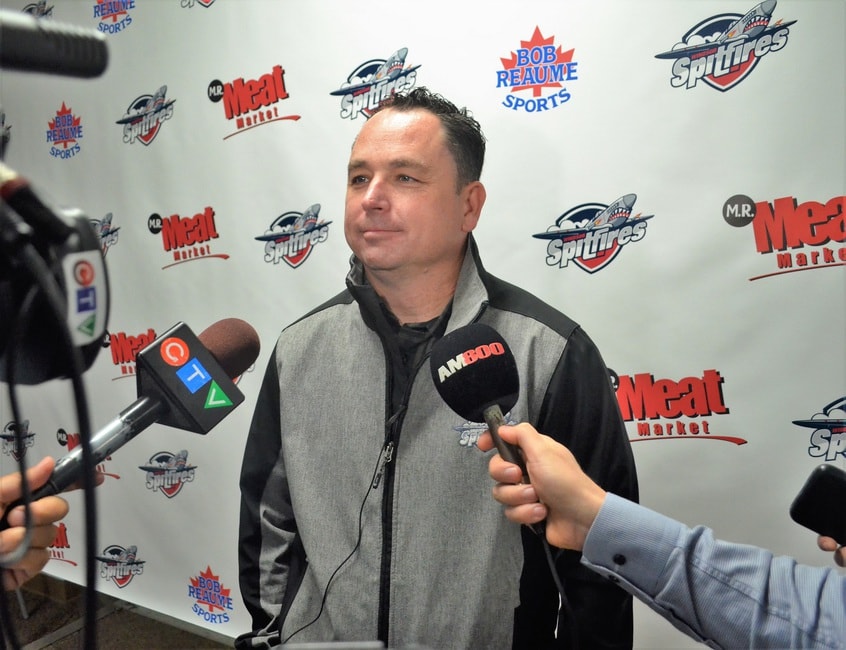 The last Spitfire to reach 50 goals was Stoney Point native Steve Ott, who hit the milestone in the final regular season game of 2000-01. Some say the Windsor Arena was literally shaking after he scored.
Related: Saying Goodbye to an OHL Original: Windsor Arena
---
Latest News & Highlights
---
There are six others in the club. Who are they?
6. Tim Findlay – 50 goals – 1995-96
5. Dave Roche – 55 goals – 1994-95
4. Kelly Cain – 57 goals – 1987-88
3. David Haas – 60 goals (59 with Spitfires, 1 with Belleville Bulls) – 1987-88
2. Blair Barnes – 63 goals – 1979-80
1. Ernie Godden – 87 goals (OHL record) – 1980-81
The Spitfires have five games left this season, and Maggio will be leading them on the ice. How high can he go? We're about to find out!
---
---