Toronto Maple Leafs defenseman Morgan Rielly has been a fan favourite and a key part to the team's core. With a new contract signed and him becoming a strong offensive presence for the Maple Leafs on the backend, it appeared that he was focussed on maintaining his status as a key piece for this team.
---
---
This season has been somewhat very underwhelming for Rielly. He was out for a significant amount of time with a knee injury, but even before that, he has struggled offensively and even more so within his own end. As a result, he has somewhat become a scapegoat as a result of his less than stellar play.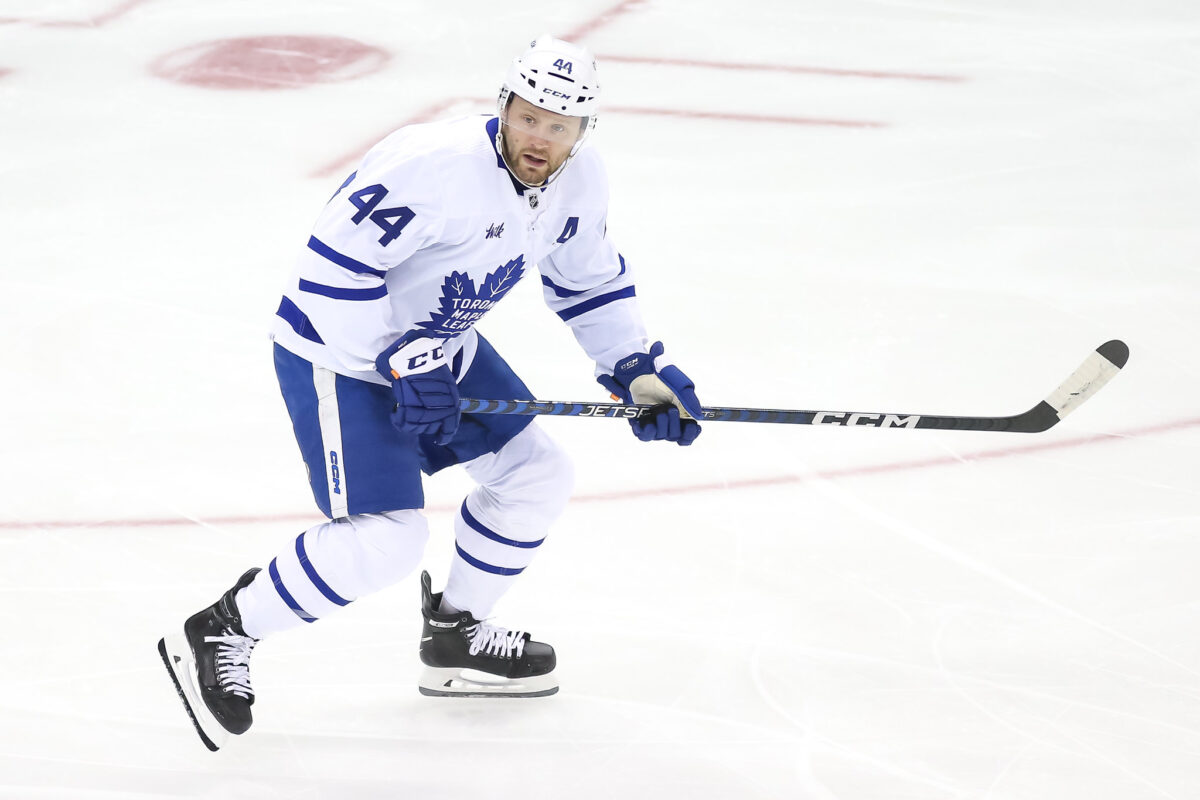 It's the first season of his new contract where his AAV is $7.5 million. For a player who should be playing like one, he has yet to show the Reilly many have come to know in the past as he's an important part of this team. With possibly his most disappointing season as a Maple Leaf, it's apparent that he needs to find a consistent level of play and fast as the playoffs approach. 
Offensive Results Dwindling
In 2018-19, it looked like Rielly was coming into his own as an effective puck-moving offensive defenseman. He finished with 72 points and was a favourite for the Norris Trophy before finishing fifth in voting. Since then, he has had his ups and downs when it comes to his defensive play. This season alone is definitely a down season. 
When looking at his 33 points in 52 games, one might think that's decent production for a top pairing defenseman. Though when you look at the goals, he only has three this season and a five-on-five shooting percentage of 8.7%, his lowest number since 2017-18. It's nowhere near compared to when he was clicking at a 10% rate the previous two seasons. His 102 shots on goal account for his third lowest of his career, despite seeing big minutes at even strength and on the power play. Overall, he isn't as confident with the puck or leading the charge like he used to.
Related: Maple Leafs' Nylander Making the Case for a Long-Term Extension
---
Latest News & Highlights
---
When looking at his underlying numbers, it's not a good sign considering how he should be their go-to defenseman and lead most categories. Here's a breakdown of his numbers at five-on-five with a minimum of 300 minutes played between this season and last. Of note, this doesn't include the newest deadline acquisitions.
| | | |
| --- | --- | --- |
| Statistic | Rielly This Season | Rielly Last Season |
| Goals For % | 51.35 (7th) | 54.55 (4th) |
| Expected Goals For % | 51.67 (7h) | 52.88 (7th) |
| Scoring Chances For % | 52.27 (6th) | 54.99 (4th) |
| High Danger Chances For % | 51.52 (6th) | 51.57 (8th) |
Based on the numbers, Rielly has been little or virtually non-existent when it comes to driving possession and offensive results the last two seasons in key categories. While he had a decent GF% and SCF% last season, everything else was less than satisfactory. Timothy Liljegren and Ramsus Sandin were at the top of each category last season and Sandin was once again at the top this season, before he was dealt to the Washington Capitals. Rielly is once again in the lower half of the team's production, which isn't ideal at all. 
In regards to his results on shots, you expect someone in Rielly's position to get pucks on net. For some time, Rielly has been extremely patient and isn't thinking quickly when the puck is on his stick. When he attempts to shoot, it would either be blocked or he would pass it off as the lane and opportunity for a shot would be gone due to the slow movement. If he can find the scoring touch and shooters mentality like he did against the Colorado Avalanche– one of his better outings– then he'll be in a great spot down this stretch.
It would be ideal to see Rielly be a consistent offensive threat from the backend and replicate the 2018-19 season or last season's results where he had 10 goals and 68 points. That steady production hasn't been there and given his role as the team's top defenseman earning $7.5 million, you expect there to be a little more production and better decisions. 
Whatever we saw previously clearly isn't there. This kind of production isn't going to be impactful in the playoffs. Even when he struggled last season, he mange to show up when it mattered. Can he do it again?  
Finding A Consistent Defensive Partner
Ever since the deadline– even at points during this season– Rielly has seen a number of defensive partners, Given the new additions, it'll be interesting to see who will be the defensive partner consistently and isn't being paired with a different face every game. Head coach Sheldon Keefe needs to find him a partner and stick with it as time is running out.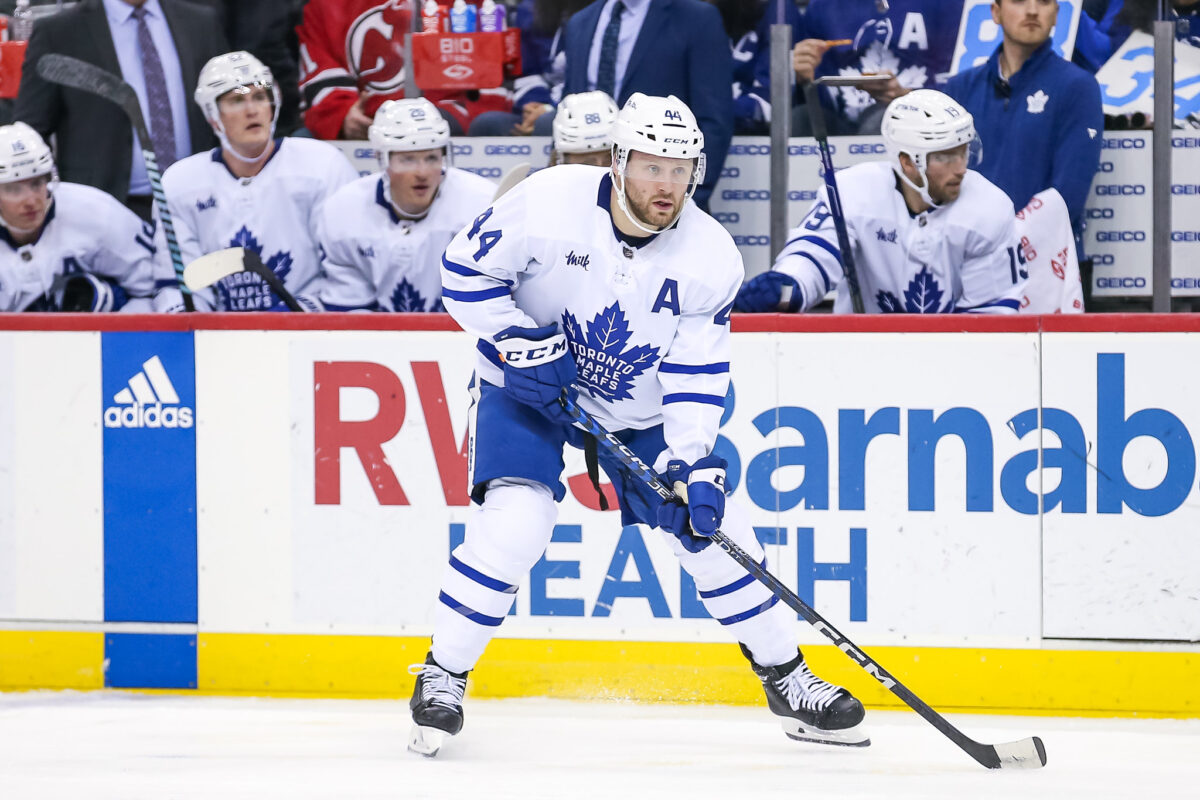 Rielly thrives on being paired with a player that can play a sound and steady two-way game. The obvious choice is to pair him back up with T.J. Brodie as he's familiar with his style of play and compliments his offensive game very well. Since 2020-21, when Brodie signed with the Maple Leafs, he and Rielly have played over 1,900 minutes together at 5-on-5 and have a 57.14 GF%. They were reunited against the Avalanche and Rielly played very well.
Related: Maple Leafs Might Have Another Late-Round Gem in Tverberg
The additions of Jake McCabe, Luke Schenn and Erik Gustafsson complicates things as Keefe has been going with seven defenseman as of late. McCabe has also shown to have great chemistry with Brodie as a strong shut down tandem, as that pairing is also a possibility. Rielly hasn't seen the same success compared to previous seasons, but he did look more comfortable with Brodie as he had his best defensive performance of the season against the Avalanche. Before, Rielly seemed to try and do too much, getting out of position very easily and his reads on plays were questionable. Having a steady presence will help him out. 
While Keefe wants to find the right combinations, he shouldn't over think this as he needs to get his top defenseman going and putting him back with Brodie full time. 
Rielly Needs To Find Rhythm
There isn't any doubt that if the Maple Leafs need to have success from their backend, Rielly has to be at the forefront, both offensively and being more reliable in his own end. He hasn't had the best season so far, but if he can find some consistency like he did in the game against the Avalanche, then that'll be a really great sign down the stretch.
If he's able to continue to improve defensively and take more chances on shooting opportunities then Rielly and the Maple Leafs are both going to be in a great spot. Once he finds that rhythm and is simplifying his game, he will once again be their go to weapon on the back end.
Statistics from Natural Stat Trick, Hockey Reference and Dobber Frozen Tools.
---