Since Rick Tocchet's hiring by the Vancouver Canucks, the organization has been running a training camp to prepare for the 2023-24 season. This includes giving players from the American Hockey League (AHL) auditions to see if they can be relied upon at the NHL level going forward. One player who has taken full advantage of this opportunity is Phillip Di Giuseppe, who is closing in on setting a new career high in goals while showing he can make an impact as an everyday middle-six forward.
Di Giuseppe's Journey to the NHL This Season
Before diving into how Di Giuseppe has played at the NHL level, it is important to recognize how well he was playing in the AHL. After a strong 2021-22 campaign where he recorded 36 points in 42 games, he built off that success and produced 32 points in 37 games before his most recent call-up. While he was called up during the Bruce Boudreau era on multiple occasions, he never got into game action and was swiftly sent back down to the AHL after a few days.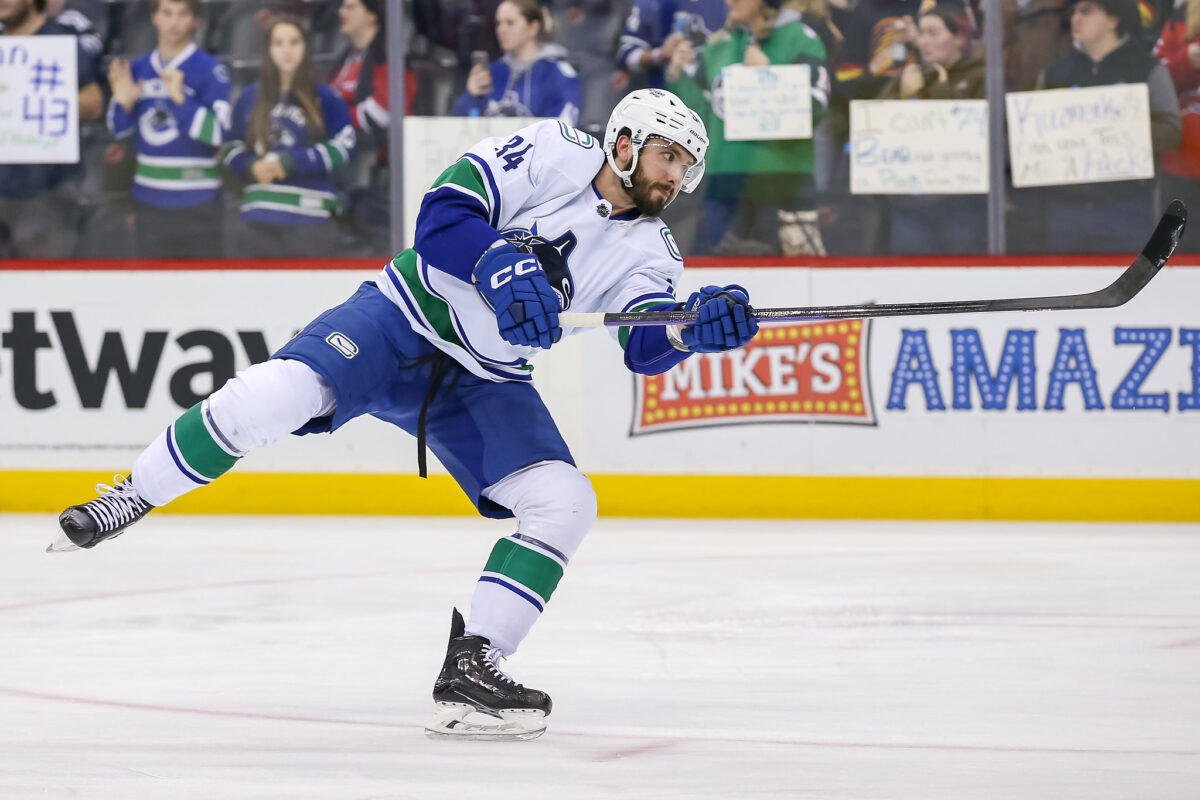 With injuries starting to pile up, plus his strong play in the AHL, he was called up multiple times and actually got into games for Vancouver under Tocchet. This opportunity did not go to waste as he has proven he belongs in the NHL and is now being given a chance to play in the team's top six. His strong play even led to a contract extension showing that the organization believes he can be a useful player for the team moving forward.
Di Giuseppe's Strong Play Under Tocchet
In 27 games this season, Di Giuseppe has produced six goals and nine points, with all but one point coming at even strength. He has also registered 44 total shots, on goal, which equals his total from his 2020-21 campaign but in 10 fewer games. As for his individual high-danger chances created, he is up to 24 on the season at even strength, which is more than André Burakovsky and Tom Wilson, who have both played more games and have bigger roles on their teams. He is doing everything the Canucks have asked and more from an offensive perspective and showed he has the skill needed to play at the NHL level.
Related: Canucks: Third-Line Centres to Target in Free Agency
---
Latest News & Highlights
---
While Di Giuseppe is mostly known as an offensive player, his defensive game has also been very impressive during his time in the NHL. At even strength, the Canucks have limited their opposition to 14 goals and just five in the last 10 games. Vancouver has also done good at limiting high-danger scoring chances with him on the ice; in 268 minutes of even-strength ice time, the opposition has produced 48 high-danger scoring chances compared to 54 that the Canucks have generated. He has also been given some penalty kill time and helped keep the opposition off the scoresheet in the last nine games he has been given shorthanded ice time. While the sample size is small, he is showing that not only isn't he a defensive liability, but that he can be relied upon in his own zone. These are the types of players Vancouver seems to be targeting, which bodes well for him going into next season.
Strong Partnership With Miller
During his time with the Canucks, Di Giuseppe has formed a strong partnership with J.T. Miller. In fact, the two have been at their strongest this season at even strength when playing on a line together. Here is a look at the 12 games between March 4 and 26 where both players have been in the lineup.
| | | | | | |
| --- | --- | --- | --- | --- | --- |
| | Minutes | Shots For per 60 | Shots Against per 60 | Goals For per 60 | Goals Against per 60 |
| Di Giuseppe + Miller | 128:34 | 28.93 | 26.13 | 3.73 | 1.87 |
| Di Giuseppe without Miller | 28:04 | 14.96 | 29.93 | 2.14 | 0 |
| Miller without Di Giuseppe | 33:01 | 21.81 | 27.26 | 1.82 | 1.82 |
While the partnership is new and a limited sample size is available, it is clear that these two work together. Finding a fit for Miller has been tough over the past two years, so having someone who is reliable and cheap, as Di Giuseppe is set to carry a $775,000 cap hit for the next two seasons, on his wing could be crucial for the teams' success going forward. While there may be more talented wingers on the roster, this duo works and is worth a look at the start of next season.
Di Giuseppe Has Earned His Spot
Di Giuseppe is the type of player every successful team needs. A player who doesn't have a high cap hit, has some skill and whose effort level is constantly high. The Canucks will also get an opportunity to see his leadership skills on full display as he is set to participate in the AHL playoffs with Abbotsford once the NHL season concludes. He is an easy player to cheer for from a fan perspective and one whose continued development will be intriguing to watch next season.
---
---