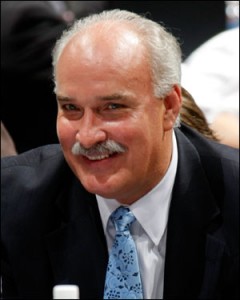 After a summer full of speculation, John Davidson and the St. Louis Blues have officially broken off a six-year marriage.
Davidson was announced as the team's president in June 2006 after leaving a long-time role as a color analyst for the MSG Network in New York.  He has since been vital in the acquisitions of such talent as Blues mainstays Andy McDonald, Alex Steen, Jaroslav Halak and Kevin Shattenkirk.
Davidson's greatest contribution was doing what he does best; thrusting himself in the public spotlight while speaking his hockey knowledge eloquently and directly.
Under Davidson's reign, the Blues have seen a point jump from their dismal 57 points in 2005-06 (last in the NHL) to 109 points last season (3rd in the NHL).  Possibly just as important, Davidson has succeeded in putting fans in the Scottrade seats again.  The Blues had the 4th worst attendance numbers in 2005-06, bringing in an average 14,213 per game.  Last season, the Blues finished with the 9th best attendance, averaging 18,809 fans per game.
But it just could not last.  Brought in as a member of the Dave Checketts regime, Davidson saw the writing on the wall when the team was sold to former minority owner and local businessman, Tom Stillman.  Not only is it common practice for a new owner to bring in his own front office help, but Davidson and Stillman's relationship has been described as "frosty" at best.
Davidson's contract, which had three years remaining on it at about $2 million per season, gave the 59-year old a negotiating window this summer that allowed him to seek other employment without repercussions .  Davidson used that time to talk with the Columbus Blue Jackets about a management position similar to his role with the Blues.  Nothing materialized at the time and Davidson saw his window expire.
New owner Stillman has made it abundantly clear that he will need to make cutbacks in the front office to make his investment into a truly profitable franchise.   Along with the Toronto Maple Leafs, the Blues have one of the highest paid front offices in the league.  When including names such as Doug Armstrong, Al MacInnis and Ken Hitchcock, you get a resourceful yet expensive hockey operations staff.
The question now stands: where might Davidson end up?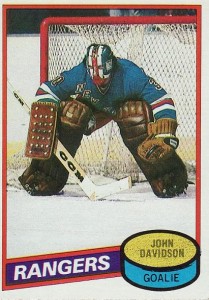 While Columbus likely remains on Davidson's radar, another fit could be the Calgary Flames.  Although both sides deny negotiating over the summer, Davidson has some roots in the Canadian city.
Blues reporter Andy Strickland reported this in May:
Davidson has deep roots in the Calgary area going back to his junior hockey days not to mention he broadcasted Flames games prior to his legendary career in New York. He and his wife have family living in the Calgary area and for years have hosted an August charity golf tournament in the city.
The Flames have had their struggles over the years, missing the playoffs in each of the last three seasons.  They are also in the midst of seeing their NHL All-Stars flame out, so to speak.  Captain Jarome Iginla (35) and goaltender Miikka Kiprusoff (35) have begun the inevitable downward slope of their careers.
Flames President and CEO Ken King could be seeking someone to assist in a speedy rebuild of the storied franchise.  Why not pursue someone who has been there and done that very recently?  After all, King has been rumored as showing interest in shifting to a more business aspect-role of the Calgary Flames Limited Partnership.
Davidson also has the alternative to move back into a broadcasting role.  He was awarded the Foster Hewitt Memorial Award in 2009 by the Hockey Hall of Fame for his contributions to broadcasting.
With the lockout in full swing, there is plenty of time for Davidson to find out what his next career move will be.
Andy Strickland reports that the deal is days away from being finalized, despite reports from numerous media outlets.  The Blues will release an official statement in the next few days.