By Wayne Whittaker, Boston Bruins Correspondent

It's often said that visiting teams must "weather the storm" for the first 10 minutes of a hockey game. By then, play should settle down as emotions subside. On Saturday night, it turned out to be a 20 minute storm that was thrust upon the Boston Bruins by a dominant Chicago Blackhawks team that came out flying.
19 shots and an overwhelming offensive presence by Chicago pushed the Bruins to the brink early on in Game 2. If not for Tuukka Rask, Boston could have been looking at an 0-2 series hole relatively early in the evening. Rask was the best Bruin on the ice, and is the sole reason his team was afforded the opportunity to climb back into the series.
Instead of being run out of the "madhouse on Madison", Boston (somehow) held it together, regrouped in the intermission and helped slowly turn the game in their favor. In this case, "slowly" can also be a summation of Boston's game-plan against Chicago.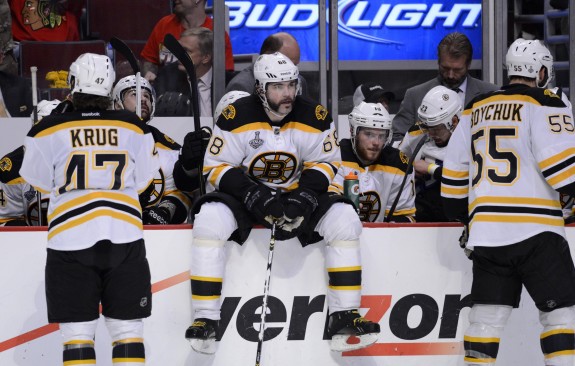 Through 74:48 of game time, the Bruins outhit Chicago 50-34. Leading the way, causing hesitation and just generally wearing down the run-and-gun team in red was Milan Lucic. Since waking up in Game 7 vs. Toronto, the 25 year old power forward has been exactly who the Bruins need him to be. When Lucic is skating hard, and looking to separate pucks (and body parts) from bodies, his team tends to follow his lead.
After a dreadful first 20 minutes, Boston's physical and consistent attack forced Chicago to slow down, and hesitate when going after loose pucks which in turn allowed the Bruins to gain some confidence. And when they needed it most, the third line woes that had haunted Boston all season finally resolved themselves.
A Chris Kelly net drive finished a great individual effort by Daniel Paille to tie the game at 1-1 with five minutes remaining in the second period. Then, in overtime, Tyler Seguin and Daniel Paille capitalized on a Chicago turnover and sent the series back to Boston tied- a feat almost unimaginable as the first period unfolded.
The Hawks had their chances, but for the second straight game their hapless powerplay was defended perfectly by the terrific penalty killing of Boston. It wasn't pretty, and at times it was just plain chaotic, but the Bruins defense was able to shut down a potent Chicago offense for the vast majority of the game.
The gravity of this Bruins victory has yet to set in for either team. Only one team (the 2011 Bruins) has recovered from an 0-2 series deficit in the Stanley Cup Finals in the past eight years, and it was very unlikely Boston would be able to do it again had they not picked up at least one win in Chicago.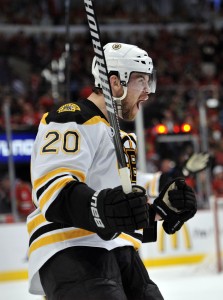 The devastating triple overtime loss in Game 1 could have haunted this team until the end of their season, much like the 1990 Oilers capitalized on the momentum they had gained from a Game 1 triple overtime victory of their own. Instead, Boston can look at their time in Chicago from a positive perspective: they were one shot away from leading this series 2-0.
But then again, so was Chicago.
Now we shift to Causeway Street in Boston, where the Bruins will look to add to the memorable moments they've already experienced at home in this post-season. At the other end of the ice, Chicago will look to regain control of this series, effectively halting any Bruins momentum in the process.
Game 3 is Monday night.
—