The Colorado Avalanche have the potential to turn the 2013 NHL Entry Draft into one of their best drafts in recent history. With picks early on in each of the seven rounds of the draft, the Avalanche stand a possibility of finding players that will make a difference for the team now and in the future. So let's dive right in.
First Round: 1st Overall Pick – Seth Jones (D) – WHL Portland Winterhawks
From the moment the Avalanche won the Draft Lottery a few weeks ago, Seth Jones has been the man for the Avalanche. Nathan MacKinnon made a case for himself during the Memorial Cup Final, but I'm sorry, one game can't change the scope of things that much.
Jones addresses short and long term needs for the Avalanche on defense. He might not have as immediate of an impact on the team, especially from a statistical perspective, as an offensive guy, but you don't expect a defenseman to come right in and put up tons of goals. But if you look at this team and the Avalanche farm system, defense was the biggest weakness during the previous season and defensive depth is one of the biggest farm system weakness.
Second Round: 32nd Overall Pick – Morgan Klimchuk (LW) – WHL Regina Pats
Morgan Klimchuk has played for the Regina Pats of the WHL the past two seasons and has been trending in the right direction. From his first full season to his second full season, Klimchuk doubled his goal-scoring total from 18 to 36. He isn't the biggest guy, at 5'11 180, but he has one of the best attributes you want out of a player; he's coachable.
From the video above, Klimchuk seems to have just the thing that you would want from a young kid coming into the league. He's a winger that can score, but is also a guy who knows the importance of playing the full 200 feet of the ice. This kid sounds like he has the makings to be a player with the two-way upside of Ryan O'Reilly.
Third Round: 63rd Overall Pick – Justin Bailey (RW) – OHL Kitchener Rangers
This pick might be some wishful thinking for the Avs, as Bailey's final prospect ranking has him at 38 amongst North American skaters, but stranger things have happened than a player projected to go in the second round falling into the early third.
Bailey didn't put up fantastic numbers in Kitchener this year, but just one look at his highlight reel from this past season should be enough to show you this kid's potential. He's a big body at 6'3″ and 186 pounds that has a nose for the net. He has a powerful shot, impressive hands and a great sense for the game. He could develop into a dominant right winger in the NHL. So much so that I wouldn't be upset if the Avalanche decided to take him with their second pick rather than wait until the third round.
Fourth Round: 93rd Overall Pick – Nicholas Baptiste (RW) – OHL Sudbury Wolves
Baptiste is a solid two-way forward that made a huge jump in the prospect rankings at the end of the season. At the midterm rankings, Baptiste was ranked 105th among North American skaters; he improved his standing to 61st by the end of the year based on his strong play at both ends of the ice.
Baptiste really improved his numbers in his second year in the OHL, improving his goal totals by 13 and his overall points total by 21. According to his coaches, his rise in rankings is attributed to the work he put in from season one to season two to become a more complete player.
You can never have too many guys on a team that can play in any given situation, and Baptiste seems to have that in him.
Fifth Round: 123rd Overall Pick – Jared Hauf (D) – WHL Seattle Thunderbirds
Hauf is not a guy that you would expect to come into your lineup and make a difference right away, but at 6'5″ and 212 pounds, Hauf adds some much needed size to the Avalanche system. The other thing that Hauf adds is a serious mean streak.
Count on Hauf playing some more time in Seattle before coming up to Lake Erie so that he can continue to develop his skating and hockey awareness. Hopefully the progress he made this season will continue in the coming years.
Sixth Round: 153rd Overall Pick – Greg Chase (C/RW) – WHL Calgary Hitmen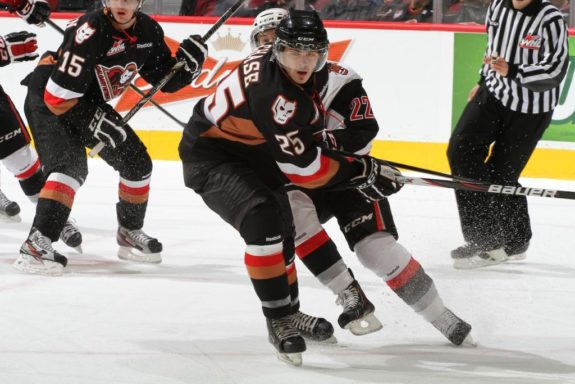 Greg Chase fell a great deal in the rankings after the midterms were released. Initially ranked 94 and a possible third-round pick, Chase now finds himself 153rd and in the later rounds of the draft.
Chase's offensive game definitely seems to be his strength, with his defensive game needing improvement. He also needs to add some more muscle onto his frame so that he can win more puck battles along the boards, another element brought up in some scouting reports.
Chase would need more time in Junior, but could develop into a role-player for the Avs in the future.
Seventh Round: 183rd Overall Pick – Jacob Sweeney (D) – QMJHL Moncton Wildcats
Not even ranked when the midterm rankings were released, Sweeney earned some attention towards the end of the season.
Sweeney's scouting report shows promise for the young defender. It speaks of his calmness with the puck, good, crisp passes and the ability to just use the boards to get the puck out of the zone when he doesn't have a lot of options. His size is another thing that the Avalanche will like.
At the same time, there is clear improvement needed if he is to become an NHL defender. Sweeney needs to improve his skating and footwork, most notably, otherwise he will be a liability in his own zone. As a seventh round pick, however, there is time for him to work on developing these skills.
Overall, a pretty good draft for the Colorado Avalanche.