Ryan Fitzgerald THW Close-Up:
Date of birth: 10/19/1994
Place of birth: Florida
Ht: 5'10″     Wt: 170 lbs
Shoots: Left
Position: C/RW
NHL Draft Eligibility: 2013
Twitter: @RTF_17
THW The Next Ones Rankings (January 2013): 56
Other Rankings:
THW War Room Rankings (April): 65
ISS (May): Not ranked
Future Considerations: Not ranked
Craig Button: 42
Consensus aggregate of several services (NHL Numbers): 53
CS Final Rankings for North American skaters: 56
***
[NHL 2013 Draft Guide – The Next Ones Draft Headquarters: Your quintessential draft resource]
***
Ryan Fitzgerald can, and likely will, shock some people come draft day.  He's been chipping away this season with the Valley Jr. Warriors of the EJHL and his game has improved leaps and bounds.  Fitzgerald was featured in the first ever USHL/NHL Top Prospects Game where he won game MVP as a result.  That was originally when people started to take notice of him, but those who have seen him this season can rest assured he's a solid gamble if taken with a high pick.
"Fitzy", as he's known by his teammates, is able to read the ice and see plays develop.  He has a real mind for the game and an even better individual skillset.  A bit undersized, his smarts outweigh his physical presence, or lack thereof.  He's keen with the puck and can move through heavy traffic easily.  Defensemen have a hard time reading him because of his quickness with the puck and on his skates.  At one moment, he could be gliding along, then Fitzgerald is able to kick it into the next gear and pull away from defenders.
His shot release and power is a little bit above-average, but Ryan is more of a setup guy than a goal scorer.  The other thing that may surprise people is he plays with a bit of an edge and is relentless in getting the puck from the other team.  It's the will to win and succeed that may set him apart from other players.  You don't normally see players taken high out of the EJHL, but Fitzgerald may be one of a select few.
Where Will He End Up In June:
While many have him going in the 3rd round, it is without question he has the unique blend of skills to make it into 2nd round discussions.  Don't be shocked to see his name get called in the mid 2nd.
Scout's Honor:
"The core of Fitzgerald's game is his hockey sense. He sees the ice and has a keen understanding of time and space. He's able to delay, misdirect and then strike with a hard pass or quick shot. He's not afraid to get his nose dirty, and is brave enough to try quick faints and dekes around the goal (that expose you to big hits) but overall he is more content to stay on the outside, draw defenders toward him and then pick apart your defensive structure, than drive the puck to the net himself. His skating is slightly above average and because he's not very big, could stand to be better. He's a diligent defensive player and an ace on face-offs. He must've won 90% of his draws in the All-American Prospects game, including a clean win in the offensive zone that directly led to a goal by Seth Jones. Another, less talked about side to Fitzgerald's game is his competitiveness. He plays such a composed and cerebral game that you wouldn't figure him for a rat, but he certainly chirped the heck out of the opposition in the BJB tournament."
Bill Ladd – NHLMockDraft.org
"An undersized centreman who plays fast and has continually performed well in big games. Excellent face off man, passer and shooter. Quick release, anticipation in the attack and vision. He is an unselfish two-way pivot who sees the ice extraordinarily well and sets things up so smoothly and abundantly. Has a lightning release, good defensive zone coverage and committment, and despite his size, looks like an excellent up and comer. His father Tom is a former NHLer."
Bill Placzek – DraftSite.org
"Fitzgerald possesses some of the best hockey sense in the entire 2013 NHL Draft class, which allows him to succeed against older and bigger competition. A very responsible and sound defensive player, he owns very good playmaking ability as well, making him a viable two-way player. MVP of the All-American Prospects Game."
Aaron Vickers – Future Considerations
Statistics:
Bio/Interview(s)/Links:
New England Hockey Journal feature
Interview with Hockey's Future
Fitzgerald wins Top Prospects MVP award in front of his dad
International Tournaments:
Fitzgerald has played in four games for Team USA where he has four goals.
ETA:
3-4 years
Risk/Reward Analysis:
Risk: 1.5/5   Reward: 4.5/5
NHL Potential:
2nd or 3rd line center with great two-way ability
Strengths:
Vision
Passing
Speed
Defensive play
Faceoffs
Skating
Balance
Hockey sense/IQ
Flaws/Aspects He Needs To Work On:
Build more muscle
Shooting more frequently
Board play
Fantasy Hockey Potential:
Offensive: 6/10   Defensive: 5/10
NHL Player Comparison:
– I like to compare Fitzgerald to New York Rangers center Derek Stepan.
Video(s):
***
THW's The Next Ones prospect profile template design architect: Chris Ralph
Follow Shawn Reznik on Twitter: @ShawnTHW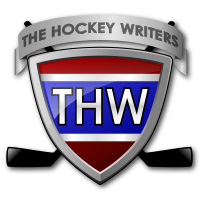 The archives of THW contain over 40,000 posts on all things hockey. We aim to share with you some of the gems we've published over the years.