The third of three features that will look at the Oilers in their three positional areas. Taking a look at where the strengths are and what weaknesses they need to look at shoring up and providing a look at some possible options to target.
****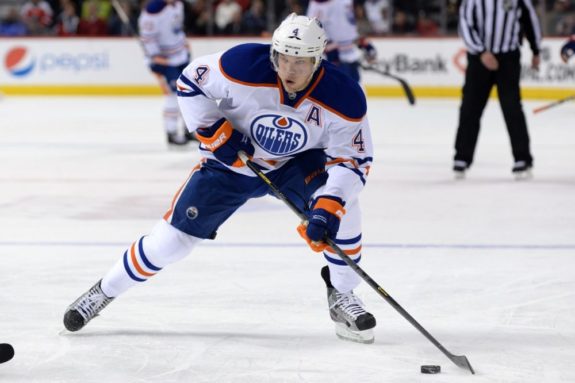 The Edmonton Oilers have finished out of the playoffs in the past seven years and have been near or at the bottom of the standings in half of those years, a position that no other team would envy. What a number of other teams would love to have, however, is the depth of young talented forwards that the Oilers have.
The position that is less criticized when compared to the defence or goaltending, that certainly doesn't mean it doesn't have it's share of holes to fill.
Having said that, the forward groups is the strength of the team and has a number of the key pieces necessary to be successful.
The talent is there in spades and as dynamic as it comes. They have three consecutive first overall picks in Taylor Hall, Ryan Nugent-Hopkins and Nail Yakupov and add Jordan Eberle to the mix who has been arguably their best player over the last few seasons.
Breakout years from Sam Gagner and Magnus Paajarvi have added depth to the lineup as well and the Oilers hope that progression will continue in 2013-14.
They have veterans in Shawn Horcoff, Ales Hemsky, Ryan Smyth and Eric Belanger, although the future of all four is questionable and how many are on the Oilers roster come October will be interesting.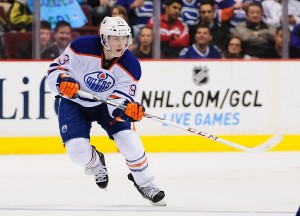 As much as the Oilers needed to add some missing pieces, they also need bounce back season from a couple players, namely Ryan Nugent-Hopkins. Battling a shoulder injury, RNH had a season he'd like to forget. If he is healthy and back on track as the No.1 centre it will make a world of difference.
While the dearth of offensive talent is there, the supporting cast is not. The Oilers have a couple of glaring needs within the forward ranks.
First is a power forward who can play in their top six. Someone who can create space, be a factor on the forecheck and be a force in the blue paint. The Oilers have a ton of dynamic forwards, but none of which are physically imposing.
They also need a more productive bottom six. Someone who can kill penalties but also chip in with some offence. Players that are gritty and harder to play against. Generally speaking the bottom six last season was very unproductive and did not provide much secondary scoring.
IN THE SYSTEM
Teemu Hartikainen
The most NHL ready and capable on this list, Hartikainen was a semi-regular in the Oilers lineup last season. He has the tool set to be an effective power forward, although concerns about his skating persist.
Got caught in a bit of a numbers game last season and didn't perform well enough when he was in to stick.
Rumours persist that he will be going to the KHL next season which may make his name on this list a non factor.
Anton Lander
The most likely member from the Oilers system to gain a roster spot next season, Lander is the odds on favourite to be the 4th line centre in 2013-14. He has had some significant NHL experience in his first few seasons but spent most of 2013 with the OKC Barons for seasoning.
His game improved and was one of the key players in the Barons playoff run and centred their most effective line with Hartikainen and Rajala.
Perhaps not destined to be a top six forward, could be a very effective bottom six contributor.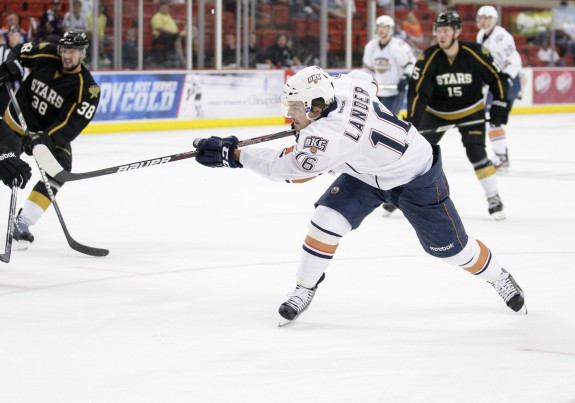 Tyler Pitlick
Has the skill set to be a very good third line forward in the NHL. He is responsible, not afraid to get involved physically and has a wicked shot. The issue is both consistency and health.
He often will go stretches where he is non-existent, and has battled injuries over the last couple seasons.
May be at least another season away.
Curtis Hamilton
After two very disappointing seasons to start his pro career, the Oilers hope next year is the one where Hamilton takes a step forward. Taken in the second round in 2010, he was pencilled in on the Oilers third line after a few years in the AHL.
The plan hasn't exactly gone as anticipated, but Hamilton does have the skill set to be an ideal bottom six winger for the team with maybe second line upside. He has good size, goes to the dirty areas and likes to mix it up and has good hands in tight.
Unfortunately it's just potential at this point and he'll have to prove he was the player the Oilers thought they were getting when they drafted him.
TRADE ROUTE
Chris Stewart, St. Louis Blues
Would likely take a significant offer to pry him away from the Blues as he was their leading scorer, however he is a pending RFA and St. Louis has a number of them this year who will command significant raises, so there's a chance he could be had for the right offer.
The Blues have Stewart, Patrik Berglund, Alex Pietrangelo, Kevin Shattenkirk and Kris Russell all due new deals this offseason.
Stewart was the team leader in goals (18) and points (36) but just 7th in ice time among forwards. The Blues also have plenty of depth as well as young forwards like Vladimir Tarasenko and Jaden Schwartz possibly ready for bigger roles and prospects like Ty Rattie and Dmitrij Jaskin waiting in the wings.
A prototypical power forward, Stewart would be the ideal type of player for the Oilers to add to their top six.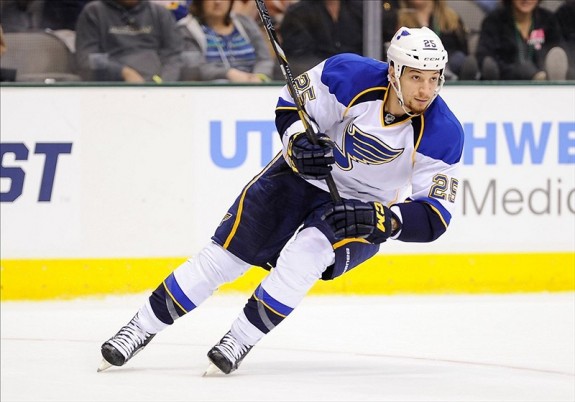 David Jones, Colorado Avalanche
Signed to a new four year extension with the Avs, but had a very poor year last season. The Avs have depth up front and depending what they do with the #1 pick, if they take Nathan MacKinnon may have more.
Hard to say whether Jones has completely fallen out of favour yet, but the Avs could look to move him for help in other areas. A 20 and 27 goal scorer his size and scoring ability could help the Oilers top six.
Max Talbot, Philadelphia Flyers
Talbot had been rumoured to be on the block at the April 3 deadline before a broken leg, he could be a good fit for the Oilers if the Flyers still have him on the block.
A player that can win faceoffs, kill penalties, get under opponents skin and still contribute some offence, Talbot has what the Oilers need.
He's also a winner and was key contributor in the Penguins Stanley Cup win when he was there.
Sean Couturier, Philadelphia Flyers
The Flyers have depth at forward and desperately need help on defence. They have acquired Mark Streit, but he's 35 and there's not much in the Flyers system for defensive help.
The Oilers have the #7 pick and would appear willing to move it for the right price. Couturier would be a player worth the move. He's very young still, but has shown to be progressing well on his way to one of the best two way centres in the league.
He would be an ideal fit to centre the Oilers third line long term. Packaging the #7 pick and a player might be an option worth pursuing if the Flyers had any interest.
FREE AGENCY
Nathan Horton
The #3 pick in 2003 has battled injury over his NHL career, but when he's healthy he is a top line winger with 30 goal capability.
He's 6'2″ 30 lbs and can skate and handle the puck. He's also a tough competitor ad plays with an edge and could give the Oilers a number of attributes they don't possess in their top six.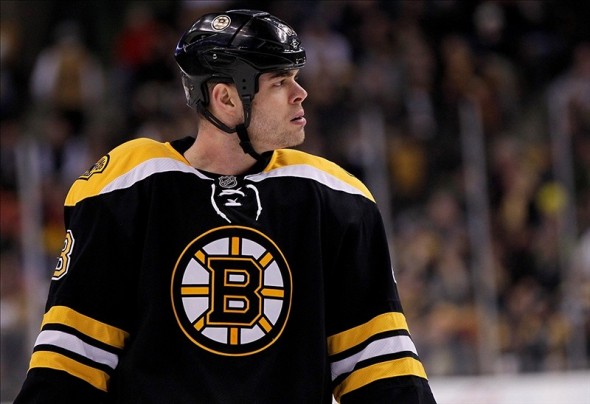 David Clarkson
Perhaps not the offensive threat Horton is, Clarkson is nonetheless a 30 goal scorer last season and knows how to go to the front of the net. If the Oilers need a forward that has size, toughness, grit and the ability to contribute some offence, Clarkson may be the best fit.
He's shown the ability to be able to score, he drives hard to the net and is hard to move from the blue paint. Over his past six seasons, in a full schedule, he averages well over 100 penalty minutes. He's gritty, hard to play against and plays with a competitive edge that MacTavish would love to rub off on the rest of the Oilers.
Bryan Bickell
Previously playing in relative obscurity in Chicago, Bickell had a good 2013 season and has broken out in the 2013 playoffs and has been one of the Hawks best players and has 8 goals in the first three rounds.
At 6'4″ 230 lbs, he's got the kind of size and emerging skill set that could benefit the Oilers and play in their top nine. Chicago will try and re-sign him,  but if he decides to test free agency, there will be suitors that will be able to offer more than what the Blackhawks can. He's definitely due a raise from his $600,000 salary but how much will be interesting to see if he hits the open market.
Raffi Torres
A former Oiler, Torres showed how valuable he was in the Sharks lineup before going on suspension from a hit on former teammate Jarret Stoll. He is certainly a target in the eyes of the league, but was one of the Sharks most effective forwards.
Still just 31, he would bring a bottom six presence that the Oilers lack. He brings fiery competitiveness and grit that the Oilers don't have. He is relentless on the forecheck and hard to play against. Also chips in 12-15 goals a year and has familiarity with the organization and GM Craig MacTavish.
THE DRAFT
Aleksander Barkov
To get him, the Oilers would likely have to trade up, but Barkov is the type of player that they would ideally like to draft. He has good size at 6'2″ 210 lbs, plays an excellent two way game and has elite level skill.
He's projected to go in the top five, so the Oilers may have to look to persuade a team in that group to move their pick.
Sean Monahan
A player that could be there at #7, Monahan is expected to go in the 5-8 range. He is arguably the best two way forward in the draft and one of the most polished products. A well rounded prospect he also brings many intangibles that scouts love.
Could be an ideal second or third line centre, depending on progression, for the long term future of the Oilers.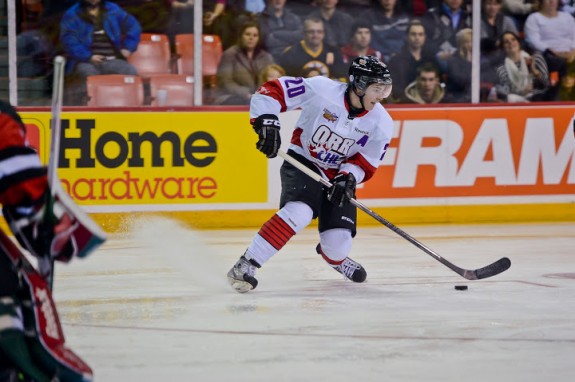 Bo Horvat
If the Oilers were to trade down and deal their #7 pick for another asset and a lower first round pick, Horvat could be someone they target with that pick. He's a big body who can play both ways. He's ultra competitive and plays an aggressive style of hockey.
Had a huge playoff for the London Knights and could bring an element of size and sandpaper to the Oilers lineup.
JT Compher
A gritty two way centre who can provide some offence, Compher could be an ideal fit to centre the third line for the future. He has a good offensive skill set, but also gets under opponents skin and is very hard to play against.
Ideally if he were on the board when the Oilers make their second pick, it would be an excellent fit for the team.
****
Last Week: The Defence
Previously: The Goaltending
__________________________________________
 Follow Carl on twitter @maloney3383 and Google+ for more articles.
Carl covers the Edmonton Oilers for THW as well as providing additional prospect coverage. Follow him on twitter @carlTHW, connect on Facebook or contact at carl.maloney@hotmail.com for questions, comments or if you're interested in him writing for you.