The first of three features that will look at the Oilers in their three positional areas. Taking a look at where the strengths are and what weaknesses they need to look at shoring up and providing a look at some possible options to target
****
The Oilers have many needs going forward, and while they have depth of talent at many positions, there are still many glaring weaknesses.
With the goaltending position both are true. They need to add to it at the NHL level, and there is simply not much depth at the position in the organization.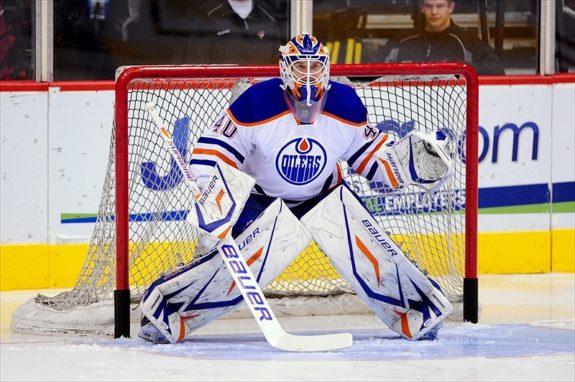 Currently the Oilers have just one legitimate NHL goaltender on their roster for the 2013-14 season. Well technically two, but come July 1st, it appears to be a given that Nikolai Khabibulin will be on the free agent market and no longer an Oiler.
That leaves just Devan Dubnyk.
A much criticized and often questioned goaltender, Dubnyk is constantly facing the fact that people doubt his ability as a No.1 netminder in the league.
No he is not Jonathan Quick or Henrik Lundqvist, but he is very underrated as far as his play goes and often doesn't get the credit he deserves.
He plays on a team that gives up a lot of chances and has been hung out to dry on many occasions. He faced the sixth most shots in the NHL last season and his .920 save percentage ranked him a very respectable 12th. He did show moments of inconsistency but he has improved in each year he's been in the league and there's no reason to think he won't continue to do the same.
The problem is that the Oilers are moving from the rebuilding phase to the win now phase and hoping for improvement may not be good enough.
The goaltending situation as a whole is poor at best. Even with Dubnyk, there is nothing behind him that would inspire confidence. Yann Danis has been the third option behind Dubnyk and Khabibulin, and while he's a very good AHL goaltender, he is not a solution in the NHL.
Currently there isn't a candidate to be a reliable backup to start next season that is even signed by the team, assuming of course that Khabibulin's contract isn't renewed.
In The System
The top two prospects in the system at the moment are Olivier Roy and Tyler Bunz, although neither has set the world on fire with their moves to the professional ranks.
Roy has had a strong ECHL year with Stockton, but struggled when moved up to the AHL in his starts with Oklahoma City. He has a tremendous amount of talent, but lacks consistency and is prone to bad goals.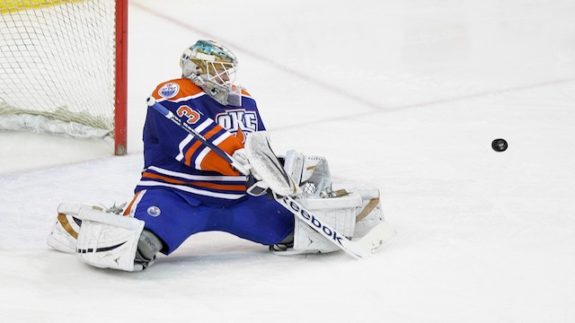 Bunz has had a tough first year as a pro and very poor season in Stockton. He is a technically sound goaltender who plays the angles well and has a good mental makeup. There is every indication that he will bounce back with a stronger second season.
The other option is Niko Hoivinen who was the backup to Danis in OKC this season. At 25 years old he had limited starts for the Barons and was average when given his opportunity. He doesn't project to be much more than a depth goaltender in the system.
The Oilers need to address the position and bring in NHL talent. Whether it is going after a top frontline starter in hopes of taking them over the top, or bringing in a solid option to go as a running mate with Dubnyk so there are two viable options, they have to do something. Even adding younger options with some future potential to stock their system is an upgrade to what they have.
Here's a look at some potential options and directions they could go in this offseason.
Trade Route
Ryan Miller, 32
With the Sabres rebuilding, the writing on the wall appears to be clear that Miller's time with the organization is nearing an end. He would be the big ticket goaltender that many teams may be looking for and he will no doubt have many suitors.
He's 32 years old with two years left on his contract at 6.25 million, certainly not a cheap acquisition but it's the price to pay for one of the league's top netminders.
The Oilers are unlikely to be at the top of his list, so they would need to make a substantial pitch if they want him.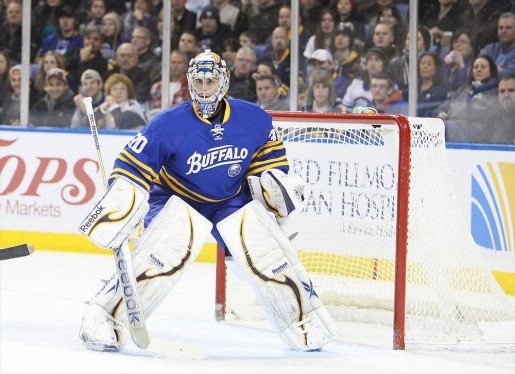 Jonathan Bernier, 24
A pending RFA, Bernier is one of the top young goaltenders in the league and another highly sought after asset. Thought to be dealt by this point, it could be this offseason where the Kings deal one of their biggest trade chips.
With Jonathan Quick locked in long term, they can't afford to have Bernier sit for too long as his value may not be higher than it is now.
Bernier would certainly be a potentially ideal fit alongside Dubnyk in the Oilers goal, and would be able to grow with the team's other young stars. The return the Kings would be asking for could be substantial, but could be worth the price.
Jaroslav Halak, 28/Brian Elliot, 28
Whether the Blues would be open to dealing one of their goaltenders is uncertain, but they do have up and comer Jake Allen waiting in the wings. He was very good at times when he came up in 2013 due to injuries to the other two. How NHL ready the Blues deem him to be could determine their level of interest on dealing one of their two starters
Both Halak and Elliott are 28 years old and have respectable contracts, Halak (3.75M) and Elliott (1.8M) and have been impressive in their roles over the last couple of seasons.
Neither have shown to be able to carry the load on their own yet, but paired with Dubnyk could be what the Oilers are looking for.
Marc-Andre Fleury, 28
Not thought to be an option until the playoffs started, Fleury now finds himself the #2 in Pittsburgh as Tomas Vokoun is currently carrying the load in their playoff run. Combined with the fact they signed highly touted college prospect Eric Hartzell, one would have to wonder if the Penguins would entertain offers for Fleury.
He has shown inconsistency and a penchant for letting in weak goals, however he remains one of the most talented and athletic goaltenders in the league and does have a Stanley Cup on his resume. Might be worth a phone call for Craig MacTavish.
Free Agency
Mike Smith, 31
All indications are that Smith will not re-sign in Phoenix and will hit the open market. At 31 he's in the prime of his career and has shown over the last couple of seasons to be a legitimate No.1 option.
He and Dubnyk recently paired together for Canada at the World Hockey Championships and while they didn't have the expected team success, Smith was excellent and one of the top goaltenders at the tournament.
Could be a good fit to pair with Dubnyk again for the Oilers.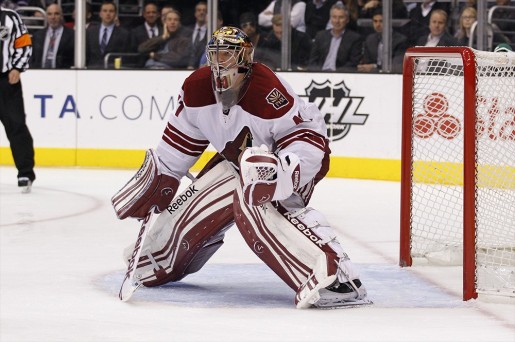 Niklas Backstrom, 35
Reports suggest that Minnesota is interested in re-signing Backstrom, but it is far from a foregone conclusion. At 35 years old he has seen his numbers decline, but not to the point where he isn't still a good top option for someone. He also just underwent sports hernia surgery but is expected to be ready by training camp.
The Wild currently have Josh Harding signed and Darcy Kuemper in the AHL, who has been stellar for the Aeros, and has been very good in his handful of NHL appearances.
Tim Thomas, 39
Traded to the New York Islanders earlier this year, on paper anyway, Thomas is set to be a UFA in July. It's unclear as to whether he will return next season after taking a year off, but according to the goaltender's agent "he's still contemplating the idea of playing next season" while not committing to it.
He will be 39 years old, so perhaps not the ideal option for the Oilers, however he was one of the league's best goaltender's only a season or two ago and could give them a couple more good years.
Ray Emery, 30
Resurrecting his career in Chicago, he put up stellar numbers in 2013 splitting time with Corey Crawford. If the Oilers are convinced Dubnyk will be their guy and continue to progress, Emery would be an excellent backup and secondary option. 
If Dubnyk falters, than Emery is there to pick up the pieces and has shown he is capable of winning games.
Antti Raanta, 23
The top goaltender in the SM-Liiga this season, Raanta had one of the best season's in league history for a goaltender. He has also indicated that he may be interested in coming to North America next season. There will be a number of suitors for him, but the Oilers would be smart to inquire about his services.
He's just 23 years old, and while undrafted European free agents can often be a risky venture, there is nothing to suggest he won't have a successful pro career in the NHL.
He could also be an excellent (and possibly less expensive) option to be a running mate for Devan Dubnyk and allow them to push each other.
The Draft
Eric Comrie
The second ranked goaltender in behind Zach Fucale, he would likely still be there early in the second round, where Fucale would not and the Oilers will not use the #7 pick on a goaltender.
Comrie is athletic, aggressive and loves to challenge shooters. The Oilers have two second round picks and unless there is a forward or defenceman they have targeted, one of those two picks could be used on Comrie, who would be an excellent piece for the future.
Tristan Jarry
Expected to go in the mid to late second round, the Oilers may be hesitant to use their first second round pick on him, however if he is still around with their second one he would be a good pick for the team.
Impressive in limited games with the Oil Kings, his game has just continued to get better and better and could have as much upside as anyone. The Oilers have also been able to keep an eye on him as he plays right in their back yard.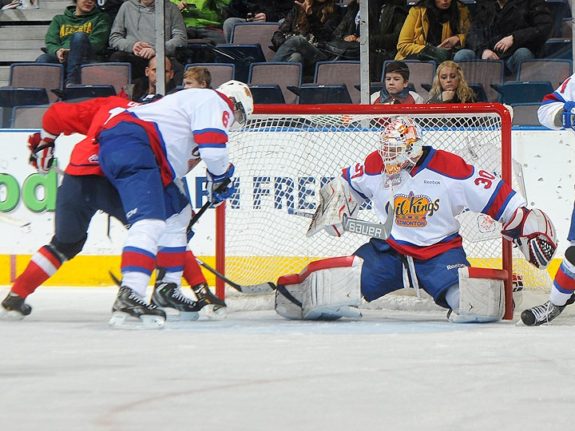 Austin Lotz
If the Oilers do not use one of their two second round picks on a goaltender, their next selection is not until the fifth round, as they dealt their third and fourth round picks away this season.
Not projected to go until the mid to later rounds, Lotz could be a sleeper. He's played behind a weak team in Everett and has seen a lot of pucks most nights. Lotz has good, size and he's athletic, but most importantly he competes hard every night and has shown to learn from his mistakes and keep improving.
If the Oilers don't have a netminder yet, he could be a pick that turns out to be a steal.
****
The Oilers will no doubt be scouring all options and avenues to pursue an upgrade and provide depth to their system. Any options outlined above or similar to would be an improvement to the current situation.
Devan Dubnyk is a very good NHL goaltender, however pinning all their hopes on him given there isn't much of a Plan B if something were to happen, is risky business at best.
Ideally MacTavish will look to add a legitimate NHL talent to be a 1 or 1a goaltender for the team next year as well as adding a young piece for the future.
He is certainly not the only NHL GM looking to accomplish the same goal, so time will tell on how successful he is.
→Next week: the defence
________________________________________________
Follow Carl on twitter @maloney3383 and Google+ for more articles