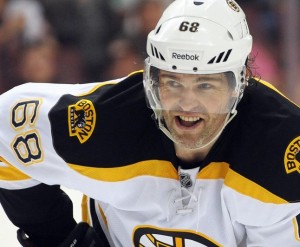 What have you done for me lately?
Jaromir Jagr has scored 681 goals in his career.  That doesn't matter for some fans.
He's scored zero in this year's playoffs and it cost the Bruins a first-round pick plus prospects to acquire him from Dallas at the deadline.  It also doesn't help that Jarome Iginla — the player the Bruins thought they were getting for that first-round pick — has scored 12 points in 11 games for the Pittsburgh Penguins.
While Jagr isn't the same dynamic player he was with the Penguins 15 years ago, he's better than his playoff stats show.
"I think it's unfortunate that his numbers don't reflect his play," Bruins coach Claude Julien said, "but he's had some – I can remember twice, he's got the open net, right next to it, and gets robbed twice. It's got to be a little frustrating for a guy like him. He's there, he's in the right position, he's made a lot of good things happen."
This interview with Jagr two weeks ago was insightful.  On one hand, you can sense Jagr's frustration.  On the other hand, it's obvious that this isn't Jagr's first slump of his career.  He knows it won't last forever:
"I'll tell you one thing. Everything's in your head. Everything's about confidence. When everything's good and you feel good, you could play another ten years. When everything's going wrong, you could be 25 and you feel like you should quit…
When I look at some hockey games right now, there's guys scoring goals and they're not even looking where they're shooting. I think that might be my problem right now. I'm just looking for the perfect shot and the goalie probably knows where I'm going to shoot."
Jagr's demeanor has changed a bit since that interview because he's realized he can contribute in ways other than points.
"He may have lost a little bit of speed yet he's made it up with smarts," said Julien. "He makes good decisions out there, he's strong on the puck and makes things happens. I'm happy with his play. He may be hard on himself, but we knew what we were getting, and we were getting what we expected and maybe even a little bit more."
Jagr finished the second round against the New York Rangers on a line with Patrice Bergeron and Brad Marchand. The trio is an interesting combination speed, puck possession, and veteran savvy.
"Jags is really compatible with Bergy's [Patrice Bergeron] line on the strong cycle and the wearing down of the opposition," Bruins GM Peter Chiarelli said. "I know he's been snake-bitten a little bit, but he's had a lot of chances and created a lot of chances."
[Related: Did Jaromir Jagr's Groin Injury Save the Pittsburgh Penguins?]
The biggest challenge for Jagr in the Eastern Conference Finals will be adapting to the speed of the Pittsburgh Penguins. But he did have success against Pittsburgh last season — seven points in six games — when he faced them in the playoffs as a member of the Philadelphia Flyers.
Jagr's linemates in Philadelphia — Claude Giroux and Scott Hartnell — complemented him in many of the same ways that Bergeron and Marchand do now. Giroux used speed through the neutral zone to force defenders back on their heels before dropping the puck back to a slower, trailing Jagr.
Last round, the Rangers did a good job taking away Jagr's neutral zone passing options, forcing him to lug the puck up the ice himself and enter the offensive zone under pressure. If the Bruins are smart, they'll find ways for Jagr to get the puck up to Marchand and have the speedster push the Penguins defense back, opening up ice for Jagr to work his magic.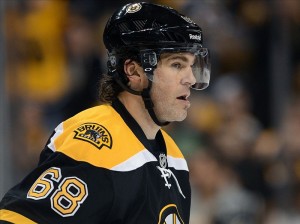 If the Bruins can't score off the rush, they'll look to grind the Penguins down with sustained offensive pressure. Boston cycles the puck well and had success with point shots through traffic in front of Henrik Lundqvist in Round 2. Penguins coach Dan Bylsma knows that Jagr can still be a tough matchup if he's given time and space to operate in the offensive zone.
"He's definitely got game," Bylsma said. "He's still a force down low with the puck offensively. He's still a tough guy to take the puck off of. His puck protection down low is a big factor for that line."
Trying to defend Jagr one-on-one down low is a lost cause. His size and ability to shield the puck often means two players have to attack him to gain any sort of advantage. The extra attention on Jagr creates room for Bergeron and Marchand. It's easy to see how things will break down quickly for the Penguins in this scenario.
The key for Bylsma will be finding a defensive pair that can counter Jagr's line without leaving them susceptible to other line mismatches. (We'll break down matchups later this week)
Jagr's ability to score could be the difference in such an evenly-matched series.  A few timely goals for the Bruins could make him a playoff hero.
"Every series is different. There can be so many factors that can play a huge role in who wins or loses. Guys can get injured. Guys can get hot. Guys can cool off."
"That's why it's so interesting to be in the playoffs. You have to beat a team four times to go to the next round, not only once. In two weeks, so many things can happen."
___________________________________
The most common question I received in response to this in-depth feature on Fleury and Vokoun last week was what will Fleury's future look like?
Some readers felt he should be traded over the summer.  Others felt the Penguins should use one of their penalty-free compliance buyouts — Fleury is owed $5.75 million in each of the next two seasons and losing his $5 million cap hit could create room for Kris Letang and Evgeni Malkin extensions that will go into effect a year from now.
Even with Fleury's playoff hiccups aside, I'd be wary about a long-term contract extension.  Vokoun's longevity has been a result of his ability to adapt.  Is Fleury, age 28, also capable of evolving as he gets older?
Fleury makes highlight reel stops as a result of his athletic ability.  He'll need to find new ways to stop the puck when that side-to-side quickness starts to fade with age.  I haven't seen enough to feel confident he can make that transition.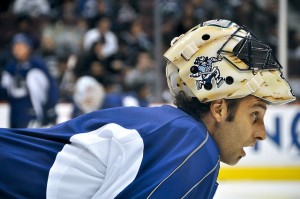 Doesn't it also seem like there are ton of starting goalies available these days?  Roberto Luongo can't find a home.  Ryan Miller will be on the trade block this summer.  No one is wiling to pay LA's asking price for talented backup Jonathan Bernier.
Then consider this list of unrestricted free agents: Niklas Backstrom, Tim Thomas, Nikolai Khabibulin, Evgeni Nabokov, Mike Smith, Chris Mason, Jose Theodore, Ray Emery.
The NHL offices should have one of those 'take a penny, leave a penny' trays for goalies.
In a way, goaltenders are becoming like closers in baseball.  Sign a few cheap, don't overcommit on term, and always have one (or more) ready to take over.
___________________________________
The New York Islanders were capable of beating anyone in the Eastern Conference.
I know, it sounds crazy, but it's true.  They baffled the Penguins in ways that only a handful of teams have been able to do in recent years.
Playing the Islanders in round one may have been the best thing to happen to Pittsburgh.  They were tested early and adversity can be a great thing for a team — as long as you survive.
Contrast that to the Chicago Blackhawks who coasted through the regular season and then quickly dispatched the Minnesota Wild in the first round.  They weren't ready for real playoff hockey when Detroit came to town.
CBC's Elliotte Friedman reported that Penguins GM Ray Shero told Islanders counterpart Garth Snow, "You gave us everything we could handle and we wish you were moving to the Western Conference."
Think about that conference next year: Perennial contenders Pittsburgh, NY Rangers, Washington, Philadelphia (when healthy); rising teams like the Islanders and Columbus Blue Jackets.  And keep in mind that with the new playoff format teams must play division opponents in the first two rounds.
It'll make for some great hockey, but talented teams in that group are going to miss the playoffs.
___________________________________