The second of three features that will look at the Oilers in their three positional areas. Taking a look at where the strengths are and what weaknesses they need to look at shoring up and providing a look at some possible options to target.
****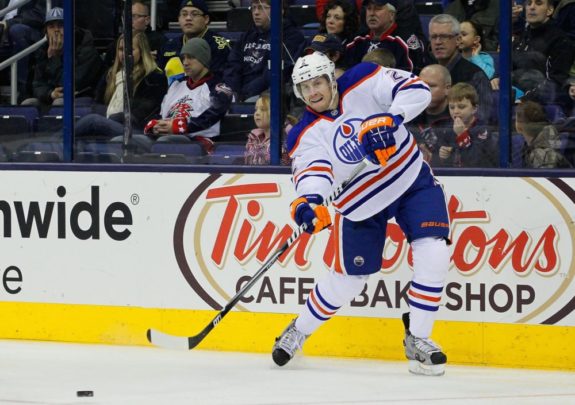 One of the more publicly criticized and maligned positions for the Edmonton Oilers over recent years has been the defence.
The Oilers have been guilty of giving up too many shots and quality chances on too many nights. The majority of those nights, it's a team effort and plenty of blame to go around.
The fact is that the group is simply not deep enough and lacks a number of aspects necessary to be a perennial playoff team.
That's not to say there isn't talent there and there certainly are pieces. The team lured Justin Schultz to Edmonton last year and beat out 29 other teams to get him. He has the makings of a future top flight offensive defenceman and elite power play quarterback.
The team also has a solid second pair in Jeff Petry and Ladislav Smid. They form a very effective shutdown duo and would be an excellent complementary pair in a top four situation.
Past that there are a number of depth pieces. Nick Schultz is a dependable defensive defenceman, but is not a top four talent. Players such as Corey Potter and Theo Peckham are good foot soldiers but are a 5th or 6th at best.
Ryan Whitney and Mark Fistric are both pending UFA's and unlikely to be resigned by the team.
The Oilers lack in a few big areas on their blue line. The first is a legitimate No. 1 defenceman. Someone to pair with Justin Schultz, to log big minutes, and to allow Petry and Smid to slide into a second pairing role where they are best suited. Ideally they would acquire someone who could play both PP and PK minutes.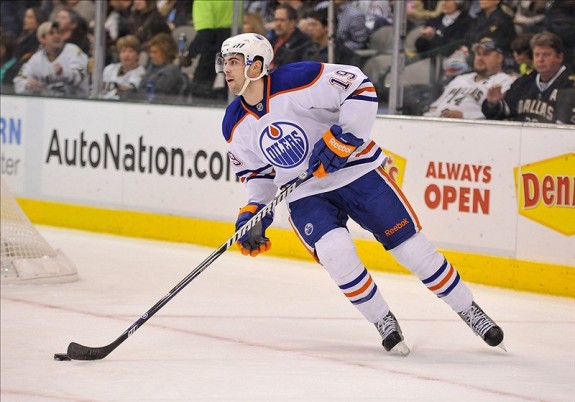 Another is toughness. On too many nights they got pushed around and were not hard enough to play against. Petry, Smid and Nick Schultz are all excellent defensive defencemen and willing shot blockers, but they aren't intimidated and don't play a physically imposing style of game. Theo Peckham fills that role, but he has trouble cracking the lineup and is generally not a good enough skater to play significant minutes.
As with most teams, you can never have enough mobile puckmovers. With the Oilers, if they can get a No.1 guy that can do that, it would make a huge difference. If they can't target that player, a depth defenceman that can play that role and contribute on the second power play unit and take Whitney's spot would be a good idea.
Here's a look at some options to pursue in both the short term and long term.
In the System
Oscar Klefbom
The Oilers top prospect, he has future shutdown defenceman written all over him. He has all the tools to be a top four defenceman and will very likely be on the Oilers blue line this fall and start on the third pairing.
Martin Marincin
The top offensive defenceman in Oklahoma City (AHL) this season, Justin Schultz's few months nonwithstanding, the Slovak prospect is a towering 6'6″ that can skate. He doesn't play an overly physical game and still needs to fill out his frame, but he has shown he can play with an edge.
He's an impressive puck mover and has been excellent running the power play in OKC.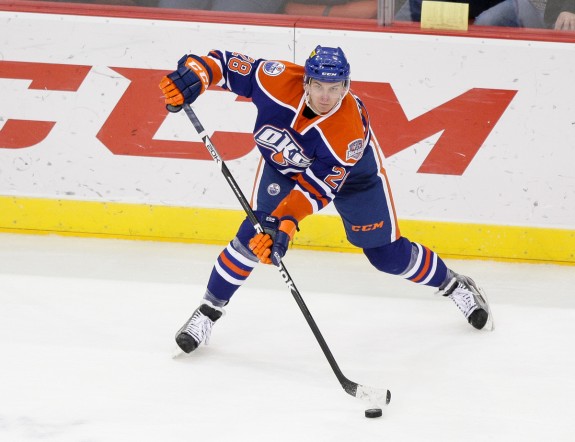 Taylor Fedun
A more mature prospect at 25, Fedun is in his first full pro season with the Barons after missing all of last season due to a gruesome leg injury suffered after skating back on an icing call.
A cerebral player, Fedun plays a polished two way game. He's good puck mover and is positionally sound. Not flashy but rarely makes a big mistake.
Depending on possible moves, could see time next season on the third pair and will be one of the first called up if there are injuries.
Trade Route
Jay Bouwmeester, 29
A player the Oilers were rumoured to be interested in at the April trade deadline, he was instead dealt to St. Louis to partner with Alex Pietrangelo. He was an excellent fit and added to the young Pietrangelo's game. The problem in St. Louis is that both Pietrangelo and Kevin Shattenkirk are due significant raises and Bouwmeester himself carries a hefty contract. It might be too much to have wrapped up in three defencemen. The Blues may be willing to part with him for the right price.
Seeing how he complemented Pietrangelo, he could be an ideal fit to play alongside Justin Schultz and have the same positive effect on the young Oilers defenceman.
Keith Yandle, 26
Much like the Oilers are stacked with young talented forwards, Phoenix has a glut of young defenceman. Lead by Oliver Ekman-Larsson who has taken over as the team's top defenceman, not to mention prospects like Brandon Gormley, David Runblad and Conor Murphy, it looks like Yandle may have become expendable.
The asking price would be steep, but to get a 26 year old defenceman who can skate like Yandle and log 20+ minutes a night, it may be worth it.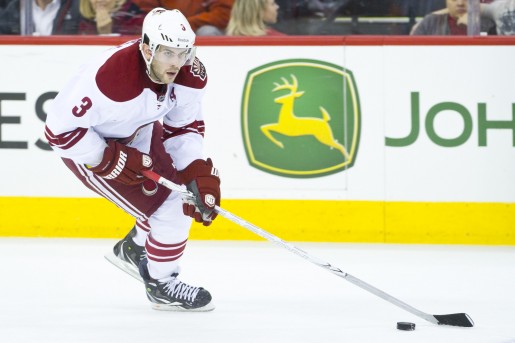 Alex Goligoski, 27
Goligoski was often criticized in 2013 for not living up to his potential as some saw it. Unfortunately for him, he will always be known in Dallas as they player they got for James Neal.
He did, however, lead the Stars defenceman in scoring with 27 points and in ice time with 22:23. He's an excellent skater and offensive defenceman by trade. Depending on whether the Stars feel that some of their younger defencemen like Brendan Dillon, Jordie Benn and Jamie Oleksiak are ready for bigger roles and if Stephane Robidas is still with the team, new GM Jim Nill may be open to offers for Goligoski.
Michael Del Zotto, 22
The Rangers top four group of the last couple of years of Marc Staal, Dan Girardi, Ryan McDonagh and Del Zotto, has been one of the better quartets in the league. With that group and Henrik Lundqvist behind them, they don't have trouble keeping pucks out of the net. What they do have, is trouble scoring. Combine that with the fact that Del Zotto saw a chunk of his top four minutes start to go to newcomer John Moore in the playoffs and he may be a potentially expendable piece.
Del Zotto's issue has not been talent, far from it. He's one of the most talented young offensive defencemen in the league. The issue has been consistency and putting it together night in and night out.
With Moore looking ready for a bigger role and a Dylan McIlrath waiting in the wings for his opportunity, Del Zotto could be used to bring in another offensive player. Something the Oilers have plenty of.
Free Agency
Mark Streit, 35
Generally a 35 year old player is not what a young up and coming team like the Oilers would be targeting, but Mark Streit has the skill set and veteran leadership that would certainly benefit them. There's also a connection to coach Ralph Krueger as they would be familiar with each other from their days with the Swiss national team.
The Islanders captain is one of the better puck moving and decision making defencemen in the league. He would be an ideal fit in terms of moving the puck out of the Oilers own zone and up to their dynamic forwards.
Streit lead the Islanders defence in scoring and logged 23+ minutes of ice time a night last season, and indications are he will not re-sign and test the open market.
He would also be a valuable piece to partner with and tutor Justin Schultz.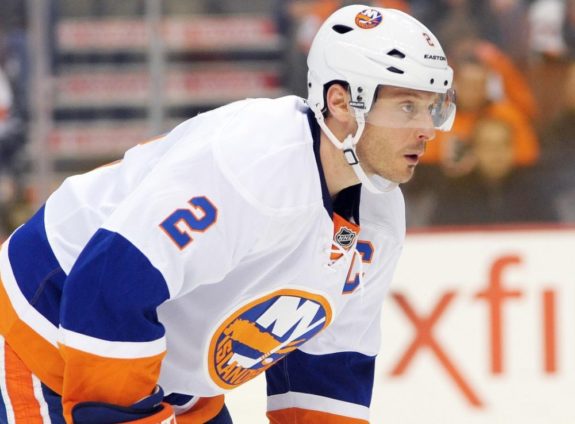 Ron Hainsey, 32
Hainsey is a well rounded defenceman who can skate and makes a good first pass. He also has excellent size and is solid in his own end and was the Jets best penalty killer this season.
He also brings character and leadership and similarly to Streit, would be a good fit to mentor Justin Schultz.
A sticking point could be his contract, which is 4.5 million at the moment, an amount the Oilers may not want to pay for a player who isn't necessarily a No. 1 or top pairing defenceman.
Douglas Murray, 33
Big, strong and tough. All qualties the Oilers need on their blue line and all qualities that describe Murray. He plays an intimidating, physical game and would bring a much needed element to the backend.
Would be a very good fit on the Oilers third pairing next season.
The Draft
Darnell Nurse
He's big and athletic and his game just keeps getting better. Expected to go in the top ten, he could be a target for the Oilers at #7. He's arguably the best defensive defenceman available in the draft and has future shutdown defender written all over him.
He also skates well and makes a good first pass. Could be a future top pairing blueliner down the road.
Nikita Zadorov
At 6'5″ 220, Zadorov is another mammoth junior defenceman. He's also an excellent skater and moves the puck efficiently. He plays with an edge and loves to play physical and dish out big hits.
Could be a decision at #7 as to who's the better fit for the Oilers between Zadorov and Nurse. Both project to be top flight NHL shutdown defencemen. Nurse is perhaps a bit more polished and positionally sound where Zadorov is bigger and more physical.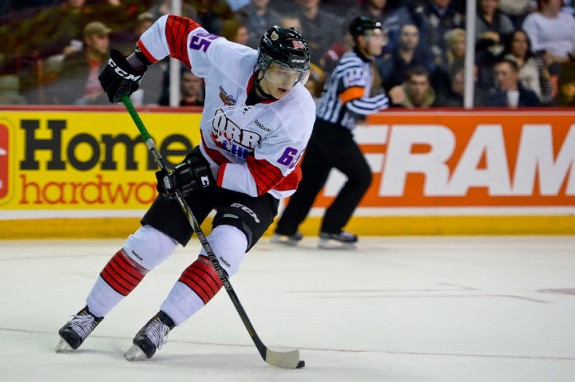 Josh Morrissey
Should the Oilers look to make a deal for the #7 pick and move down a little in the first round, Morrissey could be a good fit. He's an excellent skater, moves the puck very well, has a great shot and can quarterback a power play. He also likes to play physical and look for the open ice hit.
Not quite at the level of a Jones or the previously mentioned players, he is a legitimate first round talent and if the Oilers can get him as well as another piece, it may be a good trade off.
****
The Oilers clearly need help on their blue line, and one of MacTavish's first priorities will be addressing that need this offseason.
Ideally he will look to bring in a top pairing, minute munching defenceman, but those don't exactly come around easily, nor are they given up cheaply.
The group needs a bigger, more physical and intimidating presence and with Ryan Whitney moving on another puck moving defenceman to play on the second power play unit. If they can get a No.1 that brings both or at least one of those elements, that is the best scenario, and then they can look to fill the other need with a depth defenceman through the various avenues.
The best bet will very likely be the trade route to bring in a top defenceman, as the free agent market is quite thin, and no one from their system or the draft would be ready for that role yet.
With Craig MacTavish in his first offseason as GM, it's certainly an opportunity for him to make his mark.
→Next Week: The Forwards
→Last Week: The Goaltending
_____________________________________________
Follow Carl on twitter @maloney3383 and Google+ for more articles.