With the news that Gregory Campbell will be out for the rest of the playoffs with a broken leg suffered while blocking an Evgeni Malkin shot in Game 3 on Wednesday night, the decision now becomes who will take his spot in the Boston Bruins lineup.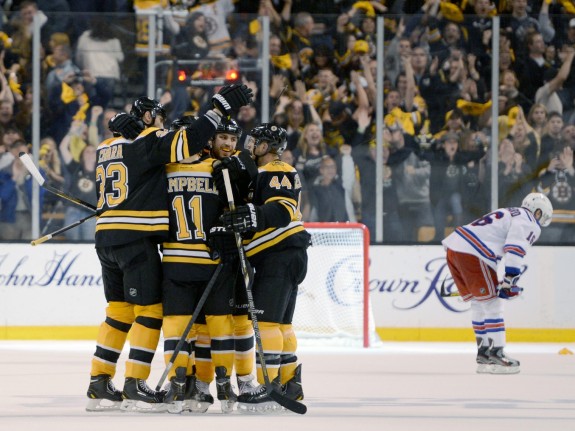 When asked about the options, Claude Julien had this to say:
We've got lots of (them). We'll look at it closer today and make a decision (today). We've just got to make sure we get something out of all of our lines right now. I think that's the most important thing for us, and that's where decisions are going to have to be made: How do we make it work so that we continue to have four lines?

(via The Boston Globe, June 7, 2013)
While many are clamoring for the proper arrival of Carl Soderberg, he's most likely going to soak in the playoffs from a distance in preparation for his future as Bruin. Another possibility is the insertion of another AHL "call-up" like Jordan Caron, which is an intriguing one based on how he played earlier this season in limited action with Chris Kelly and Rich Peverley:
Won't happen, but remember, Bruins fans: Caron-Kelly-Pev was the best third line the Bruins had all season (4 periods before Kelly injury)

— DJ Bean (@DJ_Bean) June 6, 2013
But at this point, one can make a pretty educated guess that it will be Kaspars Daugavins who will get the call; and if you don't believe that, well here's the word from THE hockey insider:
With Gregory Campbell done with broken leg, guessing Kaspars Daugavins enters BOS lineup tho Jordan Caron/Carl Soderberg are options.

— Bob McKenzie (@TSNBobMcKenzie) June 6, 2013
One only has to go back to the very first game of the playoffs to remember that it was Daugavins who was inserted into the lineup in lieu of Rich Peverley, a clear indication that he's on Julien's radar as the most playoff ready option in the press box.
Daugavins was claimed by the Bruins off waivers back in March, and brought with him this scouting report via The Hockey News:
Scouting Report
| | |
| --- | --- |
| Assets: | Excels on the penalty kill. Has a nose for the net and some offensive instincts, too. Possesses a strong lower base, which helps him win battles in the corners. Can agitate, as well. |
| Flaws: | Must step up his level of intensity and consistency in order to maximize his potential, since he tends to disappear for stretches. May not have a lot of scoring prowess at the highest level. |
| Career Potential: | Energy winger with defensive acumen. |
In the quest to replace a guy like Gregory Campbell, Daugavins certainly fits the bill: excellent penalty killer, with a high defensive awareness and some offensive potential.
On top of that, Daugavins brings with him some championship experience, albeit at the AHL level. Daugavins was part of the 2011 Calder Cup winning Binghamton Senators team, a run in which he contributed 10 goals and 10 assists in 23 games.
If this is indeed the case, one scenario might be to bump Daniel Paille (and his 10 regular season goals) to the 3rd line with Rich Peverley and Tyler Seguin, adding a bit of offensive punch and speed into that mix. Conversely, it would make sense to drop Chris Kelly down to the 4th line for his ability to win the crucial faceoff, and to bury his apparent offensive ineptness (0 points in 19 games) further down the lineup.
The official word has yet to come down from Claude Julien, and more will become apparent in the hours leading up to Game 4. Daugavins himself acknowledges that he's not the only option, but seems eager for the opportunity:
https://twitter.com/Daugavins23/status/342620773732720640
Whoever gets the call, the onus will be on him to keep the Bruins machine moving forward and take advantage of the opportunity to bury the Pittsburgh Penguins sooner than later.
End note: As of 11:00 am on Friday morning, this was the word from Bruins practice:
Peverley skating with Daugavins and Seguin this morning. Kelly moves to fourth line with Thornton and Paille

— Bruins Daily (@BruinsDaily) June 7, 2013
Looks like The Daugs is indeed being let out, with Paille remaining on the 4th line after all.
And this tweet all but confirms the Daugavins' active status for tonight:
https://twitter.com/Daugavins23/status/343021455463817216
Follow Ian on Twitter for more hockey updates and commentary.