The Buffalo Sabres have loaned forward Alex Nylander to Team Sweden for the 2017 IIHF World Junior Championship tournament, the Sabres announced on Tuesday.
Snipe Show ▶️ #WJC2017

We've assigned forward Alex Nylander to @swedense for the 2017 IIHF World Junior Championship. pic.twitter.com/5NZ9s5ulN4

— Buffalo Sabres (@BuffaloSabres) December 20, 2016
The 18-year-old forward figures to be an important part of Sweden's offense at the 10-team international tournament which begins on Dec. 26 with games in Montreal and Toronto.
Nylander was part of Sweden's team at the last year's tournament where he compiled four goals and five assists in seven games, despite a fourth place finish.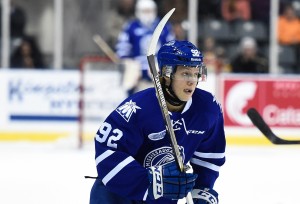 Tuesday's news comes as Nylander is in the early part of his first season of professional hockey. He's tallied five goals and 12 assists in 29 games with the Rochester Americans in the American Hockey League.
The Sabres selected Nylander eighth overall in the 2016 NHL Entry Draft after one season with the Mississauga Steelheads in the Ontario Hockey League. He compiled 28 goals and 47 assists in his first taste of hockey in North America. He also added 12 points in six postseason contests.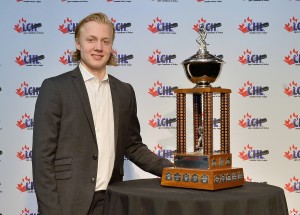 Nylander was able to play in the AHL this season, rather than return to his junior club, because of a loophole allowing him to play professionally before his age 20 season outside of the NHL — far from the norm for junior hockey players his age. The unique situation was that Nylander, who was born in Sweden, was technically a European player on loan to the Steelheads during the 2015-16 season and not a junior hockey player.
The move was not the first of its kind, as the Dallas Stars sent 18-year-old Julius Honka to the AHL's Texas Stars shortly after drafting him in the first round of the 2014 draft. Honka had been loaned to the Western Hockey League's Swift Current Broncos the season before.
Team Sweden is part of Group A at the World Junior Championship which also includes Czech Republic, Denmark, Finland and Switzerland.
Cunningham Set to Be Released From Hospital
Tucson Roadrunners captain Craig Cunningham is expected to be discharged from Banner-University Medical Center Tucson before Christmas, according to Mike Christy of The Arizona Star.
He's scheduled to speak on Wednesday about how Tucson doctors, medical staff and first responders helped save his life.
Craig Cunningham will speak at a news conference Wednesday at 10 AM at the University of Arizona Cancer Center.

— Craig Morgan (@CraigSMorgan) December 20, 2016
It's tremendous news for the 26-year-old who collapsed just before game time at Tucson Arena on Nov. 19 in a scary moment that shook the hockey world. He was in critical condition and little was known about his condition, out of respect for him and his family.
During this time, current and former teammates, coaches, staff and fans at all levels of the game banded together as one in a showing of support for Cunningham through social media.
Nitehawks showing support and prayers for Craig Cunningham pic.twitter.com/FSlMOcI7tt

— Tom Meakes (@teakes9) December 4, 2016
https://twitter.com/EzraAmacher/status/803021741928759296
Little was known about what happened to Cunningham after he was stretchered off the ice that night, until a press release on Tuesday.
According to the press release, Cunningham collapsed on the ice and was given chest compression only CPR — a technique that does not use breaths and originally developed by University of Arizona Starver Heart Center. He was transported by ambulance to Carondelet St. Mary's Hospital.
Upon arrival, doctors determined he needed to be transported to Banner-University Medical Center Tucson to receive Extracorporeal Membrane Oxygenation (ECMO) — a life-saving therapy that's highly specialized and utilized only when someone is in such critical condition that there's no other adequate means of support for their heart and lungs.
During ECMO, "a pump circulates blood through a circuit of tubing supporting heart function and through an 'oxygenator' which functions as an artificial lung." The release also noted that patients who require ECMO support are almost certain to die without it.
A rapid-response ECMO team was dispatched to St. Mary's from Banner in order to provide treatment to Cunningham before he arrived at Banner UMC Tucson — the only facility in Southern Arizona with these services.
However, one Cunningham arrived to Banner UMC Tucson, his condition worsened and he underwent a procedure using a left ventricular device (Oxy-LVAD) which allowed his heart to recover. The procedure was developed by Zain Khalpey, MD, PhD.
The quick thinking of first responders and the work of doctors and their staff are considered to be what allowed Cunningham to live through this life-threatening situation and make his recovery — a true testament to the work these people do each and every day.
The full text of the press release is below:
Press release on the health of Tucson Roadrunners captain Craig Cunningham provides terrific news and a hell of a story on how he was saved pic.twitter.com/V8TJnUDh4Y

— Stephen Whyno (@SWhyno) December 20, 2016
Odds and Ends
— Tampa Bay Lightning forward Tanner Richard will make his NHL debut when the team hosts the Detroit Red Wings on Tuesday. He was set to play in his first career game against the Edmonton Oilers on Saturday, but his flight from New York City was delayed and he missed a connecting flight in Minneapolis in route to Edmonton. Detroit Red Wings defenseman Nick Jensen will also playing in his first NHL game.
#RedWings Jensen said he is going to debut tonight. His wife is flying in for the game.

— Dana Wakiji (@Dwakiji) December 20, 2016
— The Anaheim Ducks have signed forward Sam Steel to a three-year, entry-level contract, the team announced. The 18-year-old was selected 30th overall in the 2016 NHL Entry Draft and was one of the last players cut from Team Canada's World Junior Championship roster.
That first @NHL contract feeling. Congrats, @ssteel23! pic.twitter.com/gnkHjyMJy5

— Anaheim Ducks (@AnaheimDucks) December 20, 2016