The Tampa Bay Lightning host the Detroit Red Wings on Tuesday in the third meeting between the Atlantic Division rivals just 33 games into 2016-17.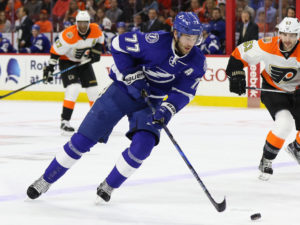 The Lightning lead the season series 2-0 behind the goaltending of Ben Bishop as they've outscored the Red Wings 10-7. Bishop is expected to get the start between the pipes for the Lightning and is seeking his 10th win of the season.
The Lightning lost captain Steven Stamkos to a torn lateral meniscus in his right knee that occurred in the first period of their 4-3 win over the Red Wings on Nov. 15 — the last time these two clubs faced each other.
After years in different conferences, NHL realignment brought the Red Wings to the Eastern Conference and into the Atlantic Division in 2013-14. The teams have met in two straight first round playoff matchups and built a bit of a growing rivalry that's made for some pretty physical contests between the clubs.
Entering Tuesday's game, however, both teams are looking to work their way out of recent slumps and build some momentum.
Tampa Bay has won just two of their past 11 games but played one of their strongest games in recent memory in a 3-2 shootout loss to the Edmonton Oilers on Saturday, earning their third point of six possible points during a three-game road trip through Western Canada. The Lightning have played on the road 19 times in their first 32 games but tonight begins a stretch of seven of their next eight contests on home ice.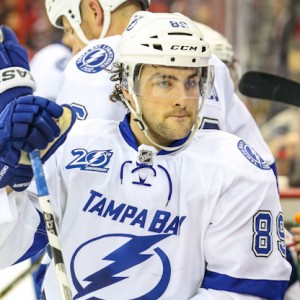 The Red Wings were set to play the second game of a back-to-back with the first being a matchup with Carolina Hurricanes on Monday. However, an issue with the ice conditions at PNC Arena in Raleigh caused the NHL to postpone the game. This means the Red Wings will be playing with a little more in the tank than they would have had if they'd played the night before.
Detroit has been going through ups and downs early in the regular season. After starting the season by winning six of their first eight games, they enter Tuesday's game having lost four of their past five contests.
The Lightning will be without Ryan Callahan, Nikita Kucherov and Ondrej Palat, which has opened the door for playing time for forwards Cory Conacher, Erik Condra, Joel Vermin and Tanner Richard, who makes his NHL debut on Tuesday.
---
Detroit Red Wings at Tampa Bay Lightning
Amalie Arena – 7:30 p.m. EST
Broadcast Channels – TVAS, Fox Sports Sun
2016-17 Season Series: Tampa Bay Leads 2-0-0
Detroit Red Wings – 14-14-4 – 32 Points
Road Record: 7-5-1
Hot Players: Thomas Tatar
Key Injuries: Brendan Smith, Justin Abdelkader, Darren Helm, Alexey Marchenko, Tyler Bertuzzi, Mike Green
Projected lines*:
Forwards
Thomas Tatar-Henrik Zetterberg-Anthony Mantha
Gustav Nyquist-Frans Nielsen-Thomas Vanek
Riley Sheahan-Dylan Larkin-Thomas Vanek
Tomas Jurco-Andreas Athanasiou-Steve Ott
Defense
Danny DeKeyser-Ryan Sproul
Nicklas Kronwall-Xavier Ouellet
Jonathan Ericsson-Nick Jensen
Starting Goaltender
Jimmy Howard
*Red Wings head coach Jeff Blashill has said he does not expect to make final lineup decisions until after warmups on Tuesday, according to the team. Defenseman Nick Jensen is expected to make his NHL debut.
Tampa Bay Lightning – 15-14-3 – 33 Points
Road Record: 7-5-1
Hot Players: Jonathan Drouin, Valtteri Filppula, Victor Hedman
Key Injuries: Steven Stamkos, Ryan Callahan, Nikita Kucherov, Ondrej Palat
Projected lines**:
Forwards
Brian Boyle-Tyler Johnson-Jonathan Drouin
Alex Killorn-Valtteri Filppula-Vladislav Namestnikov
Cory Coacher-Cedric Paquette-Erik Condra
J.T. Brown-Tanner Richard-Brayden Point
Defense
Victor Hedman-Andrej Sustr/Braydon Coburn
Jason Garrison-Anton Stralman
Slater Koekkoek-Nikita Nesterov
Starting Goaltender
Ben Bishop
**Projected line combinations based on combinations at the team's morning skate on Tuesday.
[irp]
---
Game Notes
[miptheme_dropcap style="normal" color="#222222″ background=""]1)[/miptheme_dropcap] The Lightning have been much improved on the power play through the early part of the season and enter Tuesday's contest with the league's fourth-best ranking (22.8-percent). On the other end of special teams, however, the Lightning have struggled of late. The Lightning's penalty kill has struggled without Callahan in the lineup and had dropped to 25th in the league (78.2-percent).
[miptheme_dropcap style="normal" color="#222222″ background=""]2)[/miptheme_dropcap] The Red Wings are almost polar opposites on special teams, as their penalty killing unit is operating at an 82.8-percent success rate (10th in the NHL) and their power play is 29th at just 13.0-percent.
[miptheme_dropcap style="normal" color="#222222″ background=""]3)[/miptheme_dropcap] Lightning forward Tanner Richard will make his NHL debut on Tuesday — one that becomes all the more meaningful for the 23-year-old forward. Richard was set to make his debut against the Oilers on Saturday but missed his connecting flight in Minneapolis to Edmonton by 30 minutes because of a flight delay delay in New York City due to weather. The Lightning chose Richard 71st overall in the 2012 NHL Entry Draft and he's tallied 17 points in 22 games with the Syracuse Crunch in the American Hockey League this season.
Richard is not the only player expected to make his NHL debut on Tuesday. Red Wings defenseman Nick Jensen is expected to skate with the NHL club for the first time in his career. The 26-year-old was selected by the Red Wings 150th overall in the 2009 NHL Entry Draft and has registered six points in 27 games with the AHL's Grand Rapid Griffins this season.
[miptheme_dropcap style="normal" color="#222222″ background=""]4)[/miptheme_dropcap] Ben Bishop is expected to start his 21st game of 2016-17. He's 9-10-2 in 22 games of action and has posted a 2.82 goals-against average and a .906 save percentage. Jimmy Howard gets the call in goal for the Red Wings. He's 5-7-1 with a 1.95 goals-against average and a .934 save percentage.
[miptheme_dropcap style="normal" color="#222222″ background=""]5)[/miptheme_dropcap] Lightning forward Jonathan Drouin has registered eight points (four goals, four assist) in his past seven games played and has been the team's most productive forward in the process. On the blue line, Victor Hedman has tallied one goal and five assists in his last three contests. Valtteri Filppula has quietly put together a a productive five-game stretch where he's compiled one goal and five assists.
---
After facing each other in the past two postseasons, the two games between the Lightning and Red Wings this season have had a playoff sort of intensity level.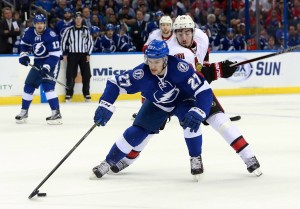 The Lightning have come out on top in both of the physical contests but a lot has happened since they last faced each other on Nov. 15. Stamkos underwent surgery on his injured right knee, which is expected to keep him out of the lineup for approximately four months. The Lightning have also suffered injuries to a handful of their top-six forwards which has caused them to rely on depth players and early looks at some of the team's prospects.
The Red Wings have won just five games since that last meeting and are looking to send a message to their division rival on the road in the sort of game that can have a major effect on whatever team comes out on top in the end.
Look for a postseason feel to this one when play gets underway at Amalie Arena at 7:30 P.M. ET.