Marcus Hogberg THW Close Up:
Date of birth: 11/25/1994
Place of birth: Orebro, Sweden
Ht: 6'3″ Wt: 196 lbs
Catches: Left
Position: Goaltender
NHL Draft Eligibility: 2013
THW Ranking: 85 (April edition)
Other Rankings: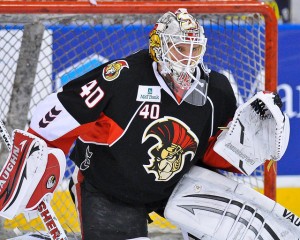 Click here for Notes Up Front for various topics covered below in the live updated NHL 2013 Entry Draft Guide – The Next Ones home page – your quintessential draft resource.
Marcus Hogberg is a large goaltender who plays a compact butterfly style. His 6'3″ stature and broad frame means that he takes up a huge amount of the net and he is able to use that to his advantage.
In a draft class that many scouts consider to be a little lean in terms of goaltending talent depth, Hogberg could well be selected a little higher by teams looking to bolster their goaltending prospect depth. His stock has risen significantly during the course of the 2012-13 season with some now considering him to be the top European goaltending prospect.
Hogberg has shown plenty of poise and maturity during the course of this season. He has appeared in three SEL games for Linkoping not looking rattled or out of place in those contests. He is patient in his butterfly covering the top half of the net well while flashing extremely quick pads.
Rebound control remains an area that needs development, while he doesn't necessarily have the fastest reflexes in terms of hand and arm speed.
Hogberg appeared in 23 games for Linkoping J20 this season posting a 2.41 GAA and .917 save percentage. He developed a reputation last year for stepping it up in the playoffs as well.
Where he will end up in June: Goaltending is an interesting position in this draft. If a team decides that Hogberg is their man then he could be taken in the early third round. He shouldn't drop any lower than the late fourth round.
Scout's Honor:
'When the stakes increase, Hogberg seems to pick his game up. It happened last year in the playoffs and now the big-bodied goaltender is at it again, usurping older starter Jacob Johansson while Linkoping plays in a top-10 circuit of junior teams in Sweden. Hogberg has a .925 save percentage and one shutout in eight games for a squad that hasn't been providing a ton of offense the other way.'
Ryan Kennedy – The Hockey News
'Plays big and does take up lots of space. Strong mechanics and calm under fire, he moves well in the butterfly and has a very good low game with quick pads, while still using his shoulders to close the top of the net.'
Bill Placzek
Statistics:
International Tournaments:
-He competed in the 2012 U-18 World championships appearing in two games posting a 3.44 GAA and .889 save percentage.
ETA = 4-5 years
Risk-Reward Analysis: Risk = 3/5 Reward = 4/5
NHL Potential: Starting goaltender
Strengths:
Size
Quick pads
Sound technique
Poise/calmness
Patience
Flaws/aspects he needs to work on:
Rebound control
Glove hand
Fantasy Hockey Potential: 7/10
NHL Player Comparison:
Robin Lehner
Henrik Karlsson
Follow Sebastian Egerton-Read on twitter @SebEread
THW's The Next Ones prospect profile template design architect: Chris Ralph