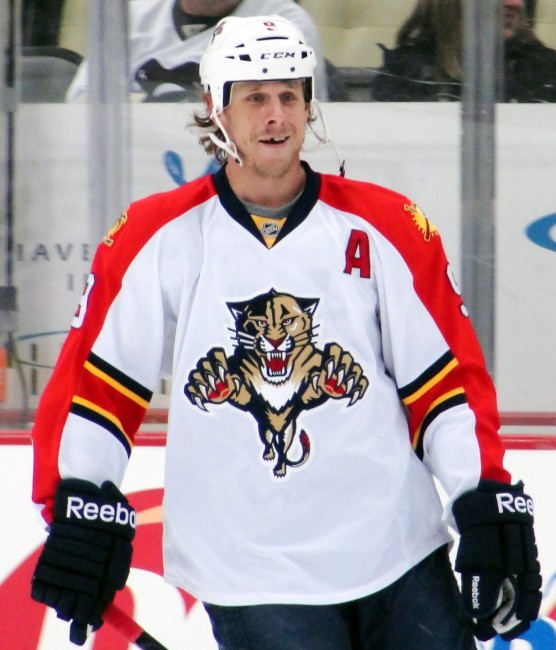 The big fish has already been reeled in; Vincent Lecavalier is a Philadelphia Flyer for the next 5 years at an annual average value of $4.5 million.
With another questionable free agent signing by Flyers General Manager Paul Holmgren in the books, the other 15-some odd teams looking to add a first line center will now have to look elsewhere.
Stephen Weiss may be the next best option for the Lecavalier sweepstakes losers.
Considering the St. Louis Blues apparently made a very strong pitch to Lecavalier to sign in St. Louis, it wouldn't be all that surprising to see the Blues shift gears and take a serious run at Weiss.
Army talked to Lecavalier 2 days ago & he said the #stlblues made the best presentation. Didn't get him but Blues glad to go through process

— Jeremy Rutherford (@jprutherford) July 3, 2013
After signing defenseman Jordan Leopold to a 2 year, $4.5 million dollar extension, the Blues now have $13.575 million in cap space left to resign leading scorer Chris Stewart, corner-stone defenseman Alex Pietrangelo and key goaltending prospect Jake Allen.
A few days ago, Andy Strickland over at TrueHockey.com reported that Pietrangelo is seeking to sign for no less than $7.0 million dollars per year.
Is Pietrangelo really worth $7 million per year?
That's certainly debatable. What isn't debatable is the fact that the Blues may need to move a roster player, possibly one of Jaroslav Halak, Brian Elliott, or David Perron, if they want to sign a player like Weiss while simultaneously retaining both Stewart and Pietrangelo.
After all, TheFourthPeriod.com is reporting Weiss is seeking $5.0 million AAV (per year). That's a significant raise from his previous cap hit of $3.1 million per year.
To the dismay of the majority of Blues fans, it appears Halak, Elliott and Allen will all be on the Blues roster by the time training camp rolls around. It seems more likely that if the Blues want to make a serious run at Weiss, they'll need to move David Perron and his $3.8 million dollar cap hit.
Army says that "all indications" are that Halak, Elliott and Allen will be the three goalies in camp. #stlblues

— Jeremy Rutherford (@jprutherford) July 3, 2013
Is Weiss Really Worth $5 million Per Year?
There's speculation that the Toronto Maple Leafs and Detroit Red Wings are just two of several teams that have interest in signing Weiss. Based on simple supply and demand (the supply of top-line centers is thin and the demand for them is quite large), Weiss will almost certainly make more money per year on his next contract than what he really deserves.
[table id=109 /]
Weiss' statistics show a well rounded offensive player with the ability to be a threat on the power play. However, compared to the other centers, Weiss' assists per 60 minutes are significantly lower. That may not be the best indicator of Weiss' passing abilities though as he's never really had the same caliber line-mates that the others played with.
I've used this Weiss highlight before, but I feel it's a perfect example of his offensive zone awareness and slick passing ability. The top-line center skills are there; Weiss' highlights and statistics prove that. There's also really no questioning Ribeiro's 1C skills.
But these top UFA center's playing style's are just slightly different: Ribeiro is more of a setup man and power play specialist while Weiss looks to score as much as he looks to dish the puck to his wing.
Weiss or Ribeiro?
Based on their skill-set, if the Blues had a pure-sniper on the wing for their top-line I'd say Ribeiro would be the more ideal signing. But they don't; the Blues need a center who can feed the wings as well as fill the net himself.
Taking term (the length of their potential contract) into consideration, I believe the 30 year old Weiss would be a better long-term invest, even at $5.0 million per year, than Mike Ribeiro.
Doug Armstrong: sign Stephen Weiss!
Hello hockey fans; my name is Bill Sunshine. I am currently working to obtain my B.A. and Journalism Certificate as a student of the University at Buffalo. I first started writing about hockey after repeated attempts to educate my friends about the ins and outs of hockey, only to read those same ideas I shared with them in newspapers. My knowledge about the game of hockey derives from my experience as a player of the game and a die-hard fan of the sport. For updates on my latest posts, give me a follow on Twitter @BBSuns.