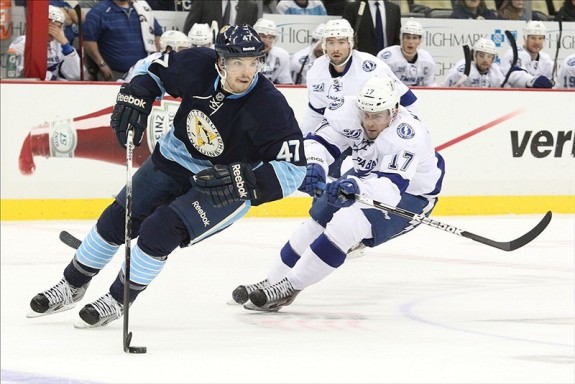 NHL.com recently named Simon Despres the best #30 draft pick in league history.
Despres has three career goals.
Almost every fan and scout would agree that Despres will become a solid NHL player, but he's not there yet.
The Pittsburgh Penguins' management and coaching staff had an important decision to make heading into training camp this year.  Despres, 21, was knocking on the door of the NHL.  He was impressive in 18 regular season games in the 2011-12 season, but his ice time was very sheltered.
What does 'sheltered ice time' mean?
Even though stats can be misleading and twisted to tell any story, let's look at his performance from a few basic perspectives.
From an even strength Quality of Competition angle, Despres had the second weakest rating among Penguins defensemen in the 2011-12 season.  Only Alex Picard played against softer competition: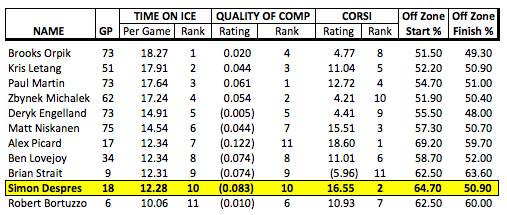 It comes as no surprise that Picard and Despres also led the Penguins in Corsi rating.
Corsi is a measure of a team's even strength shot differential when a particular player is on the ice.  The numbers above are expressed on a per-60-minutes basis, meaning the Penguins directed 16.55 more shots on goal than they allowed per 60 minutes while Despres was on the ice.
16.55 is impressive (for perspective, Zdeno Chara led all regular defensemen with with a Corsi rating of 17.54 that season) even if Despres' limited number of games creates some sample size issues.  On the other hand, Despres' production obviously came courtesy of ideal circumstances.  Not only did he face weak competition, but he also started close to 65 percent of his shifts in the offensive zone.
The concerning stat is that he only finished 51 percent of his shifts in the offensive zone.
Players trusted with more defensive responsibilities (i.e. more defensive zone starts) should see a positive zone start-to-finish percentage trend.  The opposite should be true of players in Despres' offensive role, but compare his trend to the rest of the list.  He was being given very easy offensive assignments by the coaching staff and doing very little to maintain that offensive advantage.
This was the dilemma facing coach Dan Bylsma and General Manager Ray Shero in camp.
They knew Despres had talent and potential.  They just had no idea if he was ready to handle the challenges of being an everyday NHL defenseman.  On top of that, they had eight NHL defensemen on the roster not named Simon Despres that required waivers.
When I wrote my training camp preview in January, I concluded that based on this info there was only a 3 percent chance of Despres making the opening day roster:
Simon Despres is simply a victim of a numbers game.  Shero says he'll keep no more than eight defenseman on the final roster and may possibly cut that to seven.  Barring a trade, with eight defensemen eligible for waivers and no exhibition games for Despres to steal a job, it'll be very difficult for him to make the team.

It also wouldn't make sense from a development standpoint.  A young, promising defenseman like Despres can learn a lot more from having a big role at the AHL level as opposed to spending most evenings in the press box or getting limited minutes at the NHL level.
The Detroit Red Wings wouldn't have thought twice about sending Despres to the minor leagues.  Their philosophy — especially when it comes to young defensemen — is that you can never bring a guy up to the NHL too late, but you can always bring a guy up too early.  Once confidence is destroyed in a young player, it may never come back.
One day after my fearless prediction, Shero and Bylsma decided to put Despres on the NHL squad.  Brian Strait was placed on waivers (and eventually claimed by the Islanders) to make room.  The decision indicated that the Penguins felt Despres' development was better served by being thrown into the fire at the NHL level.
[See Related: Waivers, Sunk Costs, and the Pittsburgh Penguins]
In most respects, they were right.
This season, the training wheels were taken off and Despres received more challenging roles.  His Quality of Competition rank jumped to fourth and he still maintained the second best Corsi rating among Penguins defensemen.

Despres also maintained offensive zone starts at a respectable rate (if you're looking for an explanation why Robert Bortuzzo didn't get more ice time this year, look at his Offensive Zone start-finish trend).  Despres passed the eye test and he performed well from this basic statistical perspective, but he never received additional ice time.
The Penguins kept him in the lineup during stretches when he was struggling.  They tossed him in the press box after some of his most impressive games.  There was no rhyme or reason to the moves.
I'm of the Red Wings belief that it's better to give players too much time in the minor leagues as opposed to too little.  Patience is an advantage that only deep organizations possess.  The Penguins had a solid group of defensemen and didn't need Despres at the NHL level.  He could have played big minutes in important situations in Wilkes-Barre (AHL) and stepped into training camp next year completely prepared.
I can also appreciate how the details of the Collective Bargaining Agreement threaten that philosophy.  Young players have value because the team possesses full control and leverage over salary demands in their early years.  Once a player finishes seven pro seasons or reaches the age of 27, he gains unrestricted free agency rights and the value (and possibly the ability to retain him) is gone.
Simon Despres is entering the third and final year of his entry-level contract.  His value to the Penguins at the pro level is his ability to contribute at a salary cap hit of just $840,000.  If Pittsburgh keeps him in the minor leagues for his entire entry-level deal, they lose the value he's capable of providing to a cap-strapped organization.
The issue is that while the Penguins made the decision to keep Despres at the NHL level, they didn't put him in a situation to contribute and deliver any value.  You can't enjoy a nice bottle of wine by just placing it in the middle of the table.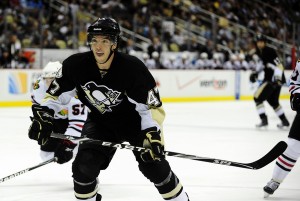 Despres could have been uncorked.
He could have potentially played top-four defensive minutes this year if he was given the opportunity. He could have developed into a reliable option for the playoffs.  He could have even shown enough promise to make the Penguins think twice about meeting Kris Letang's $58 million salary demands.
Of course, all of that would have required taking minutes from Letang, Brooks Orpik, Paul Martin, or Matt Niskanen, but that's the path the Bylsma and Shero chose to pursue with their training camp decision.
They made the gutsy call.  They weren't willing to live it.
Was that a result of disagreement amongst the coaching staff or management?  Was Despres not as good as he looked in person and on paper?  Does salary dictate who plays on a nightly basis, despite the Penguins' constant claims to the contrary?
Who knows.
The Penguins coaching staff took a lot of heat for not giving Despres more of a chance in the playoffs — he only dressed three games — but that's actually the one decision they did get right.
Bylsma needed a sixth defenseman he could rely on.  If a sixth defenseman can play 10 to 12 minutes a night and not let up a goal, he's successful.  He doesn't need to score or create offense.  He needs to be invisible.
Despres wasn't capable of that.
He struggled in front of his own net and with one-on-one battles.  His lateral movement in the defensive zone was a weakness.  It was tough to tell whether those are physical limitations or mental ones that can disappear with confidence.
When Despres had the puck on his stick, he made patient yet decisive plays and sidestepped opponents with ease.  He made good decisions when pinching in the offensive zone — a rare attribute for a young defenseman.  He wasn't afraid to unleash his hard, low shot and was great in the Penguins' transition game.  Simon Despres could have helped the Penguins win a Stanley Cup.
He could have been a lot of things, or he could have been a bust.
The Penguins never gave themselves a chance to find out.
_____________________________