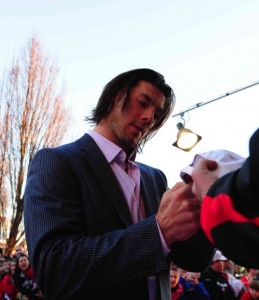 NEWARK — The 2013 draft was an important deadline in the Kris Letang contract negotiations.
As discussed in our two-part series on Letang a few weeks ago, the draft presented an opportunity to get maximum return on any Letang trade.  Teams have yet to commit to their payrolls for the 2013-14 season and the Pittsburgh Penguins were without a first or second round pick heading into Sunday's draft.
Negotiations with Letang have been bumpy.  After the team and player vented their frustrations through the media last week, both sides went quiet over the weekend.
Rumors circulated on Sunday morning that Letang and the Penguins had agreed to an eight year extension worth $58 million (or $7.25 million per season), but the deal was never finalized.
"Still working on it with his agent," Shero said from the draft floor Sunday night.  "[We] haven't had much time [on Sunday] with the draft, so we'll get together later [Monday] and try to see if we can work through a couple things."
Shero and his staff returned to Pittsburgh on Monday afternoon and face a challenging week.  Letang is still under contract for another season in Pittsburgh, but Pascal Dupuis, Matt Cooke, and Craig Adams will need contract extensions in the coming days or they'll be set to hit the free agent market.
_____________________________
The Jeff Carter Clause
Shero said talks finally turned positive with Letang on Saturday night as both sides came together on financial terms.  He hopes to iron out all of the details by mid-week.
"It usually comes down to the money and the term," Shero said, "and then the wording and the addendum in this particular case."
The Tribune Review's Rob Rossi reported that Shero's cryptic hint at an 'addendum' was likely referencing the details of a no-trade clause in the extension:
Framework of the potential deal's length (eight years) and finances ($58 million total) were agreed upon, but there was haggling over Letang's push for a verbal agreement the Penguins will not trade him next summer, multiple sources told the Tribune-Review.

The Penguins balked at that request.
Letang's concerns stem from the Jeff Carter contract fiasco in Philadelphia a few seasons ago.
Carter signed an 11-year extension with the Flyers under team-friendly cap terms.  The deal contained a limited no-trade clause, but the clause didn't take effect until the following summer.  A week before the clause took effect, the Flyers stunned Carter by trading him to Columbus.
Carter's agent said Flyers executives denied that a trade was even a possibility and the situation has forced players to reconsider the timing of such clauses in long-term extensions.
League and player representatives even added a rule in the new CBA to allow for more NTC flexibility — something Harrison Mooney at Puck Daddy appropriately termed 'The Jeff Carter Clause'.
NHL rules do not allow for existing contracts to be renegotiated in any way, but the Carter Clause gives teams the option to bridge the gap between signing an extension and the NTC taking effect.  Teams and players can agree to have NTC terms in a new deal become effective immediately (as much as one year ahead of time).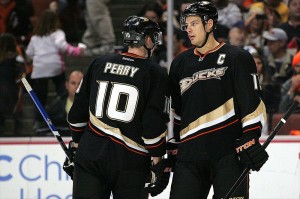 Mooney pointed out that Corey Perry and Ryan Getzlaf took advantage of the Carter Clause when signing their recent eight-year extensions in Anaheim.
But Kris Letang isn't eligible for the same benefits.
Players are only eligible for the Carter Clause if they would have been an unrestricted free agent in the year prior to signing the extension.  Letang would not have met age and experience requirements for unrestricted free agency this summer and therefore has been pushing for a verbal agreement instead.
_____________________________
Trust, Precedent, and Commitment
A verbal agreement shouldn't be a big deal for Ray Shero, right?
The Penguins GM has prided himself on trust and respect.  Shero is one of only a handful of GM's who have never bought out a contract in the salary cap era.  He only took advantage of the loophole in the last CBA to bury salary in the minors one time and he called Miroslav Satan almost every day to make sure he was okay with the situation.
Shero went to Paul Martin last summer and asked if he wanted out of Pittsburgh.  When Martin said no, Shero honored the five-year contract he signed with Martin and reaped the rewards when Martin returned to form this season.
For all of those reasons (and many other untold stories), a verbal agreement with Letang shouldn't be a big deal.
But it is.
As we've said in this space many times in recent weeks, unless Letang is fixated on staying in Pittsburgh, he has all of the leverage in this negotiation.  He can hit the open market next summer and will have GM's lined up around the corner waiting to pay (or overpay) him.
For Kris Letang, this contract negotiation is all about Kris Letang.
Letang is taking less money than he can get on the open market to stay with the Penguins.  All he wants is to be sure that he's not signing up to play in Columbus on a discount like Carter did.  He wants a commitment — even if he's not eligible to receive it in writing.
There are certain contractual rights granted to players under the CBA.
As a restricted free agent, there are limitations on arbitration, no trade clauses and countless other factors.  RFA salary negotiations are rarely painful and that's because the team has all the leverage.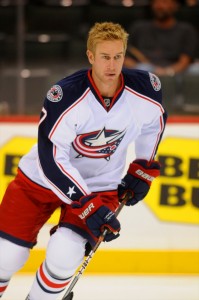 The table turns with unrestricted free agency, however.  Players are free to choose their destination and price, and the only significant contract right a current employer has is the ability to sign an eight-year extension instead of seven.
For Ray Shero, this is about a lot more than Kris Letang.  It's about every future contract negotiation and his reputation as a manager.
Shero prides himself on respect.  He also recognizes that one exception can send a GM down a slippery slope of perceived desperation.
He would never pull a move like the Flyers reportedly did and renege on a verbal promise or agreement, but twisting the rules for Letang sets a precedent that can and will be used against him in every future negotiation.  If he's willing to budge on Letang to get him signed, what string can Pascal Dupuis pull?  Or how about the next big name player looking for special treatment?
Some teams buy trust through crazy contract bonuses or hand out NTC's as part of the standard employee gift basket.  Don't blame Jay Feaster for the Calgary Flames recent era of mediocrity.  Blame former GM Darryl Sutter for giving NTC's to every player of significance and anchoring the Flames to the bottom of the Western Conference.
The 2009 Stanley Cup provided Shero with job security, but another season of disappointment could certainly put that in jeopardy.  Agents and opposing GM's can smell a desperate manager a mile away and they'll always think back to how he was willing to make exceptions to his principles.
Some players are worth making exceptions for.  Kris Letang is not one of those players.
Sidney Crosby and Evgeni Malkin?  Probably, but the negotiations with Malkin were quick and painless.  He didn't haggle over term, money, or addendums.  He had an intense desire to stay in Pittsburgh and, as Shero has said on many occasions, "players must be willing to take less money to play in Pittsburgh."
When Detroit GM Ken Holland used to face challenging contract negotiations, he could always point to Niklas Lidstrom as a perfect example of what it means to sacrifice for the 'Red Wing Way'.  The franchise was built with Lidstrom as the foundation.
Shero has built the same thing in Pittsburgh.
A few years ago, I termed it the 'Penguins Dividend'.  Players are willing to sacrifice in order to play with Sidney Crosby and Evgeni Malkin in a beautiful facility under the guidance of the Lemieux ownership group.
The principles that Shero prides himself on have gotten stronger since being burned by trying to cater to Marian Hossa (The Evolution of Ray Shero).  He offered Hossa his choice of term and dollars only to get left on the dance floor without a date when Hossa skirted to Detroit.
Shero and the Penguins want Letang.  They wouldn't have made it this far in negotiations if that wasn't the case.
Shero is also showing a willingness to let the Letang negotiations completely fall apart over a simple verbal exception because it doesn't fit with his principles.
Arrogant?  Stubborn?  Maybe.
But while it's tough to replace a Norris Trophy defenseman, it's even more difficult to replace principles and a reputation as a GM who makes exceptions to get what he wants.
_____________________________