We first learned of Jay-Z's interest in Seth Jones from the New York Post, "The next target for Jay-Z's Roc Nation Sports banner is potential No. 1 NHL draft pick Seth Jones, according to sources. The son of Nets assistant coach and former Nuggets player Popeye Jones is already repped by CAA, Roc Nation's partner. But sources said Jay-Z's organization wants to strike a deal to be involved in the star's marketing and branding."
There is already a connection with Jones and the rap mogul: Jay-Z still has less than a 1% stake in the team Seth's father helps coach, the Brooklyn Nets.
Jay-Z is now certified to negotiate contracts in the NBA, MLB, and NFL, but did not submit a an application for a license for the NHL, according to RDS' Renaud Lavoie. So what does that mean for Seth Jones? Nothing, really. Because he's currently repped by Roc Nation Sports' partner, Creative Artist Agency, through Pat Brisson (who also manages Sidney Crosby and fellow top draftee Nathan MacKinnon). Having Jay-Z manage the marketing and branding side won't interfere with contract negotiations through the framework already in place with Roc Nation Sports and CAA.
"CAA Sports is proud to represent Seth Jones in all of his on and off the ice endeavors, spearheading all contract negotiations and marketing on his behalf," Pat Brisson told TSN in a statement. "We are always looking to access all of the resources and relationships across the agency to bring new opportunities to our clients. Roc Nation and CAA Sports have recently announced a relationship which could be beneficial to our athletes."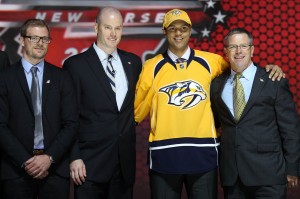 Now, the New York Post also said in their report, "When Seth comes to the NHL draft in June, his family, agents at CAA and Roc Nation are going to have a powwow to see if he'll sign with them." There was no deal. He dropped to 4th overall, but did that have an impact on the signing? Don't think it was happening yesterday anyways. Will it happen? Who knows. All I can be sure of is this a deal like this would be most beneficial to the NHL, rather than Jones or Jay-Z, by giving the league a "crossover" star as they say. But all this comes down to on-ice performance for Jones. Same with the Nashville Predators, they have to remain relevant in the NHL.