As evidenced by the 2012 version, the 2013 edition of the New Jersey Devils were built for June.  Of course getting there in an albeit abbreviated season, was another question.  What the Devils did on draft day 2013 was bridge that divide between the regular and postseason.  General Manager Lou Lamoriello also effectively bridged the present and the future, by virtue of acquiring goaltender Cory Schneider from the Vancouver Canucks, for the ninth overall pick, to eventually take over for Martin Brodeur.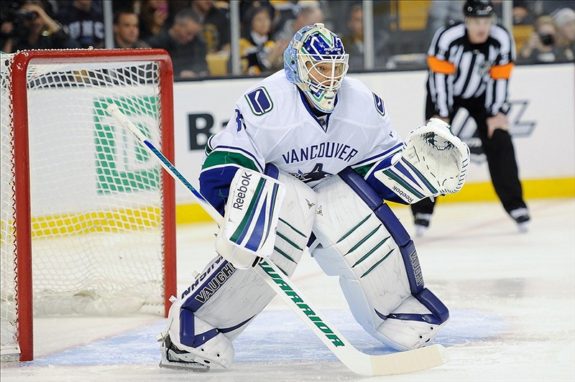 Much like everyone had defenceman Seth Jones pegged as the number one overall pick for months, all signs for New Jersey pointed to offense, namely Hunter Shinkaruk.  Yet, Lou reached back to the glory days and still proved that he can throw that speed ball by you, make you look like a fool boy.  Not that I'm implying Vancouver is foolish, remember they still have Roberto Luongo in net.  What the Devils have done is to make a preemptive strike for the future of the franchise.
Rather than try to resurrect a vagabond retread goalie, catch lightning in a bottle with the next flash in the pan or wait on the system to develop a competent replacement, New Jersey is getting one potential franchise netminder to replace another.  On his career, Schneider boasts a record of 55-26-8, with a save percentage of .927, goals against average of 2.20 and nine shutouts, including a league high of five, this past season.  While Schneider has yet to play more than 33 games in a season, the 27-year-old has more than proven him self capable of carrying his fair share of the load when he does play.
Speaking of sharing the load, that need became crystal clear, as Brodeur was limited to 29 games last year.  Couple that fact with having a now 40-year-old Johan Hedberg (who could perhaps take on a mentoring role at the AHL level, like Peter Sidorkiewicz did years ago in Albany) and the fact that their crop of AHLers played a combined total of 45 minutes in his absence, the need for Schneider was effervescent.
If you're in the camp which screams for controversy and wonders how this situation is any different from the one that Schneider just left in Vancouver, attempting to replace a Vezina winning, French Canadian Olympic goalie, I'll tell you why that is so.  It's different because I believe this situation will play itself out.  Yes, Lamoriello still names Brodeur as his number one starter but Marty is 41-years-old, he's not playing 70 games and this will be beneficial to both goaltenders.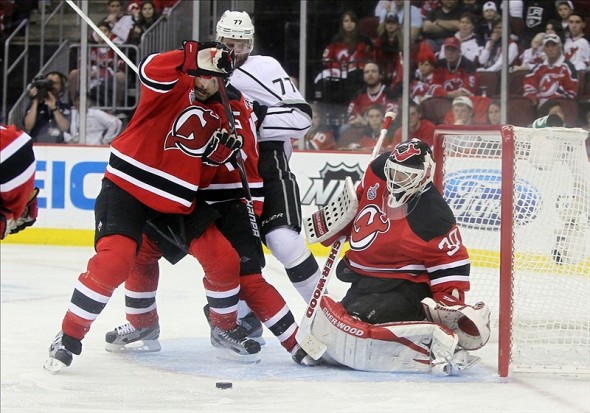 Beneficial because Schneider can learn even more from Brodeur and knows that he won't have to wait another five years (not that I'm shorting Marty here) to be the undisputed number one.  Plus, Brodeur can benefit by not feeling pressured to play hurt, knowing that Schneider is more than capable of backing up and it will keep Brodeur fresh for a potentially deep playoff run.
Yes there is still more work to be done up front on this club but what the Devils have done in the back of the net, may well have them back playing deep into June.