There is a time when every draft has that moment, sometimes a few, where the whole mass goes silent or there is that jaw drop. New Jersey was on the clock for the ninth pick and during Buffalo's pick (number eight), the wheels were turning. David Conte and Lou Lamoriello were both smiling. Something really was up and boy was it ever.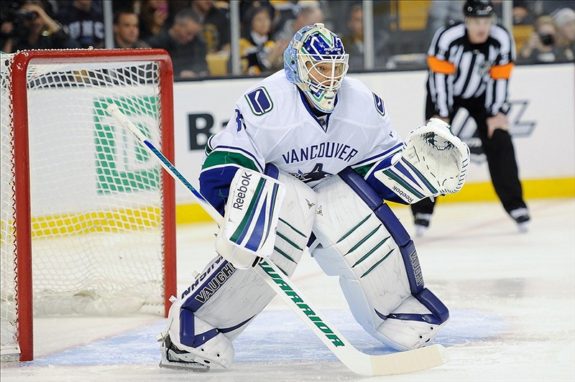 When most of the Devils writers headed to the floor, there literally was a hush even as Gary Bettman announced "there is a trade to announce". Most would agree a trade was coming but then these words were uttered.
"The New Jersey Devils have acquired goaltender Cory Schneider in exchange for the ninth overall pick. Vancouver, you are on the clock."
Just like that, the air was let out and the jaws just dropped to the floor. I wish in some ways anyone could have taken a picture of the entire draft at that juncture. Ultimately, Mike Gillis and the Canucks chose Bo Horvat with the ninth pick (spearheaded by a great playoff run with London of the OHL) but obviously the spotlight was on what Lou Lamoriello did. Many thought Hunter Shinkaruk was the ninth pick and that New Jersey would keep said pick. Yet there was that feeling. It is one that is hard to explain but on the draft floor, the result was undeniable. The quintessential moment of the 2013 NHL Draft was executed. It was reinforced when TSN placed a call to the former "starting" goalie of the Vancouver Canucks.
The reaction of Schneider was truly indicative of how the NHL sometimes works. Just when you think…..it happens. Now the reaction on the floor had that same jaw drop ripple effect. You rarely see TV and radio crews that astonished and yet it was for the hockey world to see. I watched so many personalities literally just stunned and then there was the fans reaction on both sides.
No quotes were needed but only a few seconds to soak in the atmosphere from the floor at that very moment the words were uttered. Two teams were changed with just a few words for possibly a decade or more. For that moment in time, the draft truly stood still. What happens now is all just a guessing game.
In the coming weeks, months, and years this trade will be dissected, scrutinized, and picked at but right now, there is still that buzz and this question. Where were you when the 2013 NHL Draft stood still? I saw it from the floor and am still amazed.
Simply a hockey writer who is a jack of all trades. No question is too big or too small and in fantasy hockey there is no such thing as a stupid question. Now a proud, accredited member of the FSWA. I am also a New Jersey Devils lead writer, prospects writer, humorist, and so much more. You can find me on Twitter at @ChrisWasselDFS