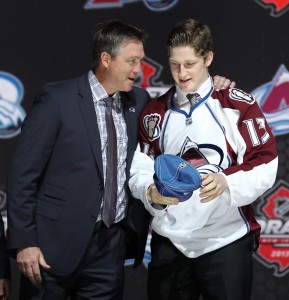 All of the controversy that might have surrounded the selection of Nate MacKinnon by the Colorado Avalanche was quickly erased when Seth Jones fell all the way to fourth in the NHL Draft order on Sunday.
Jones, predicted by many to be the class of 2013, was dismissed early on by Colorado management. Their priority was a forward and the quality of player was too good to pass up, they said.  Nobody, however, expected Jones to have to wait until the Nashville Predators had their selection at number four.  Now, it is the Florida Panthers who carry the weight of the snubbing of Jones as they chose the highly-touted, yet younger Aleksander Barkov.
Joe Sakic has shown his hand, kept his word, and left the 2013 NHL Draft with a win for his organization.  Alongside new head coach Patrick Roy, Sakic inherited the reins of a club that was notorious for its secrecy.  He claimed his decision to reveal early his preference for MacKinnon was for the benefit of Avalanche fans.
And a two-fold benefit it is.  First, fans can start to trust their NHL club again after a number of mismanaged seasons.  Second, with all the expectation being that Jones, a Denver native and sentimental pick to be selected by his boyhood idols, the Avalanche were able to soften to blow and give their fans time to digest this bold decision.
But the transparency did not stop there.
Later in the day, Adrian Dater of the Denver Post reported that Patrick Roy "flat out told (Dater) what his top three lines for the start of next season will be".  Roy apparently volunteered that Matt Duchene will center the first line with Ryan O'Reilly and P.A. Parenteau, Paul Stastny will center Gabe Landeskog and Alex Tanguay, and MacKinnon will pivot between Jamie McGinn and Steve Downie.
This brash assertion seemed oddly-timed and certainly raised some questions.  Can O'Reilly thrive in his now third different assignment in Colorado?  Why is Tanguay on the right side instead of the left where he is more comfortable?  And what will MacKinnon look like on a grind line with no one to pass the puck to him?
O'Reilly in particular has been misused by the Avalanche for years.  He has centered the second and third lines at times, has seen his stock undervalued by Colorado management as evidenced by the unresolved contract negotiations of 2013, and now, the defensive forward looks to play the wing.  His skating ability and two-way tendencies are better suited to the center spot but with the MacKinnon pick, the Avs had a glut of capable pivots.  When Colorado matched Calgary's offer sheet to O'Reilly, the rules stipulated that he could not be traded for a calender year.  If Roy's lines hold up, prepare for "#O'ReillyWatch" at next season's trade deadline.
Most would agree the recent acquisition of veteran and former Avalanche, Alex Tanguay, was a boon for Sakic and company.  They unloaded a regrettable contract in David Jones and saved $500K in salary cap space.  And with the announcement of Adam Foote returning as a part-time defence-consultant and Francois Allaire as the new goalie coach, it appeared that the band was getting back together.  Tanguay, a former Halifax Moosehead himself, was seen as a good mentor to the young MacKinnon: one that knew what it meant to have success in Halifax, Colorado, and as a long-time professional.  The playmaker could have served as the support MacKinnon needed after benefiting from the generosity of Jonathan Drouin, teammate on Halifax and Tampa Bay's selection with the third overall pick.  Not so, at least at this point in time for Coach Roy who may have to deal with some awkwardness in handling the ice time of his former teammate, Tanguay.  And while the former Avalanche was brought in to mentor the young forward group, he may be perceived as an extension of the Colorado front office and coaching staff by players he shares the dressing room with.  Familiarity often breeds contempt.
Many have noted that this era of Avalanche management is certainly different, if not entertaining.  But when will the honeymoon period end?  How much more trust and leeway will fans give before doubt starts to creep in to their minds?  So far, there is no reason to question the decisions of Roy and Sakic.  But the behaviour of Roy, apparently providing information without prompting, is something fans will take notice of.  It's over-confident and bold and it sounds just like the Hall-of-Fame goaltender.  
How long the fans buy-in to this new philosophy is still to be determined.  For now, the Roy and Sakic brand has been rubber-stamped.