It didn't take long for the Vancouver Canucks and general manager Mike Gillis to make a splash at the NHL Draft Sunday afternoon. With rumors swirling in the days leading up to the draft about Roberto Luongo and Cory Schneider they finally ended the drama. Early in the first round Gary Bettman announced that Gillis had sent Schneider to the New Jersey Devils for the ninth pick in the draft.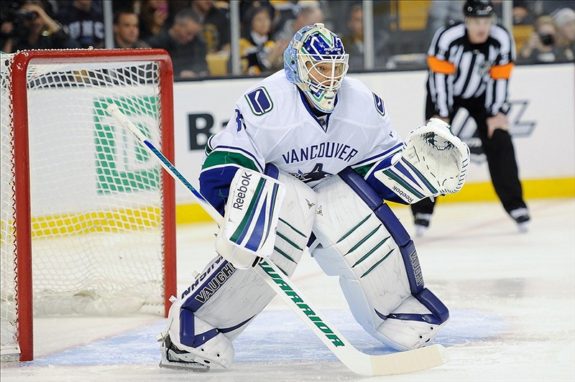 While the Crowd in the Prudential Center went crazy, excited about the move, fans in Vancouver were shocked.
Wasn't it just a year ago that Schneider was resigned to a contract? Didn't Gillis tell us that Schneider was now the number one guy? Didn't they bench Luongo after two strong games in the playoffs when Schneider was healthy? Wasn't it Luongo that was going to get moved?
What happened here?
It turns out that the market for Luongo was non-existent in New Jersey, just as it was at the NHL Trade Deadline during the season. With the shrinking salary cap teams were understandably not beating down the Vancouver door to pick up Luongo and his long term contract. Gillis may have painted himself into the goalie corner by being too greedy last summer.
This move will either pay off for Vancouver or it will spell the end for Mike Gillis.
The Bad
The curious part of this trade is that there were rumors that better offers were on the table. Did Edmonton offer two draft picks and a player for Schneider? There are mixed reports about that and it may be that the Canucks were asking for that haul and the Oilers weren't interested. Either way it feels like you could have picked up more for a young and experienced goaltender than just the number nine pick.
Perhaps the worst part of this deal is the continued drama it will keep churning. Roberto Luongo had all but counted on not being back in Vancouver this coming year. His condo was on the market and he had come to peace with moving on. Surely Gillis talked to Luongo before pulling this move right? You would want to make sure that your new/old number one goalie was on board right?
Gillis said he did not speak with Luongo before agreeing to Schneider trade.

— Darren Dreger (@DarrenDreger) June 30, 2013
This could get Awkward.
At the end of the day the worst thing about this move is that Gillis has contradicted himself throughout this whole process. First Schneider was the guy and they were going to move Luongo. But they weren't going to just give Luongo away, they wanted value back. Sunday when it appeared evident that they were not going to get that value for him the moved Schneider instead.
It smells like Gillis was spinning his wheels here and never really had a sound plan for his goaltending situation. This smelled like desperation and Gillis, along with new head coach John Tortorella will now have to smooth things over with their netminder.
Can that be done?
From an on ice standpoint Luongo is still a top level goaltender. He was good last year and was actually better than Schneider in the first round of the playoffs. Having him as the Canucks number one goaltender is, in the end, a good thing but that all depends on his attitude and willingness to put it all on the line for the club. It doesn't seem like Gillis is too worried.
Gillis: "[Luongo] signed a long-term contract w/our club for a lot of money & very happy to do it. I don't anticipate there being issues."

— Craig Custance (@CraigCustance) June 30, 2013
Luongo has been great throughout the whole goalie debacle this past year and one would suggest he would be a good teammate again this year. He is still under contract and really doesn't have many options here. Despite the feeling that he will be OK, why would you not touch base with him before making this move?
Why it's not the end of the world
With Schneider being younger and cheaper it stands to reason he was the best option for a goalie trade. Luongo has a tougher contract to move and the option of buying him out and getting nothing but cap space seemed like a loss. At least the Canucks managed to get something in return.
What they got was a top ten draft pick and used it on London center Bo Horvat. Horvat is a gifted player who has offensive skill and plays with a lot of grit. But more than that he is a prospect. Something the Canucks don't have any of. Later in the first the Canucks picked Medicine Hat scoring machine Hunter Shinkaruk to further bolster Vancouver's depth on the farm.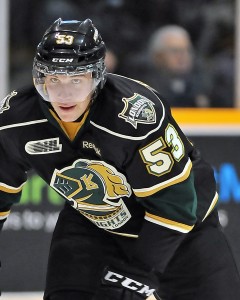 The Canucks needed to improve their offensive talent and stock their system with high end prospects. This move allowed them to get Horvat and they were lucky to have Shinkaruk slip to them with the 24th pick overall. These two players may already be the two top prospects within in the Canucks system and trading Schneider allowed them to pick up the two of them.
Moving Schneider also gives the Canucks just over $4 million of cap space that they didn't have. With the cap lowering the Canucks were up against it and were looking to move players. This move gives them some flexibility heading into free agency next week – something they didn't have before the trade.
Was Schneider worth picking up prospects? Only time will tell. For Mike Gillis this move may be the one that defines his future and legacy with Vancouver. If it works and he is able to work Horvat and Shinkaruk into the Canucks mix and keep them competitive it will turn out to be a bold and effective move. But, if there is tension with Luongo and if the young players don't pan out or take too long then it may end up leading to Gillis' demise with the Canucks. The questions may always linger – what could they have picked up for Luongo last year? Was that better than the number nine pick in the draft?
Time will tell, but for now the Canucks can only hope that Luongo can be made happy again and that Horvat is everything the scouts think he is.
Andrew writes about the WHL and NHL Draft Prospects. He also covers the Seattle Thunderbirds for 710 ESPN Seattle and spent two years with Sportsnet. Follow him on Twitter @andyeide.