It took one weekend for Mike Gillis and the Vancouver Canucks to alter the plans for their entire franchise.
In April of 2012, following a decision to input Cory Schneider into the lineup and a first round exit to the Los Angeles Kings, the course of action had been set. Roberto Luongo was to be dealt, and the Canucks' net would be given to the youthful American. But 14 months later, Bobby Lou continues to don the Blue and Green, while Schneider is dancing with the Devil.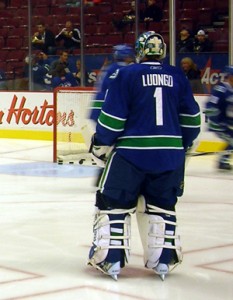 In a stunning turn of events, the Canucks shipped Schneider on the draft floor to the home crowd's New Jersey Devils in exchange for the 9th overall pick (ultimately being Bo Horvat). The analysts were shocked. General Managers across the league were shocked. Canucks fans were shocked. Most importantly, the goaltenders themselves were shocked, with Luongo already having one foot out the door with an expectancy to move on with his professional career.
The return that the Canucks received for the 27-year-old goaltender from the Devils is adequate at best. In a market where few teams need goalies and many are available, Vancouver could not receive full value (also putting into consideration the team's preference to trade outside of the division) for their young goalie. The team received Bo Horvat, a highly-touted prospect who is said to do all the little things right and have a very nice set of different talents in his arsenal. In a few years, all signs point to Horvat being a very serviceable player in the NHL. Maybe not a star, but certainly a potential 2nd line center for the Vancouver Canucks.
But in this situation, it did not matter what Vancouver received for Cory Schneider. Rather, its main significance is how Mike Gillis took a resounding loss in this entire situation. In a saga that lasted over a year, the Canucks' General Manager lost this entire situation in every aspect he possibly could have.
Gillis failed to capitalize on a Roberto Luongo trade when a solid return was possible. It all started in last year's offseason, where it appeared that Roberto Luongo's suitors were evident and willing to pay a decent price for his services. Reports surfaced that the Maple Leafs were prepared to offer Nazem Kadri and Tyler Bozak. Gillis wanted a first round draft pick. Florida too was considering a good offer for the former Panther, but it had to be Nick Bjugstad. The return on a backup, 33-year-old goaltender with a horrendous contract not only had to be a hockey trade, but an outstanding one in Vancouver's favour. When that package never came, Gillis was sure more suitors would come forward once a new CBA was agreed upon.
But the suitors never came. Gillis took to the media, blaming Toronto of using a public voice to influence talks and subsequently doing the same to drive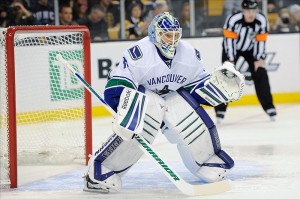 Luongo's price upwards. The asking price changed from a top prospect and roster player to just a top prospect. The demand then went to a top draft pick. And as the months rolled on, the price got lower and lower, to the point where he wouldn't even be taken for free. It could have been arrogance, or it could have been idiocy, but Gillis somehow managed to turn an asset with trade value into one with none.
And while Gillis had told Luongo that a trade would come, frustrating the all-star goaltender that brought success to the popular Canadian franchise, the move never happened. And now, following a 14 month span of constant rumours, promises, embarrassment, and the acceptance that it was the right time to move on, Roberto Luongo was just named the starter by default because of the Schneider trade. Suddenly, the man not good enough to guard the net is the main guy in goal once again. However, coupling this with his treatment of Cory Schneider, Mike Gillis really dug himself a hole with this trade that will be difficult to climb out of.
14 months ago, It appeared that Mike Gillis had told the hockey world that Cory Schneider was the guy. He had started the final three games of the first round against the Los Angeles Kings, playing well and proving that he was worthy of being a starting goaltender in the National Hockey League. The Canucks gave him their confidence, naming him the starter and aggressively shopping Luongo. Every interview regarding the situation throughout the season, it was always a similar message. Cory was the future in goal and Roberto would be moved shortly.
But as it should be in a competitive league, trading Luongo's contract got hard. When the leverage went away and Toronto found goaltending success, Florida had no incentive to trade more and Lou became a hard sell. Rather than owning up to the mistake, lowering the asking price (subsequently making both goaltenders happy in the process), Gillis went completely off the grid.
He traded Cory Schneider. Here's a young goaltender who had paid his dues with the team, and been given all the confidence in the world by the front office. It is baffling that at the blink of an eye, they shipped him across the continent. This situation, ethically, is much worse than Paul Holmgren allegedly telling Carter he wouldn't be traded a week before he actually was. This is more akin to a board of governors telling an employee that they are the future of a company, and subsequently laying him off when numbers had to be crunched. If Gillis and the entire team hadn't been so public in their admiration of the goaltender, Schneider's trade would have been understandable. But they weren't and as a result the move comes off as a huge breach of trust.
And following all this, Mike Gillis has the audacity to stand up in front of microphones and deem that the plan all along came to fruition. According to Ken Campbell of "The Hockey News", Mike Gillis told reporters that the team's plan three years ago was to develop Schneider and trade him for a top pick, and they ultimately did so. And with that, all of Gillis' integrity disappeared. Maybe three years ago, when Luongo was the toast of the NHL in goal, that was the plan. But following a goalie carousel, starting Schneider in big games, actively trying to trade Luongo and failing to do so, naming Schneider the starting goaltender, continuing to pursue trade options for Luongo, still failing to do so, and trading Schneider because in the end it was easier, the plan certainly changed somewhere along the way. The attempt to justify the trade on Gillis' part came off as pathetic, somebody grasping at straws to create an illusion that trading Schneider has always been an option. But it wasn't. The analysts, fans, teams, Schneider, Luongo, and the Vancouver Canucks themselves know that a situation where Schneider moved was seemingly impossible.
Roberto Luongo is still a class goaltender in the National Hockey League. The contract is fairly atrocious, but his statistics and overall play make it quite obvious that he is more than just a competent goalie. In fact, over the next few years, he could very likely be very similar to Schneider in terms of performance. However, that is irrelevant when looking back at how Mike Gillis "resolved" his goaltending issue. He clearly stated who would stay and who would leave, and after a year of failing to follow through on his plan he subsequently reversed it. Now, Roberto Luongo isn't happy, Cory Schneider isn't happy, and it appears that the Canucks fans aren't too pleased either (with some initial reactions being much too crude to quote). Mike Gillis messed up the bed, and now he has to fix it. If he doesn't he might not have a job 14 months later.