The Capitals selected Andre Burakovsky with the 23rd overall pick, as well as two second rounders, defenseman Madison Bowey (53rd pick) and left-winger Zach Sanford (61st pick).  Here is an analysis of the picks and the Capitals draft grades.
Andre Burakovsky
Nationality:  Austria/Sweden
Position:  Left Wing/Right Wing            (shoots left)
Size:  6 foot, 1 inch; 176 pounds
Birthdate:  2/9/1995 (18 years old)
Rankings
NHL:  6 (for European skaters)
Hockey Prospectus:  13
ESPN:  Top 10 pick based on talent, projected to go at number 30 to Chicago
Hockey News:  24
TSN:  41
What Are People Saying
Burakovsky has been described as a major offensive talent with exponential upside.  Unlike most sports leagues, first round draft choices in the NHL do not necessarily have to have an immediate impact on their team.  As such, THW provides risk and reward ratings for prospects in their "The Next Ones" series.  The Swede received a 5/5 rating for reward and a 2/5 for risk.  Hockey Prospectus ranked the Swede higher than Bo Horvat who went to Vancouver at the 9th pick.  The general thought by most experts is that Burakovsky is a potential top six forward for an NHL team and some believe he is an immediate replacement in the farm system for the loss of Filip Forsberg.
Pros
Burakovsky is a talented skater and scorer.  He has excelled in international junior level play with 41 points in 53 games.  In Sweden's top junior league, Burakovsky also showed his flair for scoring with 49 points (20 goals, 29 assists) in 55 regular season games and 8 points in 8 playoff games.  In his last season before moving into Sweden's second league, he set records for most points in a season by a U-17 player.  There appears to be consensus that his raw skills will make him a scorer in the NHL, with the worst case scenario of him having a limited impact on the power play and in similar scoring role.  If Burakovsky can see his full potential, scouts believe he will have a great impact on the team in the next two to three seasons.  For what it's worth, he comes from a family of professional hockey players, so the pedigree to play at a top level lives in the family's blood line.
Cons
Burakovsky is a physically immature 18 years old.  His body is described as "frail" in some instances, so he has to bulk up physically.  His slim stature also has dictated his style of play, as some experts say he avoids crashing the net and skates along the perimeter of the offensive zone to avoid contact.  His offensive prowess got him an early shot at the pros in Sweden, but he made no impact.  In 43 games, he scored 11 points and finished -2.  Moreover, he does not have international experience outside of the junior level.  This makes it extremely difficult to tell what player we will see in Burakovsky—the raw and offensively talented junior player or the less-than-average professional player in a second tier league.
Analysis
THW has Burakovsky coming into the NHL in two to three years.  This seems like a stretch as he has not played in a top-level league or progressed in a league with AHL skill level skaters.  A lot of potential, but a lot of work to do with this prospect as well.  I assume he will stay in Europe for another season or two and then make his way to Hershey, likely spending a few years there.  If the Vincent Lecavalier rumors come to fruition, it makes a little less room for forward prospects to put on the Caps sweater in the near future.
Also, a scoring forward was not really a position of need for the Caps (as I outline in my draft preview article here).  Will it be in three to five years?  Maybe.  The Capitals make it to the playoffs every season and lose in the early rounds, usually because of a lack of good two-way players on the roster.  Burakovsky is not described by anyone as being a potential two-way player (THW gives him a 3/10 in defensive potential).
Yet, the Caps may have snagged a future scoring superstar late in the first round that some had ranked in the top ten.  Clubs can always use scorers.  Also, give the Washington brain trust some credit—in the past ten years, nearly every first round draft pick played with the Capitals, even if only for a few games.  At number 23, if Burakovsky never plays an NHL game, it will be hard to call this a bust.  Yet, if he does play, it is hard to say for certain that he brings this current group of guys closer to playing deeper into the playoffs.
Grade:  B-
Madison Bowey
Nationality:  Canada
Position:  Defenseman                            (shoots right)
Size:  6 foot, 1 inch; 201 pounds
Birthdate:  4/22/1995 (18 years old)
Rankings
The Hockey Writers:  Top 100
NHL:  32 (for American skaters)
Hockey Prospectus:  23
TSN:  24
CBS Sports:  22
What Are People Saying
Bowey is a hard worker and good two-way defenseman.  He finished +41 in the WHL last season and is considered to be the second best defenseman on the league's best team.  He can play physical, but does not have the size (yet) to bang in the corners with top league forwards.  He skates well, has a hard shot and can score (30 points in 69 games last season).  Bowey also has a good hockey pedigree, with his father being a professional, and he is a proven winner with a gold medal as part of Canada's U18 World Junior's last year.
Pros
Bowey has a lot of potential to be a solid defenseman, both in scoring and preventing scoring.  THW has him listed as a potential top four defender for his team.  He is not afraid to be physical and the Caps can use some grit.  Experts also agree on where Bowey is in his skill set and rank him pretty closely together.  As opposed to scouts being all over the place on Burakovsky, people are pretty solid on where Bowey is and how good he will be.  Many had the Canadian going in the first round, so picking him up in the second round is good value choice for the Caps.
Cons
The defender is still a work in progress, but he is a proven winner and he plays consistently at a high level.  Unfortunately, the Capitals need a solid defender and if he turns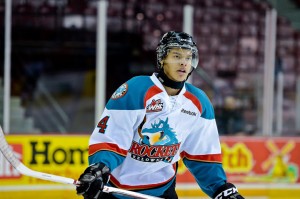 out to have a knack for scoring, then that is an added bonus.  Bowey has mostly proven himself as a good scoring defensemen, which is not what the Caps need in defensemen.  Some experts have said he makes bad decisions at time in the defensive zone, which is bad for where the Caps have their biggest problem—allowing too many goals.  It appears that Bowey will be a well-rounded defender, but if not, he will have a hard time making it to the District with Dmitri Orlov ready to breakthrough into a scoring defenseman role and several other recent defensive prospects waiting in the pipeline for their chance.
Analysis
THW also has Bowey coming into the league in two or three years.  This seems more viable than the projected Burakovsky transition.  Bowey is a more consistent player and more NHL-style ready.  Having playoff experience and winning is an important intangible that the Caps are currently lacking.  I believe Bowey will have an impact in Washington before Burakovsky.  Nearly every expert has him ranked much higher than he was selected.  Yet, if he is unable to sure up being a great defender (though all signs point that he will) then this is another pick that will not fill a hole in the Caps' current needs lists.  Good value and could be ready soon to contribute.  Overall, a good pick.
Grade:  A-
Zach Sanford
Nationality:  USA
Position:  Center/Left Wing                   (shoots left)
Size:  6 foot, 3 inches; 191 pounds
Birthdate:  11/9/1994 (18 years old)
Rankings
Not ranked by several sources
What Are People Saying
Sanford is a big player that does not quite know how to use his size to his advantage.  However, he moves well and stickhandles well for a 6'3" guy.  He scored 36 points in 37 games for the Eastern Junior Hockey League (ranked Tier III).  He potentially could have scored even more, but he was switched from his natural position as a center and struggled at left wing.  He should get several years of great experience in a great hockey program; it is reported that he has committed to Boston College for next season.
Pros
Sanford is a big center, which every team could use, but especially the Caps.  As a third line center in the future, he could help bring a little tenacity and maybe a scoring touch further down the bench.  He will get a lot of experience with a great college program and potentially be better equipped to make an impact after graduation.
Cons
Who is Zach Sanford?  He was not on many teams radar.  Trading three later round picks to Winnipeg to move into this spot and select Sanford seems to be a bit of a stretch.  The Caps' management felt there was little talent to be had in those later rounds and wanted to grab their guy.  Maybe they know something the others do not, that is what the fans are hoping for anyway.  Committing to Boston College means Sanford is likely more than four years away from working with the organization.  I assume that if he has a good couple of early years at BC, then he will quickly become trade bait.
Analysis
The pick was a reach.  If THW and others ranked the 100 top prospects, and Sanford was picked at 61, then there were at least 40 other players that the Caps organization and outside experts disagree about.  Right now, this pick does not make a whole lot of sense, especially taking into consideration the three picks were dealt away.
Grade:  D
Other picks:
Jaspers' rink reports the Caps made the additional picks in the later rounds:
Blake Heinrich – USHL defenseman (144th pick)
Brian Pinho – high school center (174th pick)
Tyler Lewington – WHL defenseman (204th pick)
Since the 2006 draft, only Braden Holtby and Cody Eakin have played in the NHL as Capitals' draft picks chosen after the second round.  Both of them have played with the Capitals, so if any of the three skaters above have a chance in the league, it is possible in the Caps system.  Pinho is really young and there have been ten defensemen chosen in the draft by Washington in the later rounds.  While it is possible, we likely will not see these late rounders with the Capitals in the near future.
Grade:  Incomplete
Final Grade:  B-
Bowey was the Caps most solid pick and seems to be the one most likely to contribute the soonest.  Burakovsky is talented, but raw, and will need some time to develop his skill and his size.  If he meets his potential, then the Caps could be lighting a lot of lamps in the next two to three years.  Yet, Burakovsky is likely four to five years away from getting his chance and his style of play does not help fill any of the holes the Caps currently have that are stopping them from taking the next step.  Time will tell with this one.
The Sanford pick is a little baffling with the three picks given away to move back into the second round, especially when he will not be with the organization for at least four years.  The pick was a reach and the Caps gave up too much for this pick.  Not a bad draft for the Caps, but not a good one either.  A lot of potential with Burakovsky and Bowey, but Bowey is the closest safe bet for a gritty, two-way player the Caps are dying for.
My name is Tim Bourcier and I am contributor for the Washington Capitals and hockey in Europe. Prior to working with The Hockey Writers, I worked with a professional hockey club in Budapest, Hungary. I also wrote articles for the MOL Liga and international hockey tournaments. I am near a PhD in Economics and I have eight years work experience as a statistician.
You can check out my previous work, new stuff and wonky analysis over at my blog: bourciertm.wordpress.com. Also, check out my blog for the KHL team in my home city at www.bearshockeyblog.com