There will always be skilled guys in any NHL draft. Andre Burakovsky is one of the most naturally gifted forwards this draft crop has to offer.  While numbers may not tell the whole story, Burakovsky has everything you'd want in a highly offensive winger.  He's rangy, skates well, has silky smooth hands, and is as effective scoring as he is passing.
Andre Burakovsky THW Close-Up:
Date of birth: 2/9/1995
Place of birth: Klagenfurt, Austria
Ht: 6'1″     Wt: 179 lbs
Shoots: Left
Position: LW/RW
NHL Draft Eligibility: 2013
THW The Next Ones Rankings (January 2013): 16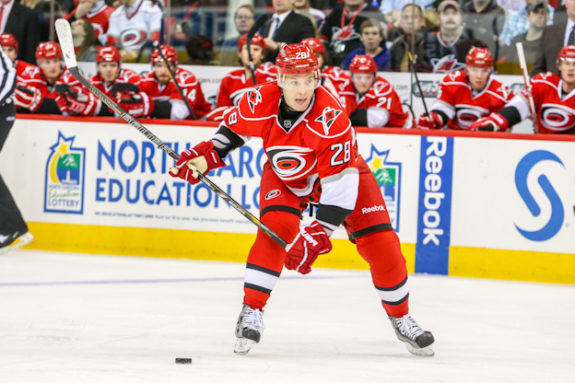 Other Rankings:
THW War Room Rankings (April): 25
ISS (May): 16
Craig Button: 58
Consensus aggregate of several services (NHL Numbers): 23
CS Final Rankings for European skaters: 6
***
[NHL 2013 Draft Guide – The Next Ones Draft Headquarters: Your quintessential draft resource]
***
Burakovsky won't tower over his opponents, but he will stand out among his opposition and teammates as a fun player to watch.  Speed kills – and Burakovsky has a ton of it.  He moves quickly, accelerates, and has tremendous breakaway speed.  If a defender is one-on-one against Burakovsky, he will likely get beat on the Swede's speed, alone. His agility and ability to make sharp cuts is also a useful tool for Andre.
Andre has soft hands, as is a commonality among Swedish players.  He seems to always be a threat whenever the puck is on his stick, and isn't afraid to use his quick release and powerful shot.  The way he handles the puck at such a quick speed is magical to watch.  Many times, Burakovsky will go to the front of the net.  He isn't afraid of the physical play he will receive, even though he is relatively scrawny for such a skilled winger.
Being lanky, Burakovsky can sometimes get knocked off the puck, but you won't see it happen often.  He hasn't had as many chances as maybe he would've liked this season to contribute, which is why his point totals may seem a bit low.  Andre has the ability to be an NHL player with game-changing skills.  He is going to be a nice addition to any team that needs an extra boost on the offensive side of the puck.
Where Will He End Up In June:
All things point to Burakovsky being selected somewhere late in the first round.  Some GM's may look at him as a risk because of his inability to score as much as they would've hope this season, so he may fall into the 2nd round.  Chances are, he will go somewhere between 19th-27th overall.
Scout's Honor:
"Andre is explosive and powerful. His skating is excellent and he has the ability to challenge defenders, put them on their heels and make them vulnerable very quickly. He is the type of player who makes defencemen nervous because he is not only fast, but determined as and he will not back down from the competitive areas and is very difficult to deter. He can come at you from anywhere on the ice and combined with excellent sense, he knows how to use it to gain those advantages. Good puck skills and can make plays at high speed and he is capable of beating you with a drive to the net or with a pass given the opportunity. He is a game-breaking type of player who plays when it matters and makes teams better."
Craig Button – TSN
"A gifted offensive player who had a bad season. Didn't get the kind of ice time he expected and didn't really come through when he got the opportunity. Will probably play in North America next season."
Uffe Bodin, Editor in Chief – Hockeysverige.se
"Burakovsky is an excellent skating winger who has explosive feet and quick lateral agility which he utilizes to push defenders back on their heels. He possesses high puck skills and strong offensive creativity among other top end offensive tools. His vision is a plus and his shot is quick and accurate. He is at his best with the puck on his stick, generating offense on the rush, protecting the puck; maintain possession and surveying his options. He is more then willing to engage physically and can play that role if needed, but it's not his niche."
Aaron Vickers – Future Considerations
"André is very creative player with a strong wrist shot who loves scoring goals. He is extremely good at picking corners and putting shots in under the crossbar. Likes to move around defenses and is constantly switching sides of the rink in the neutral zone in order to open himself up for a pass or create space for his teammates. Wants to have the puck. His skating is currently strong and he's agile and capable in tight spaces. A player who simply likes being on the move. Nothing special in carrying out defensive duties in his own end of the ice. Has grown considerably the past two years and has good size with a frame he can add weight to. May need to develop a more north-south game in order to be successful. Despite tendency to shoot, doesn't exactly seek the most direct path to the net. Is used to playing with older, stronger players and has made the adjustments necessary to do so, but this has led him to having to play a more perimeter-style game since heading into traffic wasn't necessarily the best option for him with his 17 year old's body. Plays with a great deal of confidence when things are going well, but has shown the tendency to get down on himself when things are not going as expected."
Statistics:
Bio/Interview(s)/Links:
Interview with Hockey's Future at 2013 U18 WJC
International Tournaments:
Burakovsky has spent a great deal of time with Team Sweden playing in eight different international tournaments.  He's played at every stage from U16 all the way up to U20.
ETA:
2-3 years
Risk/Reward Analysis:
Risk: 2/5   Reward: 5/5
NHL Potential:
Top line elite scoring winger
Strengths:
Skating
Speed
Agility
Powerful shot
Quick release
Hockey sense
Flaws/Aspects He Needs To Work On:
Consistency
Adding muscle
Rounding out his defensive game some
Fantasy Hockey Potential:
Offensive: 9/10   Defensive: 3/10
NHL Player Comparison:
– His offensive abilities are eerily similar to that of Alexander Semin.  Semin may lack passion from shift to shift, but you won't find that Burakovsky's game.
– Hall of Fame comparison: Glenn Anderson
Video(s):
***
THW's The Next Ones prospect profile template design architect: Chris Ralph
Follow Shawn Reznik on Twitter: @ShawnTHW