A season many thought would culminate with Gary Bettman handing the most coveted trophy in all of sports to Pens' captain Sidney Crosby for the second time in five years instead ended with a whimper Friday night.  The Boston Bruins turned what was supposed to be an epic Eastern Conference Final into a swift, four game sweep, surrendering only two tallies along the way.  Not two markers from Crosby, not two at the hands of fellow former scoring champion, Evgeni Malkin; no, the Bruins gave up two tallies to the entire Pittsburgh squad.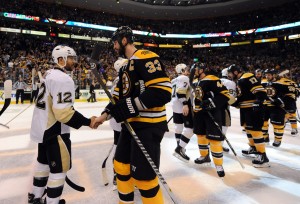 And, so, for a second straight season, a largely healthy Penguin club that had been heavily favored to bring home the franchise's fourth Stanley Cup came up short.  As a result, Ray Shero will face many difficult decisions as his club approaches what very well may be an offseason full of transition.  Indeed, from free agents and contract extensions to issues between the pipes with a supposed franchise goaltender to the coaching controversy that may or may not have its roots solely based in the media, Shero will have his hands full this summer.
Blessed with the ability to point out transactions that should take place without having to face the ramifications directly related to the moves, we take a look at some actions Shero might want to consider (free of charge, to boot!)
Free Agents and Contract Extensions
Entering the summer, the Penguins have a substantial list of potential free agents, headlined by Pascal Dupuis and trade deadline acquisitions Jarome Iginla and Brenden Morrow.  What's more, Evgeni Malkin and Kris Letang are both up for contract extensions and it may prove difficult to keep both in Pittsburgh for the long-term.
Ownership has reportedly instructed Shero to resign Malkin at all costs and, given the fact that Malkin appears quite content in Pittsburgh, the extension isn't likely to be much of an issue (where it leaves the Penguins in terms of cap space is a different story).  As a result, Shero should turn his immediate attention to finding out what it will take to retain:
Pascal Dupuis
Originally a throw in of the blockbuster deal that brought Marian Hossa to Pittsburgh in 2008, Dupuis has aged like a fine wine (or scotch, depending on your preference) with the Penguins.  Originally a bottom six forward, the versatile winger now flanks Crosby on the club's top line; furthermore, he kills penalties, hits, can absolutely fly and, oh yeah, he finished 15th in the league in goals this year (20).  In a nutshell, he does everything for the Pens short of logging time on the power play…and his play has set him up for a huge raise.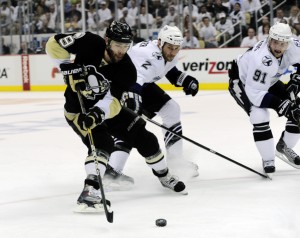 Coming off a two year deal that paid Dupuis $1.5 million each campaign, Pascal could reportedly command $5 million per season on the open market according to Mike Colligan, NHL Analyst at Forbes.com.  That being said, Dupuis is a family man that appears happy to be a member of his current club.  In addition to having a family that comes across as comfortable and content to live in the Pittsburgh community, Dupuis seems to recognize the perks that come with playing for such a talented squad.  As a result, it's up to Shero to sell "Duper" on resigning with the Penguins at a rate fair to both parties before the Penguins' most coveted free agent is poached away on the open market.  Otherwise, all that talk about "finding a winger for Sid" will suddenly become a real necessity.
Evgeni Malkin
With Pascal Dupuis (hopefully) resigned, Shero can turn his attention to Malkin's extension.  With ownership instructing the G.M. to get a long-term deal done, it would be in Shero's best interest to get this done as quickly as possible so as to both satisfy his bosses and ensure Malkin feels like a priority for the club.  What's more, it will give Ray a better unerstanding of how much cap room he has to potentially resign Letang and build the rest of his club for next season and beyond.  As mentioned above, this seems to be more of a formality than anything.  The only question is, what shape will the eventual deal leave the club in with regards to the salary cap?
http://youtu.be/paB1vKiR_WE
And the Rest
With Shero's two biggest priorities (with regards to signing players anyway) taken care of, he will be free to begin shaping the rest of his roster.  It's hard to imagine the Penguins will bring back aging star, Jarome Iginla, after he struggled to fit into Dan Bylsma's system.  But what about depth players like Craig Adams, Matt Cooke and Tyler Kennedy?  What about defensemen Mark Eaton and Douglas Murray?  Much of it may depend on whether or not Shero retains Bylsma (more on that later) and his up-tempo system that so many newcomers struggle to adjust to.  Regardless of what he decides, though, Shero faces some tough decisions in the coming months.
Problems With Penguins Goaltending
First off, let's get one thing straight.  Tomas Vokoun turned out to be everything Shero could have wanted and more when the G.M. brought the veteran goaltender to Pittsburgh.  After a solid regular season, Vokoun rescued a floundering Pittsburgh club that, following Marc-Andre Fleury's now yearly playoff implosion, appeared to be in danger of succumbing, once again, to a lesser opponent in the first round.  Can you imagine the backlash had the Pens lost to the Islanders?!  Luckily for Pittsburgh fans though (and likely their entire management department, coaching staff and a fair number of their players), Vokoun rode in on his white horse, carried the club past New York and Ottawa and was virtually the only player to show up for much of the conference final.
That being said, at 36 and entering the last year of his deal, Vokoun isn't the goaltender of the future.  And given how this year's postseason played out, neither is Marc-Andre Fleury.  While the club does have two promising prospects in Eric Hartzell and Jeff Zatkoff, there's no guarantee either will pan out at the next level, a potential reality that Shero must consider.
So this is where the G.M. needs to be careful.  The simplest solution would obviously be to buy Fleury out.  His $5 million salary would no longer count against the cap and Pittsburgh suddenly has more room to, say, sign Letang to a long-term deal.  But what if neither Hartzell nor Zatcoff can make the jump to the show?  What do the Pens do post-Vokoun?
No, in the long-term, Shero needs more confidence in his crease.  The Stanley Cup window won't be open forever in the Sidney Crosby/Evgeni Malkin era and it won't be open at all if the Penguins don't have someone they can count on in net.  Which is precisely the reason Shero needs to call Dean Lombardi in Los Angeles about Jonathan Bernier.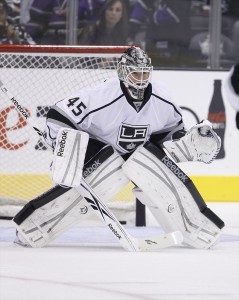 At 24, Bernier is both ready to spread his wings as more than just a backup to Jonathan Quick and an asset the Kings simply need to move.  And, quite frankly, the timing couldn't be better for Pittsburgh.  With Vokoun entering the last year of his deal, the two can split next season in the Pittsburgh net as Bernier adjusts to becoming the franchise's goaltender of the future.  The possibility has tremendous upside and it's time for Shero to find out what it'll cost.
Even if the deal would have to include Kris Letang, it's worth considering.  Because, while Norris Trophy candidates don't grow on trees, it's not like the Pens don't have a plethora of puck moving defensemen in their system.  What's more, Shero isn't going to let Letang just walk in free agency for nothing so, should the G.M. sense a deal with Kris isn't doable, he'll be looking to move the smooth-skating blue liner in a heartbeat, just as he did with Jordan Staal.
From there, Shero has options with Fleury.  He could still buy the struggling goaltender out, providing the Penguins with cap room to improve the depth of their newly depleted blue line or, given the fact that there won't be many blue chip defenseman free agents available this summer, Fleury could be shipped to a club in need of help in net (Toronto comes to mind).  Either way, the Penguins come out ahead in the long-run.
What About Dan Bylsma?
This may prove to be Shero's most difficult decision of the offseason.  After all, Bylsma has enjoyed a tremendous amount of success in a relatively short time in Pittsburgh.  "Disco Dan" captured a Stanley Cup title roughly four months into his NHL coaching career, won the Jack Adams Award as coach of the year two seasons later and, this past April, became the fastest NHL bench boss ever to compile 200 wins.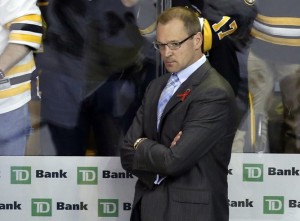 For all of the accolades, however, Bylsma has experienced little postseason success since that Stanley Cup run.  In fact, since those 2009 playoffs, Bylsma's Penguins have managed just a 20-21 record in the only season that really matters.  That's simply not going to cut for an organization that expects to compete for a championship every year.  What's more, his reluctance to make adjustments within a series or when something isn't working can be mind boggling.  Why, for example, did it take so long for Bylsma to move Jarome Iginla off of Malkin's left wing when it was so clear that the future Hall of Famer wasn't comfortable there? Furthermore, if he wanted to get the most out of "Iggy" on the power play, why did the coach consistently send Jarome to the side of the net, an area he found relatively fruitless, rather than deploy him to the left point, where he has successfully fired bombs from for the bulk of his illustrious career?  Why wasn't Paul Martin, by far the Penguins best defender in the Boston series, given more of an opportunity on a stagnant power play that never found the Boston net?  Wouldn't it make sense to change something up?  The look?  The personnel?  Anything!
And, so, Shero must weigh his options carefully.  On the one hand, he has a coach who has never had a team that didn't enter the postseason with home ice advantage in at least the first round, a coach who possesses a Stanley Cup ring and a coach who's system plays to the strengths (usually) of the squad Shero has built.  But on the other hand, he has a coach that is below .500 in the postseason since bringing the franchise back to glory in his rookie season, a coach who has lost two game 7's on home ice in the last four years and a coach who's stubborness and unwillingness to adjust on the fly can cause enormous problems for his club when things aren't going right.
That being the case, what is Shero to do?  Maybe it is time for a change; maybe Dan's time is running out in Western Pennsylvania.  If that's true, though, is there someone out there better suited for this job?  Sure, there are some big names on the market – John Tortorella, Lindy Ruff and Alain Vigneault are all available – but are any off them more suited for the job than Bylsma?  Vigneault was run out of Vancouver because he couldn't get the job done in the playoffs as the club struggled with a goaltending controversy (sound familiar?), Ruff enjoyed an enormously successful stay as coach of the Buffalo Sabres but only made one Stanley Cup Final appearance and "Torts", well let's just say his system isn't likely to mesh with this Penguins club.
If Shero wanted to promote from within, he could always look to catch lightning in a bottle for a second time by promoting John Hynes from AHL affiliate Wilkes-Barre/Scranton.  Or, he could take a more subtle approach and simply replace Bylsma's assistants, Todd Reirden and Tony Granato.  That would at least shake things up enough to get the coach and players' attention.
Whatever Shero decides the best option(s) is/are, make no mistake, change is coming to Pittsburgh. The failures of the past four years demand it.