Antti Niemi stepped up his play these Stanley Cup Playoffs, and was a main reason why the Sharks came oh so close to a third conference finals appearance in four years. He posted a .930 SV% and 1.87 GAA in 11 playoff appearances after starting 43 of his teams 48 games en route to his first Vezina Trophy nomination.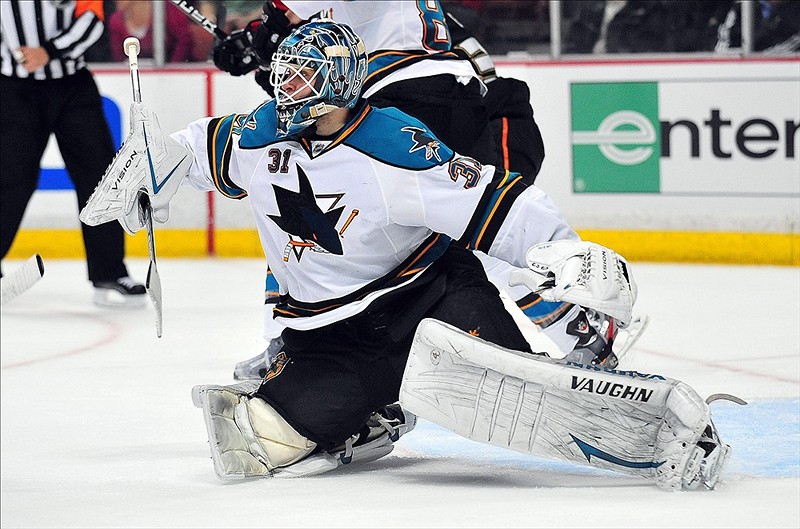 The 29-year old was a workhorse in the regular season, and followed it up with his best playoff performance of his career. So why do the Sharks need to go acquire a proven backup this free agent season? Because Niemi plays better when he has gas left in the tank, and the lockout shortened season limited him to 43 games, not 60 plus.
Niemi played 60 games in his first full season as the Sharks starter and posted very solid numbers (.920 SV%, 2.38 GAA, 6 shutouts). Yet when the playoffs rolled around, his numbers dipped to .896 and 3.22, including a horrendous .868 SV% and 3.68 GAA in the 5-game series loss to the Canucks.
Last season wasn't as ugly, but after starting in 68 regular season games, Niemi got outplayed by Brian Elliot of the Blues in another 5-game playoff exit. After playing phenomenal in the series opener with a 40-save performance, the Finnish goalie would lose four straight games and post an .899 SV%.
Two straight seasons of 60 plus starts followed by two straight seasons of poor playoff performances points to the fact that Niemi needs a capable backup who can help him cut down his games played. Yes he started almost every game for the Sharks this season, but it's more the grind of an 82 game season that hurts Niemi's play. If he had played 65-70 games this season, he likely wouldn't have gone on to post the numbers he did.
With the Hawks in 2010, Niemi only played 39 regular season games thanks to Cristobal Huet. We all know Niemi wasn't the reason the Hawks won the cup, but he was still good enough to get the 16 W's.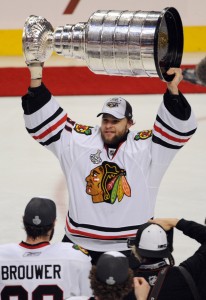 And that's the thing: the Sharks are a good enough team to not have to ask for a Jonathan Quick-like performance from Niemi. In the 7 game series versus the Kings, San Jose gave up just 24.6 shots per game. While Quick had a stellar .951 SV%, Niemi's was a very respectable .924, and San Jose came within one goal of sending game 7 to overtime, where anything could have happened. But in order for Niemi to be able to get to that .920 mark, the Sharks need to give him some rest during the regular season. They can't rely on Thomas Greiss or Alex Stalock to play 25 plus games.This off-season is the perfect opportunity to sign a veteran free agent goaltender to a one-year deal because most of the Sharks roster is in tack, both their young backups are UFAs anyway, and next season all hell may break loss when the likes of Couture, Pavelski, Thornton, Marleau and Boyle all become free agents (yes Couture will be an RFA but he still warrants a significant raise from his current $2.875-million contract).
So with that in mind, here are two upcoming UFA goaltenders that may be a good fit in the Bay area next season.
Ray Emery: Something is working in Chicago this year and part of it may have something to do with the rest Corey Crawford was given during the season. Crawford played in just 30 games and now is five games away from winning his second Stanley Cup. Oh and did I mention that the 30 year-old Emery went 17-1-0 this season? That he posted a .922 SV% and 1.94 GAA? Emery is a proven winner when healthy, he knows the Western conference and he would be able to take the load off of Niemi, not to mention win some games.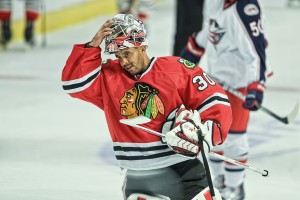 Nikolai Khabibulin: Yes the 'Bulin Wall' is already 40, but if he doesn't retire, the Sharks would do well to see if he'd be interested in a one-year deal. He played in 40 games for the defense-absent Oilers two years ago, and posted decent numbers (.910 SV%, 2.65 GAA). He played 12 games in the lockout shortened season (25% of the team's games) and had a .923 SV%, his best in over a decade.
Next season will be a huge won for the Sharks as their window of opportunity continues to close (this time for real…). Their veterans can still contribute and are in the last year of their contracts. With San Jose coming so close year after year, a proven backup goaltender might just be the final piece of the puzzle.
Nathan Kanter covers the Vancouver Canucks and Toronto Maple Leafs for The Hockey Writers. He received his master's in journalism from Western University in May of 2015 before serving as the first ever Digital Managing Editor at Western's university newspaper, The Western Gazette, in 2015-16. From 2016-18, he served as the radio play-by-play voice of the Battlefords North Stars in the SJHL. His work has been published in The Hockey News, at Sportsnet.ca and at Dobber Prospects.