To many people around the NHL, this question won't make any sense. Pittsburgh is in the midst of turmoil though. With Dan Bylsma's Pittsburgh Penguins at the brink of an Eastern Conference Final exit at the hands of the Boston Bruins, people want answers.
Answers? Answers for what? For making it to the NHL's Final Four?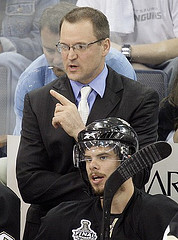 Unfortunately for Bylsma, that is the situation he is facing. As a pre-season Stanley Cup favorite, the Penguins faced plenty of pressure before the season even started. Just two weeks into the 2013 season, pressure mounted and there were already questions about his job security after a surprising loss to the Islanders.
Then, Bylsma and the team went to work. The Penguins never looked back at those first six games as they compiled the best record in the Eastern Conference. Their run to the top included a spectacular 15-0 record in the month of March.
Best in the Eastern Conference wasn't good enough for General Manager Ray Shero though. He had his eye on the playoffs and a much greater prize. With that in mind, Shero went all-in by acquiring Brenden Morrow, Douglas Murray, Jarome Iginla, and Jussi Jokinen without giving up a single player from the roster.
In retrospect, that is where the questions began. Was it Stanley Cup or bust for this team? Make it to the Stanley Cup Final? Make it to the Eastern Conference Final? Perhaps it was unfair, but the bar was certainly not set as "low" as facing a sweep situation in the Eastern Conference Final. Furthermore, the sweep certainly wasn't supposed to be at the hands of Boston, who was the runner-up in the race to get both Morrow and Iginla.
Alas, that is now the situation in Pittsburgh. It isn't due to a sense of entitlement or standards that are too high. The big question is what happens when a franchise goes all in and doesn't even make it to the final table in the NHL. As with any disappointment, the first fingers point to the coach.
Regular Season & Initial Playoff Success
Dan Bylsma initially took over as head coach of the Pittsburgh Penguins on February 15th, 2009. He inherited an extremely talented team that had been to the Stanley Cup Final the year before and was inexplicably in danger of missing the playoffs under Michel Therrien.
His first season as a head coach in the NHL can be described as nothing but magical. Bylsma led the Penguins back into the playoff race with an 18-3-4 record to end the regular season. He followed it up by guiding his team through playoff victories over Philadelphia, Washington, Carolina, and finally Detroit in a rematch of the 2008 Stanley Cup Final. With an 18-3-4 regular season record and a Stanley Cup victory already, life was good for Dan Bylsma.
Since that magical year, Bylsma's teams have found a way to be relatively dominant during the regular season. He has a 201-93-25 record in the regular season with the Penguins. Even more impressively, his teams have improved their winning percentage in each full season he has coached (2009-10: .616, 2010-11: .646, 2011-12: .659, 2013: .750). The Penguins have yet to finish worse than 4th in the Eastern Conference (3rd in terms of points) since Bylsma took over.
While some would argue that Bylsma's success may be a product of the roster he took over, the NHL Broadcasters Association took note of his performance when a sizable amount of that talent was missing in the 2010-11 season. In 2011, Bylsma won the Jack Adams Award as the coach "adjudged to have contributed the most to his team's success." In that season, he coached the Penguins within one point of the Atlantic Division title despite not having Jordan Staal for the first half of the season and losing both Sidney Crosby and Evgeni Malkin in the second half of the season.
Despite his impressive regular season resume though, a large part of Bylsma's critique lays in his playoff work since that 2009 Stanley Cup victory.
Playoff Disappointment
2010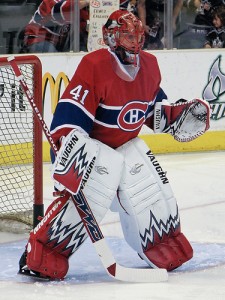 The first stumbling block that the Penguins hit was in the form of Jaroslav Halak in the 2010 Eastern Conference Semifinals. Halak and the Montreal Canadiens had just come off of a stunning upset of the top-seeded Washington Capitals and were giving the Penguins all they could handle through four games with the series tied at 2. The Penguins, who had dispatched Ottawa in 6 games in the first round, won Game 5 to take a 3-2 series lead and sat in the driver's seat with home ice advantage if they needed it.
The Penguins did need it, but they certainly didn't use it. The Canadiens won a tight battle in Game 6 and completely stunned the Penguins in Game 7. It started with a Sidney Crosby boarding penalty just 10 seconds into the game that led to a Montreal powerplay goal just 32 seconds into the game. Marc-Andre Fleury would later be pulled as the Penguins went down 4-0 and looked completely unprepared for their Game 7 matchup. Montreal won the game 5-2 and eliminated the Penguins with shocking ease in Game 7.
2011
Moving on to the 2011 playoffs, the Penguins had faced a sizable amount of adversity in just getting to the postseason after losing Sidney Crosby and Evgeni Malkin for the season. Despite any adversity they faced, Pittsburgh found themselves with a 3-1 series lead in the Eastern Conference Quarterfinals against Tampa Bay.
Despite having home ice advantage and three chances to eliminate the Lightning, the Penguins lost three straight games by scores of 8-2, 4-2, and 1-0. Disappointment was palpable as the Penguins were eliminated in Game 7 on home ice for the second year in a row, but the focus shifted to Malkin rehabbing a knee injury and Crosby dealing with a concussion.
2012
The Penguins entered the 2012 playoffs against rival Philadelphia with their health intact and recent history on their side. Pittsburgh had beaten Philadelphia in both of their 2008 and 2009 runs to the Stanley Cup Final. Just a period into the series, it looked like the rout was on for the Penguins. They took a 3-0 lead into the 2nd period of Game 1 and the series already looked like a mismatch.
At the time, no one realized exactly how mismatched the teams actually were. The Penguins proceeded to blow their 3-0 lead and lose 4-3 in overtime of Game 1. They went on to lose Games 2 and 3 by 8-5 and 8-4 scores respectively as defense and goaltending were nowhere to be found. Though Pittsburgh rallied to win Games 4 and 5, Philadelphia ultimately closed out the series in Game 6 with a 5-1 victory. All of Pittsburgh was left wondering what they had just seen and questions about the coaching staff and roster started to pile up quickly.
2013
As described above, the Penguins entered the 2013 playoffs with an all-in mentality and were expected to dominate. They faced the Islanders in the first round and they did dominate…Game 1. After a 5-0 victory in Game 1, some analysts even questioned if the Islanders belonged in the playoffs or if Pittsburgh was just that incredible.
Attitudes changed quickly as the Islanders won Games 2 and 4 while pushing the Penguins to overtime in Game 3. With the series tied at 2 and the Penguins struggling far more than expected, Bylsma turned to goalie Tomas Vokoun to replace a struggling Marc-Andre Fleury. Pittsburgh survived the first round scare and won Games 5 and 6 with Vokoun in net.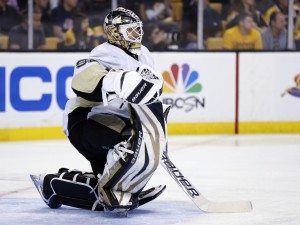 The Penguins faced the Senators in the second round and dispatched them with ease, winning the series 4-1. Their only blemish was a 2-1 double overtime loss in Game 3 after the Penguins blew their 1-0 lead on the powerplay with less than a minute left. Despite the stunning overtime loss, the Penguins appeared to be back on track for their run to the Stanley Cup again.
The Eastern Conference Final against Boston has been a nightmare though. After defeating Boston in all three regular season matchups and loading up the roster for the playoffs, the Penguins find themselves with a 0-3 deficit on the brink of elimination. It began with a 3-0 loss in Game 1 where the Pens visibly lost their focus after two periods. This was highlighted by Evgeni Malkin fighting Patrice Bergeron and Sidney Crosby chirping at a towering Zdeno Chara after the 2nd period had ended.
After the team acknowledged they had lost their focus in Game 1, they came out to a shocking 6-1 loss in Game 2. While Tuukka Rask and the Bruins had played outstanding hockey, the most glaring issue was in the giveaways column for Pittsburgh. Through two games, Pittsburgh had 20 recorded giveaways while Boston had 3. Penguins captain Sidney Crosby had 4 giveaways in Game 2 alone to outpace Boston's entire roster through two games.
Penguins G Tomas Vokoun: "We just didn't do a good job of staying focused under adversity."

— Dave Molinari (@MolinariPG) June 4, 2013
Game 3 was finally the hockey everyone expected to see, but it was still a 2-1 heart-breaking loss for Pittsburgh in double overtime.
In summary – Under Dan Bylsma, with home ice advantage every year, the Penguins blew a 3-2 series lead in 2010, blew a 3-1 series lead in 2011, started 0-3 before losing in 6 games in 2012, and are now 0-3 in the Eastern Conference Final in 2013, where they have admitted they lost focus at times.
Intangibles
Beyond Bylsma's incredible regular season record and recent disappointing playoff exits, there's his actual coaching work. Bylsma has been highly regarded around the league, especially by players, as a coach everyone wants to play for. In a 2012 player's poll, an astounding 21% of players named him the coach they would most like to play for. Blackhawks coach Joe Quenneville finished 2nd with only 11% of the vote.
Not everyone has felt the same way though. A few of the younger players that have left the Penguins organization in the past year, most notably Brian Strait of the Islanders, have put into question how the franchise brings along younger players.
It's nice when you have a coaching staff that shows trust in you. It was a different situation the last couple of years, only playing for 10 minutes and not knowing if I was going to go back out for another shift after I made a mistake. – Brian Strait
More recently, writers and fans alike are questioning how Bylsma has used Jarome Iginla and others since the trade deadline. Iginla has seen very limited time next to Sidney Crosby and has watched his ice time and role shrink as the Penguins have progressed through the playoffs. In Game 3, Iginla finished 8th among Penguins forwards in terms of ice time, while Brenden Morrow was 9th, and Douglas Murray was 6th among defensemen. Meanwhile, Jussi Jokinen was a healthy scratch.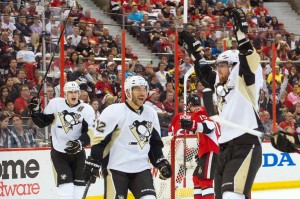 It's difficult to imagine that is exactly how the organization expected things to play out, but many players have struggled upon entering the Penguins system initially. Paul Martin took seasons to reach the level of play that many thought he was capable of. Zbynek Michalek never found his comfort level in Pittsburgh and was traded away. Aside from James Neal, who is generally a streaky player, it's difficult to say that any player has entered this organization under Bylsma's tenure and found a consistent level of performance.
Additionally, despite point production and regular season performances, there are a few questions about whether Sidney Crosby, Evgeni Malkin, Kris Letang, and Marc-Andre Fleury are maturing like they were expected to. It may even be too late for Fleury at this point with the Penguins organization.
Big Picture Outlook
When it comes down to it, the question about Bylsma's tenure is more of a question about the Penguins young, yet veteran core. Jordan Staal is already gone. Kris Letang and Evgeni Malkin are both coming up on contract years. Marc-Andre Fleury requires another lengthy article on his own at this point.
Is one Stanley Cup enough for this core? It's not; it's a disappointment after all of those bad years, high draft picks, and lucky drafts (Crosby, Malkin).
Dan Bylsma is a solid coach. If he does get fired, there will be a line of franchises (including division rival New York) waiting to hire him as quickly as possible.
Despite how solid Bylsma is though, perhaps it's time for the Penguins to admit that they are quickly watching the door close on an opportunity that every other franchise dreams of with Crosby, Malkin, Letang, and others.
If the Penguins do indeed lose in the Eastern Conference Final, something has to change before that door is shut for good.  Sorry coach, but that might have to be you.
Meesh is an attorney and one of the Pittsburgh Penguins Contributing Writers for The Hockey Writers. He also writes for ThePensNation.com. You can contact him on twitter @HockeyMeesh or e-mail HockeyMeesh@gmail.com