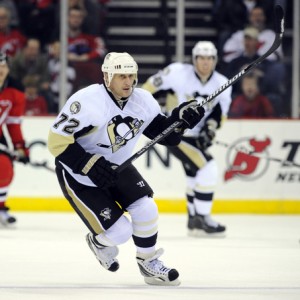 Ivan Hlinka was the coach of the Pittsburgh Penguins in the 2000-01 season.  Hlinka, a native of the Czech Republic, spoke broken English yet guided the Penguins to the Eastern Conference Finals that year.
It helped that five of the Penguins top seven scorers were also Czechs: Jaromir Jagr, Martin Straka, Robert Lang, Jan Hrdina, and Josef Beranek.  Alexei Kovalev (Russia) and Mario Lemieux (Canada) were the others.
Lemieux had just come out of retirement late in 2000 and as a player-owner he carried the hammer when it came to personnel decisions.
Mario implored Hlinka to work on his English during the summer but the head coach hadn't shown much improvement when he returned to Pittsburgh the following season.  The team had already begun to dismantle their roster by dumping Jaromir Jagr to Washington, and after just four games in the '01-02 season Hlinka was fired.
Since then — and specifically throughout the tenure of General Manager Ray Shero — the Penguins have been a team comprised almost entirely of North American born players.  The rise of the Kontinental Hockey League (KHL) has had an impact on the mix of the entire NHL, but the Penguins have consistently shuffled out European blood and replaced them with hard-nosed North American skaters.
Forwards Petr Sykora (Czech) and Miroslav Satan (Slovakia) were suddenly of little use to coach Dan Blysma after he took over behind the bench in 2008.  Alexei Ponikarovsky (Ukraine) carried high expectations after Pittsburgh acquired him at the 2010 trade deadline, but he was invisible on the ice and never looked comfortable with the Penguins.  A worn-down Kovalev was brought in at the 2011 deadline to add goal-scoring to an offensively inept team and never had a meaningful impact under Bylsma.
Take a look at the Penguins' current roster.  Craig Adams was born in Brunei but raised in Calgary.  That leaves Evgeni Malkin as the only skater born outside of North America.
Six weeks ago, Malkin wasn't alone.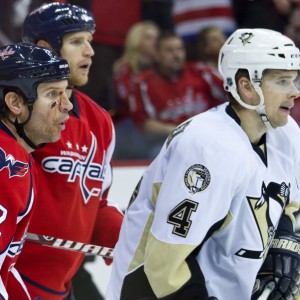 Zbynek Michalek is a Czech-born defenseman that the Penguins signed off the open market two summers ago to a five-year, $20 million contract.  Michalek had an up and down stay in Pittsburgh.  At times he played like one of the top shutdown defensemen in the entire NHL.  At other times he battled through injuries and inconsistent play.
During the June draft, Penguins GM Ray Shero shipped Michalek back to his original team, the Phoenix Coyotes, in exchange for a prospect, mid-round pick, and a depth goaltender the team let go a few days later.
It wasn't a case of Michalek playing too much of a 'European style' to have success with Bylsma and the Penguins.  Michalek is a big-bodied, mobile defenseman that plays a simple north-and-south game.  He was made for North American hockey, just maybe not for Pittsburgh Penguins hockey.
"When I found out I was traded to Phoenix I was really thrilled because now I'm heading back to the place where I played my best hockey," Michalek told PhoenixCoyotes.com after the deal.
Coyotes GM Don Maloney said the reason Michalek fits so well with Phoenix's defensively-responsible squad is because "his style is block a shot, clear the puck, then wait for the next shot to block."  The Penguins are an up-tempo team that likes to spend as little time as possible in their own end of the ice and encourages defensemen to join the offensive rush — something Michalek wasn't skilled at and rarely attempted before coming to Pittsburgh.
In May, radio host Mark Madden hinted that Michalek was fed up with the Penguins system, frustrated with fan criticism, and willing to waive his limited no-trade clause to head elsewhere.  At the time, the rumors just didn't add up to me.
Michalek seemed like the consummate teammate off the ice.  He never wore a letter on his jersey, but always stepped up and fielded the tough questions after a loss, especially when Malkin and Sidney Crosby were out with long-term injuries in 2011.
He was polite, humorous at times, and Maloney even admitted that Michalek was a great guy to have in the room leading young players.
"With the culture we have," said Maloney, "he was a guy that just fits.  We have three or four Czech players and 'Z' was a leader of that pack, an assistant captain when he left, so we know what we're getting and we're thrilled."
It didn't make sense.  I could have named a half dozen other Penguins more likely to want out of Pittsburgh this summer over Michalek.  Then I reconsidered Maloney's comment, and re-read the interview with Michalek on the Coyotes website:
"I played with Marty (Hanzal) and Radim (Vrbata) for a few years and we're good friends and still talk often," Michalek said. "It will be nice to be on a team again with them. They're great friends and great players. It will also be nice to be able to speak the language again with guys who will understand me."
Maybe Michalek was just never understood.  Maybe the Penguins coaching staff tried to turn him into the defenseman they wanted him to be, instead of the defenseman he already established himself as in Phoenix.  Maybe he felt like the odd-man-out as a Czech in a locker room full of North Americans.
I was thinking about Michalek in terms of advanced statistics or X's and O's, and never considered the personal side of hockey.
I didn't notice that Michalek never seemed to belong to a particular clique in the Penguins locker room — or 'pack' as Maloney termed it.
I never thought about Michalek's wife Helena, a native of Bosnia and Herzegovina, tasked with raising two young children in an unfamiliar city.  I didn't consider what it'd be like as a European wife among North American wives and girlfriends.
Zbynek Michalek isn't the type that would create a fuss or publicly complain about the cultural challenges.  He also didn't seem like the Alex Semin type that would irritate teammates to the point where they'd bash him on their way out the door.  (In recent weeks, I've also wondered how Semin would have fared in the same Penguins locker room after he struggled to co-exist in the Capitals' Russian-friendly environment.)
After reading Cam Charron's recent piece at the Backhand Shelf, I realized why I enjoyed chatting with Michalek so much after games:
 …I find that the emotion isn't genuine.  Players are learning to say and do the right things. Prospects don't hit the draft without media training, yet people still follow these guys on Twitter and reporters beg for quotes from a scrum. Any time you try and force a personality, by reading tweets on a medium other than the Internet or by repeating quotes said in front of a gaggle of reporters who need to file a story, it systematically eliminates individualism.
Michalek was genuine.  Michalek was a European player that wasn't fine-tuned in the English language.  He knew a handful of cliches to fall back on when he needed to deflect repetitive, uninformed questioning, but you could get an honest and frank opinion from him if you took the time to understand where he was coming from.
He always put himself at the front of the firing line when it came to criticism and mistakes.  At times he was almost too honest.
In early March, Michalek scored a rare goal against his former team the Coyotes:
Three minutes later, Chris Kunitz scored a very similar goal under the blocker-side of Coyotes goalie Mike Smith.  Michalek was asked after the game if the team knew that was one of Smith's weaknesses.
"We get goalie [scouting] reports, but I don't really read those because I don't get chances to score," joked Michalek.
A few minutes later, coach Bylsma was informed of the comments and didn't seem too pleased.
But to me that was a refreshing moment in the daily grind of an 82-game regular season.  Would North American cliche-machines like Jordan Staal have made the same joke/admission?  Probably not.
Charron's final thought put it all in perspective for me when it comes to Zbynek Michalek, European players, and the sport of hockey:
To get closer, to learn more, sometimes we need to step back. Not only for analysis, but even for brief bouts with personality.
___________________________________________