Stephen Walkom and Eric Furlatt are set to officiate tonight's game between the Pittsburgh Penguins and Boston Bruins at the TD Garden.  Shane Heyer and Brad Kovachik will be the linesmen for Game 4.
Walkom and Furlatt have officiated three games together this postseason:
Game 1 of Kings/Sharks, which saw only four minor penalties
Game 3 of Penguins/Senators, a double-overtime game that saw two penalties surprisingly called in the fifth period.
Game 3 of Hawks/Kings, with seven minors and a double-minor to Duncan Keith for a flagrant high-stick on Jeff Carter that also resulted in a one-game suspension.
They call it close, but they seem to miss as much as they catch.  Walkom and Furlatt have the fewest penalty calls per game of any of the officials remaining in the playoffs.  For all the talk about referees putting away the whistles, these two do it more than anyone.
Players are getting frustrated with the non-calls by the officials Stephen Walkom and Eric Furlatt in this game.

— Greg Heakes (@gheakes) June 5, 2013
Walkom and Furlatt tend to favor the home team, calling on average one more penalty per game against the visiting squad. They also tend to call the bulk of their penalties in the second period, swallowing their whistles for the third when less than 20% of their penalties are called.
Stephen Walkom #24
Walkom's officiated 11 games this postseason, averaging 7.7 penalties per game. He's worked one game each for the Bruins and Penguins this postseason. Walkom was on the ice for the Bruins' Game 4 overtime loss to the Rangers and for the Pens' 2-1 loss to the Senators in Game 3. In the regular season, the Bruins went 3-2 and the Penguins went 3-1. He averaged 6.6 penalties per game in the regular season.
He also famously waved off a Blackhawks goal late in Game 7 of their series against the Detroit Red Wings, an incident we'd covered previously here.
Walkom lives just outside of Pittsburgh.  He once coached a team that included Mario Lemieux's daughter.  From the Pittsburgh Post-Gazette in 2009:
"For her age, [Stephanie Lemieux] can do things that a lot of girls can't," said Stephen Walkom, director of officiating for the NHL and Stephanie's Team Pittsburgh coach. "When she comes to compete, she's almost unstoppable."
But, of course, he's not biased.
He's also never seen a team come back from a 3-0 deficit against the Bruins to win a series.  Oh, wait…
Doing research on historic NHL comebacks and looking at the boxscore for #PHI/#BOS 2010 gm. 7; Guess who was a ref? Stephen Walkom! #random

— Allyson "SkekAll the Hero" Gronowitz (@TheFakeFangirl) June 6, 2013
Eric Furlatt #27
Furlatt's also worked 11 playoff games, including two for the Bruins – a Game 4 win over the Leafs and a Game 4 loss to the Rangers – and one for Pittsburgh, their Game 3 loss to Ottawa. The Bruins posted a 4-1 record in regular season games with Furlatt, while the Penguins went 3-2. In 43 regular season games, Furlatt averaged 8.3 penalties per game; his average dropped to 7.0 in the postseason.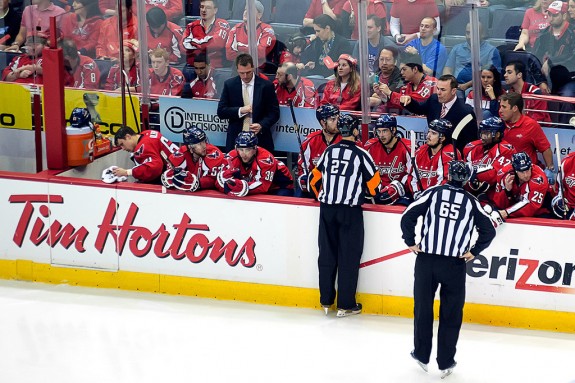 What Does It Mean?
Nothing if the Penguins can't get going on the power play. They've gone 0-for-12 in the series in three straight losses. For a team that relies on their power play, that's not going to cut it.  The Pens are 7-1 when they score on the man advantage and 1-5 when they fail to convert in the postseason.  A league-high 26.5% of the team's goals were scored on the power play – none this series.
Stop the power play and you stop the Penguins.   That's exactly what the Bruins have done.
The Bruins don't have to count on their power play. They're the best team this postseason playing 5-on-5.  In Game 3, they improved upon their league-best ratio, which now stands at 1.73.  That means for each goal their opponent scores at even strength, the Bruins can be expected to score 1.73.
The Penguins come in at a flat 1.00 ratio, which means they give up as many goals as they score 5-on-5. Those kinds of numbers won't win you games.  Without a power play to tip the scales, the Penguins are dead in the water.
Of course, it'll be a close game.   Calls will be missed on both sides.  Walkom and Furlatt will call it close as they've done in the past.  A missed call for the Bruins will lead to them letting something go for the Bruins.  A questionable penalty will likely result in an equally-unjustifiable whistle the other way.
With few opportunities and a power play that's been powerless, the Penguins won't win the game through penalties. They'll have to win it based on 5-on-5 play, something they just haven't been able to do against the Bruins.
---
Follow Josh on Twitter – @joshsmith29
---
Josh is a life-long hockey fan. He grew up as a fan of the New York Rangers, but thanks to their general mismanagement and years of mediocrity, has developed a great appreciation for every team across the league.
He's been writing about hockey on various sites since 1995. In addition to his work at The Hockey Writers, he also keeps tabs on the referees over at ScoutingTheRefs.com.