If Sergei Tolchinsky were just a few inches taller, he'd be in the discussion as a first round pick.  What he lacks in height he makes up for in skill and offensive ability.  But because he stands 5'9″, people cast him off as "just another small guy who won't be able to handle the rigors of the NHL".
Sergei Tolchinsky THW Close-Up:
Date of birth: 2/3/1995
Place of birth: Moscow, Russia
Ht: 5'9″     Wt: 170 lbs
Shoots: Left
Position: RW
NHL Draft Eligibility: 2013
Twitter: @Tolchinsky10
THW The Next Ones Rankings (January 2013): 201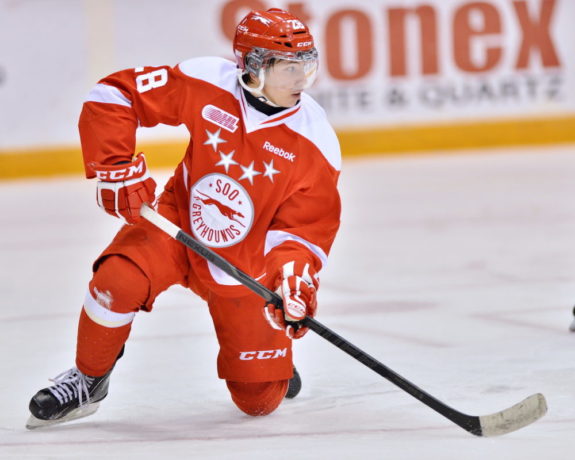 Other Rankings:
THW Warm Room Rankings (April): Not ranked
ISS (May): Not ranked
Future Considerations: Not ranked
Craig Button: 67
Consensus aggregate of several services (NHL Numbers): 63
CS Final Rankings for North American skaters: 118
***
[NHL 2013 Draft Guide – The Next Ones Draft Headquarters: Your quintessential draft resource]
***
The Size Dilemma
Guys like Danny Briere, Martin St. Louis, Theo Fleury, etc. have all had productive careers in the NHL while being some of the smallest stature players to lace up the skates.  Tolchinsky hopes to be another in a long line of undersized forwards.
Tolchinsky can deke his way out of a phone booth or beat with you his speed on the outside.  He has quick acceleration and great first strides to get to his top speed.  With his vision on the ice and accurate passing, Sergei is a threat every time he's on the ice.
As a rookie in the OHL, he was able to pot 26 goals for the Sault St. Marie Greyhounds.  Kyle Dubas took a chance on Tolchinsky when he selected him 12th overall in the CHL Import Draft.  His U17 performance swayed many into believing he was a legit force to be reckoned with, even with his height.
The good thing for Tolchinsky is that he's already made the journey over to North America to play junior hockey.  His decision to pursue a career in North America should bode well for his draft stock, even though it seems his height may be hindering him some.
Where Will He End Up In June:
If a team is in need of an electrifying, flashy, quick, player, Tolchinsky can find himself chosen in the 2nd round, just based on skill.  However, it's more likely that he will be a 3rd or 4th round selection.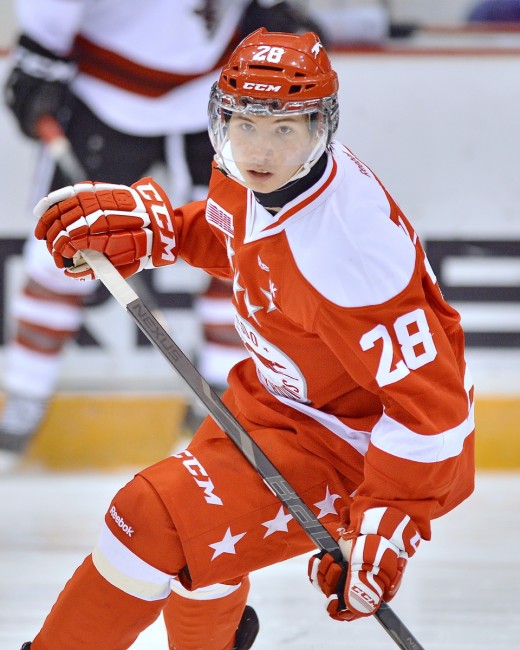 Scout's Honor:
"Tolchinski is a very electrifying offensive talent who has some of the quickest and most creative hands in the entire draft. He is dangerous every time he touches the puck because of his puck skills and quickness and his shot is quick off his stick. His vision is also very impressive and he is a real weapon on the power play from the half wall."
Aaron Vickers – Future Considerations
"His size has scared some scouts, including NHL Central Scouting, which didn't list him on its watch list. Don't be fooled. Tolchinsky is a special player with elite skating and elite puck skills. He scored 19 goals in the Russian U20 league last year at age 16. That's not easy to do. Additionally, Tolchinsky was dominant against his own age group in international competition despite his diminutive stature. A big year in the OHL could go a long way to garnering more attention."
Chris Peters – CBS Sports
"Size and strength are the obvious concern but Tolchinsky is a wizard with the puck… Uncanny ability to make dazzling moves at high speeds to create offense… Needs to continue to improve his commitment to defensive zone… His talent is worth the risk as a Top 60 player."
Scott Campbell – The Scouting Report
"A very small, speedy and dynamic player, Tolchinsky is an electrifying and dangerous forward capable of pulling off highlight-reel plays. At this point Tolchinsky is a one-way player so teams will need to carefully weigh the risks and rewards with this scoring star."
Brendan Ross – The Hockey Writers
Statistics:
Bio/Interview(s)/Links:
Feature story on Buzzing the Net about the Greyhounds selecting Tolchinsky at CHL Import Draft
Interview with HockeysFuture.com at U18 WJC
International Tournaments:
Tolchinsky played in the U17 World Hockey Challenge and the U18 World Junior Championships.  He has 7 points in 12 games for Russia.
ETA:
3-4 years
Risk/Reward Analysis:
Risk: 3/5  Reward 4/5
NHL Potential:
Top 6 scoring winger
Strengths:
Balance
Speed
Agility
Creativity
Passing
Quick release
Vision
Flaws/Aspects He Needs To Work On:
Crashing the net
Backcheck/Forecheck
Defensive positioning
Fantasy Hockey Potential:
Offensive: 8/10   Defensive: 2/10
NHL Player Comparison:
– With his speed, finesse, and scoring ability he is comparable to Martin St. Louis.
– Hall of Fame Comparison: Pavel Bure
Video(s):
http://www.youtube.com/watch?v=SCEnXaKaGHo
***
THW's The Next Ones prospect profile template design architect: Chris Ralph
Follow Shawn Reznik on Twitter: @ShawnTHW