It seems as if new Dallas Stars General Manager Jim Nill didn't want to wait for the Stanley Cup to be awarded to put his offseason plans into motion.
In a curious move, the Dallas Stars traded a conditional 6th round pick for the rights to Ottawa defenseman and impending free agent Sergei Gonchar.
Stars have acquired rights to Ottawa defenseman Sergei Gonchar, 39, for a conditional 6th round pick. Hope to sign him to 2-year deal.

— Mike Heika (@MikeHeika) June 7, 2013
The conditional pick will remain with the Dallas Stars should Gonchar choose not to sign, a distinct possibility based on reports earlier this week that Gonchar was nearing a deal to play in the KHL with Metallurg Magnitogorsk. The move is a low-risk, high-reward trade for Nill, who stands to gain a veteran defenseman who can still play over 20 minutes a night while producing on the power play for just a 6th round pick. Should Gonchar elect to leave for the KHL, the Stars will retain their draft pick.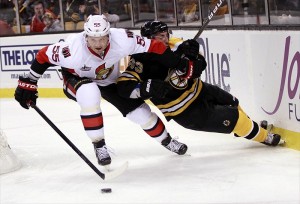 If Gonchar does sign a deal with the Dallas Stars, things may get very interesting. The Stars have a wealth of rookies and prospects ready to make an impact at the NHL level. Jamie Oleksiak, Joe Morrow, and Kevin Connauton will all be fighting for a roster spot next season, making the Dallas Stars defense very, very crowded,
It would seem that the addition of Gonchar either means that Nill will choose to go with a veteran-heavy lineup featuring Sergei Gonchar, Stephane Robidas, Trevor Daley, and Alex Goligoski leading the Stars defense, allowing the prospects to remain in the AHL for another year or fighting for ice time at the bottom of the Stars lineup; or he could choose to move out some of the veterans, making room for the aforementioned prospects as well as allowing Brenden Dillon to continue playing significant minutes as he matures into one of the Stars' most promising young defensemen.
Should Gonchar sign, the Stars will have acquired the type of player who can make a difference on a defense that has been in flux ever since another Sergei (Zubov) departed the team and they will have paid a very small price for it. Should Gonchar not sign, it will cost the Stars nothing and they will continue to develop and build upon one of the strongest farm systems in the NHL. It seems to be a win-win for Jim Nill in his first move as General Manager, as long as it doesn't turn out to be a repeat of the Jaromir Jagr experiment.