With the 2013 NHL Entry Draft less than a month away in Newark, there is the inevitable speculation who will go #1, which team will go off the board first and who the big winners and losers on the day will be.
It also leads you to wonder what's on the horizon and ahead to 2014 and what names may be called to the podium a year from now.
Before you start wondering which team may take Connor McDavid in the top spot, you'll have to wait yet another year as he isn't eligible until 2015.
That doesn't mean there isn't bonafide talent in 2014 and some exceptional candidates for the top spot next year. Here's a look at some of the early front runners at the moment.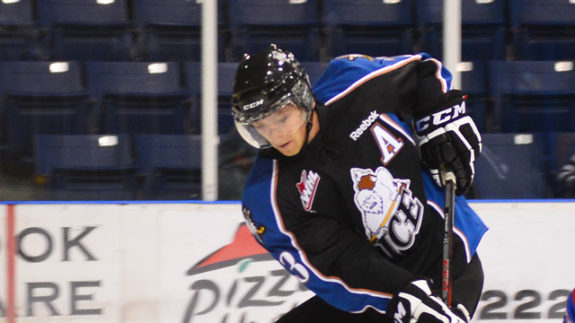 1. Sam Reinhart, C, Kootenay Ice (WHL)
2012-13 Stat Line: 72-35-50-85, +8
The youngest of three Reinhart brothers, and the son of former NHLer Paul Reinhart, Sam could be the best yet. He's already had two impressive WHL seasons and had 35 goals and 85 points for the Ice this past season. This following his rookie year when he was named 2012 WHL Rookie of the Year.
On top of his hockey bloodlines, Sam is a smart and skilled playmaking centre. He has great vision and a very high hockey IQ to go along with slick hands and smooth skating.
Also possesses intangibles like leadership and maturity beyond his years that coaches love. Should be a No.1 centre for someone in a few years.
I've said this before. If there is a better player than Sam Reinhart in the 2014 NHL draft, then it will be a very special & unique player.

— Craig Button (@CraigJButton) August 17, 2012
2. Aaron Ekblad, D, Barrie Colts (OHL)
2012-13 Stat Line: 54-7-27-34, +29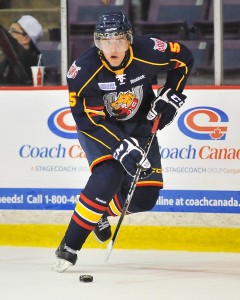 The second player to be granted exceptional player status in the OHL, following John Tavares and preceding Connor McDavid and Sean Day, Ekblad already has NHL size at age 17. He's 6'3″ 207 and isn't even close to done growing.
He's got all the tools and plays a very well rounded game. He obviously has the size, he can skate and moves the puck efficiently. He has played big minutes in all situations for the Colts and was a key player in this year's playoff run..
Ekblad has put up 29 and 34 points respectively in his two OHL seasons as a 15 and 16 year old and was the 2012 OHL Rookie of the Year.
Projects to be a top pairing, big minute defenceman in the NHL.
3. William Nylander-Altelius, C, Sodertalje (Sweden)
2012-13 Stat Line: 27-15-28-43, +14 (J20) / 8-4-2-6, +2 (SK)
The son of former NHLer Michael Nylander, William has the luxury of learning from his father, who also happened to be his linemate for part of this season in Sodertalje after he made the jump up from their junior team.
A skilled forward, he's an offensive dynamo. He's an exceptional skater, has great hands and is extremely creative with the puck, which makes him a nightmare to defend one on one.
Projects as a top line point producer in the NHL.
4. Roland McKeown, D, Kingston Frontenacs (OHL)
2012 Stat Line: 61-7-22-29, -24
The second pick behind McDavid in the 2012 OHL priority selection, McKeown has shown impressive skills in his own right. Compared to Drew Doughty in terms of a skill comparison (and potential as many teams hope), he plays a solid two way game and relies more on positioning defensively rather than physical play.
He's very adept offensively and is an excellent skater who moves the puck very well. While there were growing pains in his first OHL season, he was the best defenceman on many nights on a weak Frontenacs team.
5. Jake Virtanen, LW, Calgary Hitmen (WHL)
2012-13 Stat Line: 62-16-18-34, +25
The top pick in the 2011 WHL bantam draft, he played behind a more veteran Calgary team this season and may not have gotten the opportunities with older forwards like Cody Sylvester, Victor Rask and Brooks Macek leading the way. He will get his chance next season though as all three will likely be moving on.
His talent, however, is certainly not in question. He's a very strong skater and loves to attack off the rush, he's also got a very good shot with a quick release. He isn't afraid to get his nose dirty and go into the tough areas either, and when he adds some muscle and bulk, he will be tough to handle indeed.
6. Nick Ritchie, RW, Peterborough Petes (OHL)
2012-13 Stat Line: 41-18-17-35, -10
Ritchie has missed some time due to injury and has been part of a Petes team in turmoil and who have traded away most of their top talent of the past few years. He still managed to put up 18 goals and average just under a point per game.
He is a prototypical power forward who is also a good skater. If he can stay healthy and has a good year next season he could move up even higher.
Younger brother of Stars prospect Canada WJC team member Brett Ritchie.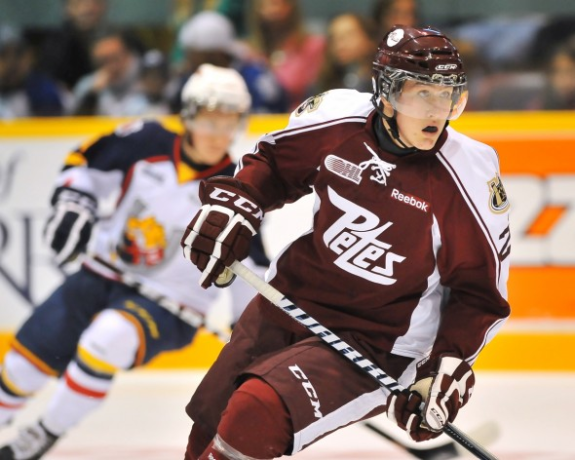 7. Leon Draisaitl, LW, Prince Albert Raiders (WHL)
2012-13 Stat Line: 64-21-37-58, +22
The German import came into the WHL as the 2nd pick in the CHL Import Draft and has not disappointed. He has great on-ice vision and awareness which makes him very dangerous in the offensive end.
He has good hands and has a way of finding holes in the defence. His skating has been questioned but not to the point he won't be a top pick in the 2014 NHL Draft.
8. Josh Ho-Sang, C, Windsor Spitfires (OHL)
2012-13 Stat Line: 63-14-30-44, -23
At 5'10" 160 he is undersized but then he is just 17 years old. He has arguably the best offensive skill set of the draft class, he's an exceptional skater and has the best hands and puckhandling ability of anyone in his draft year.
He is still a work in progress defensively and other areas of his game, but his sublime offensive ability alone will make him a high draft pick in 2014.
9. Anthony DeAngelo, D, Sarnia Sting (OHL)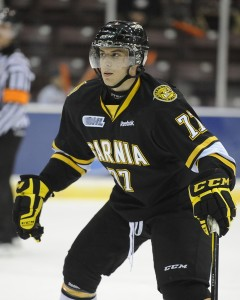 2012-13 Stat Line: 62-9-49-58, -13
Outstanding hockey sense and vision, DeAngelo projects as an offensive defenceman capable of quarterbacking a power play.
He is undersized and doesn't play a particularly physical game, but that is not where his assets lie. He's smooth with the puck, makes a good first pass and displays excellent decision making qualities.
He lead the Sting defencemen in scoring at almost a point per game with 58 in 62 games as a 16/17 year old.
10.Jakub Vrana, LW, Linkopings J20
2012-13 Stat Line: 32-20-12-32, +3
One of the top prospects to come from the Czech Republic in some time, Vrana has continued to get better and has impressed more and more with each viewing.
He was the youngest player in the 2013 WJC tournament and was promoted to the Linkoping HC, their senior team this season as a 17 year old and appeared in 5 games.
He's a player that has a well rounded arsenal of offensive weapons and if he continues to impress could jump up this list in a hurry.
Honourable Mention:
Ivan Barbashev, C, Moncton Wildcats (QMJHL): The top pick in the 2012 CHL Import Draft is an excellent skater with good hands and impressive hockey sense.
Blake Clarke, LW, Brampton Battalion (OHL): Budding power forward has good combination of size and skill and is learning to play both ways.
Michael Dal Colle, C, Oshawa Generals (OHL): Excellent puck skills and on-ice vision, also impresses with his maturity and intangibles.
Brayden Point, C, Moose Jaw Warriors (WHL): Has quick feet and slick hands and put up an impressive 24 goals for the Warriors in his rookie season.
__________________________________________
Follow Carl (carl.maloney@hotmail.com) on twitter @maloney3383 and Google+ for more articles.
Carl covers the Edmonton Oilers for THW as well as providing additional prospect coverage. Follow him on twitter @carlTHW, connect on Facebook or contact at carl.maloney@hotmail.com for questions, comments or if you're interested in him writing for you.