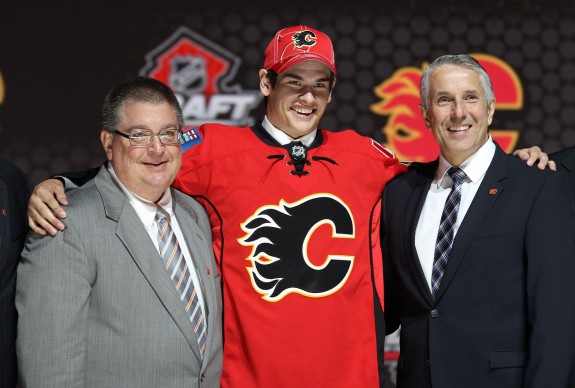 As a hockey writer, I have to start off by saying that my experience at the 2013 NHL Entry Draft in New Jersey was simply incredible. Fortunate enough to be sitting in the VIP section (thanks Ron Ryan!), I found there is nothing which compares being seated among kids hearing their names called by NHL teams, seeing the joy on the faces of young hockey players and their families as their lifelong dreams are realized.
That being said, my draft grades are not meant to criticize the players drafted. Every single player who was drafted this weekend has the talent and ability to one day make it as a productive player in the National Hockey League. My grades are for the front offices, grown adults whose job descriptions should include being lauded or criticized by schmucks like myself.
Concurrently, my grades are likely higher than in most columns of a similar ilk. The draft is about optimism, and most teams leave the draft feeling like winners. I am inclined to agree with those sentiments. Keeping in tune with the thematic of the future, I am separating my columns by the new NHL conference alignments, starting with the enigmatically entitled Conference A.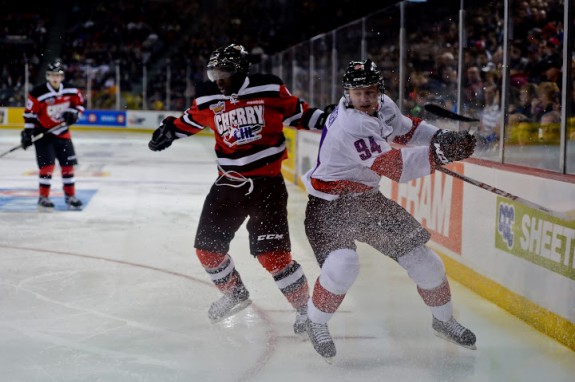 Anaheim Ducks
1st Round: D Shea Theodore (26)
2nd Round: RW Nick Sorensen (45)
3rd Round: D Keaton Thompson (87)
Late Round Sleeper? RW Grant Besse (147)
In 2010, the Ducks drafted an offensive defenseman in Cam Fowler. In 2012, they did the same thing with Hampus Lindholm at 6th overall. In 2013, they did it again, taking Shea Theodore with the 26th pick. It seems an unorthodox, if redundant, way to build a hockey club. The pick was especially questionable with several more well-rounded rearguards still on the board (Ian McCoshen, Robert Hagg, Chris Bigras, Dillon Heatherington),  and perhaps the best defensive defenseman not named Seth Jones available in Steve Santini.
In the second round, Anaheim grabbed another smooth skater in Danish RW Sorensen. Were it not for a rash of injuries, he might have gone as high as the first round. Sorensen has the ability to play a scoring role in the NHL if he develops well and stays healthy, though with his speed and grit he will be, at the very least, effective in a checking role. Still, with the Ducks' log-jam of young RWs (Emerson Etem, Rickard Rackell), it seems another organizational redundancy.
Native North Dakotan Keaton Thompson was a nice grab in the third-round, a well-rounded blueliner without the offensive flash of Theodore but with more all-around upside. RW Grant Besse was a nice flyer to take in the 5th round. The reigning Minnesota Mr. Hockey lacks size and top-end speed but has sick hands and a lethal shot, making him comparable to recent Devils draft-day steal Reid Boucher who has rocketed his way up the prospect rankings with uncanny goal-scoring acumen.
Ducks Grade: C
In a draft loaded with stud defensive defensemen and high-upside left wings and centers, the Ducks organization is still weak in all of those areas, choosing instead to take players who are lesser versions of areas they are already strong in. While it is always wise for a team to take the best available player (BPA), strong arguments could be made (especially in the first round) that Anaheim did not accomplish that goal.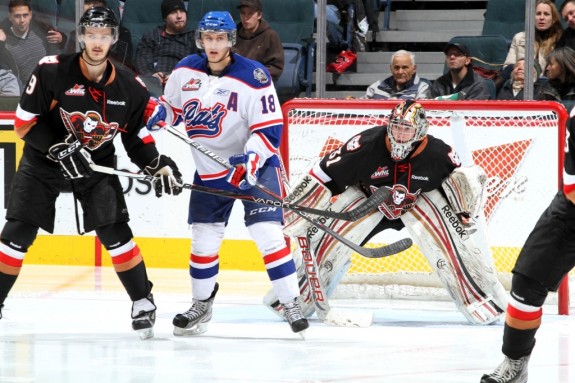 Calgary Flames
1st Round: C Sean Monahan (6)
1st Round: LW Emile Poirier (22)
1st Round: LW Morgan Klimchuk (28)
3rd Round: D Keegan Kanzig (67)
Late Round Sleeper? D Rushan Rafikov (187)
The draft began with a great deal of talk that the Flames were willing to swap their 6th overall pick to Boston in exchange for RW Tyler Seguin, but wisely Calgary refrained from such a foolish move. Instead, they shrewdly selected Sean Monahan, a superior talent to Seguin at a more crucial position. The Flames have not had a true #1 center since their halcyon days of Nieuwendyk and Gilmour, and Monahan is the perfect combination of size and athleticism, offensive and defensive ability, heart and brains.
GM Jay Feaster's goodwill with the Red Mile faithful lasted approximately 16 picks, when at #22 the Flames went off the proverbial board by drafting Emile Poirier, an agitator projected mostly as a second or third-liner and ranked as low as #79 overall by the ISS. This bad will lasted all of six picks, when the Flames selected another left wing, native Calgary high-upside left wing Morgan Klimchuk, an extremely intelligent young man with a terrific shot and goal-scoring touch.
It was likely heart-attack preventing for the Flames fanatics that Calgary did not pick again until the third round, when they took Keegan Kanzig, a man with a terrific name, a hulking 6'7″ frame, and a not-surprising penchant for bone-crushing checks and fisticuffs which make him valuable in the NHL game despite no discernible offensive upside.
The Flames tabbed another rearguard with sleeper potential in the sixth when they took ultra-competitive Russian blueliner Rushan Rafikov, a player with NHL size projectable to a future third-pairing role.
Flames Grade: A-
The Monahan and Klimchuk picks were downright terrific — both players ooze character and skill and will be top-line fixtures in Calgary for years to come. Though the Poirier and Kanzig picks were met with less fanfare, they are both types of players NHL teams need to win in the post-season. The Flames only lost points for failing to address their prospect pipeline weaknesses on the blueline and between the pipes despite having a trio of first-round picks.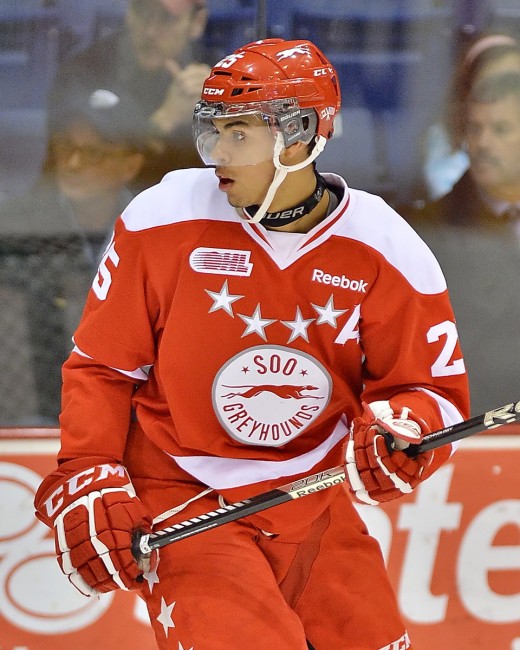 1st Round: D Darnell Nurse (7)
2nd Round: RW Marc-Oliver Roy (56)
3rd Round: C Bogdan Yakimov (83)
3rd Round: LW Anton Slepyshev (88)
Late Round Sleeper? RW Jackson Houck (94)
Many rumors swirling around the draft had the Oilers trying to pry Cory Schneider from divisional rival Vancouver, but they never materialized. During the draft there was a great deal of talk concerning Edmonton acquiring Braydon Coburn, but that never materialized either. What actually did materialize? One hell of a great draft for the Edmonton Oilers.
Following years of stockpiling high draft choices and selecting prodigally talented forwards, the Oilers entered the 2013 draft lacking shutdown defensive defensemen and physical centers with size. With the seventh overall pick Edmonton addressed most of that, selecting Darnell Nurse, a brutal physical force on the blueline with an almost supernatural level of on-ice determination and a burgeoning offensive game. Though a couple years away from the NHL, Nurse can be the Scott Stevens-type the Oilers have long coveted on the back-line.
In the second the Oil tabbed Roy, a hard-working winger not afraid to get his hands dirty in the crease or the corners, a necessary compliment to Edmonton's cache of young skill forwards. It was looking like a very good draft, but in the third round Oilers' GM Craig MacTavish made it a great one by taking two of the 2013 draft's best sleepers in Yakimov and Slepyshev.
Yakimov hails from the same Nizhnekamsk hometown as Oilers' scoring prodigy Nail Yakupov, but plays a very different game. 6'4″ and well over 200 lbs. with a heavy shot, Yakimov plays a proto-Canadian North/South style and loves to get physical in the corners and the net-mouth. He is potentially a perfect compliment as the Oilers' #2 center behind the skill game of Ryan Nugent-Hopkins.
Slepyshev has been compared to Radim Vrbata with his NHL size and top-line skill-set. Although under contract to the KHL, if he comes to the NHL in a couple of years they may be able to ice an all-Russian second line of Yakimov-Slepyshev-Yakupov behind a multi-talented first line of Nugent-Hopkins-Hall-Eberle.
The Oilers weren't done yet, again addressing their desire for more physicality up front with the steal of Houck in the fourth, a cannon-ball of a winger who hits first and never asks questions whatsoever. Houck also has some offensive upside and could end up being a David Clarkson-type player.
Oilers Grade: A
Edmonton addressed their top needs for a shutdown physical D, size and skill up the middle, and banging, crease-crashing forwards with value picks in virtually every round. This team is very close to becoming a perennial contender.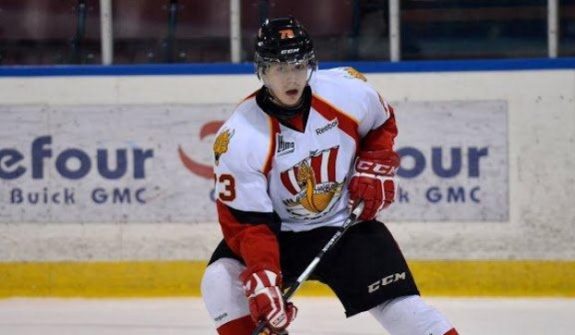 Los Angeles Kings
2nd Round: RW Valentin Zykov
Late Round Sleeper? RW Hudson Fasching
The Kings entered the 2013 draft with not much fanfare, no picks until 57th overall late in the second round. Considering that, what they left the draft with was quite impressive. The most glaring forward to slip out of the first round was without a doubt Valentin Zykov. A hard-nosed, power forward with a ridiculous wrist shot and the ability to get hot and score seemingly at will, it is hard to fathom Zykov not blossoming into a 30+ goal first liner at the NHL level. Are NHL teams really so daft as to be scared off by Russian-ness? Far be it from me to say, but if, say, Winnipeg took this kid at #13 I would've have said, "Great pick!"
Instead, the 37th pick rolled around and Zykov was still bafflingly on the board. The Kings rolled the dice, trading up with Edmonton to tab this blue-chipper in the early second round. It cost the Kings their third-rounder to move up for Zykov, but in the fourth round the Kings nabbed another huge talent who slipped under the draft radar.
Hudson Fasching is a 6'3″, 210 lb kid who can skate, shoot and has one of the most impeccable characters in the hockey world. Having helped raise two younger siblings with a rare mitochondrial disease which renders them unable to walk or talk, Fasching may not have had as much time as other players his age to work on improving his game. His athletic talents, however, are beyond reproach. An intelligent player with the ability to shine on the power play and the penalty kill, Fasching would have been a great pick in the early second round, as indicated by the ISS who ranked him #40 overall.
Kings Grade: B+
Difficult to give a team with no first rounder an A, but the Kings entered the draft with nothing but a late second and third rounder in the top 90 picks and left with a mid-first round value in Zykov and an early second-round value in Fasching. The Los Angeles front office must be thrilled with how the draft turned out for them.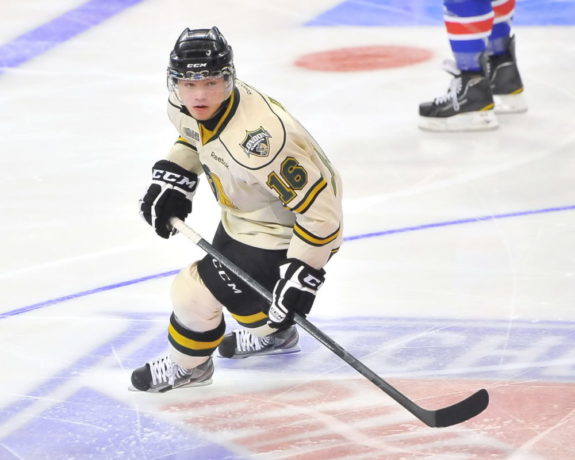 Phoenix Coyotes
1st Round: C/LW Max Domi (12)
2nd Round: C Laurent Dauphin (39)
3rd Round: C/LW Y.P. Laplante (62)
Late Round Sleeper? G Brendan Burke (163)
The Coyotes entered the 2013 draft with a clear organizational need at center and wasted no time addressing it. Unlike his pugilistic father, Max Domi has sublime puck-handling and passing skills and lacks only optimum NHL size, though his fearlessness and low center of gravity (5'9″, 195) tend to overcome that. Clearly, the Coyotes believe in Domi's upside as a potential top-line pivot, and had they passed on him consensus was that Winnipeg was set to jump on him with the very next pick.
In the second round, the 'Yotes traded up from #42 to #39 to ensure themselves of the ability to select another skilled center in Dauphin. Though rail-thin, Dauphin is another terrific puck-distributor and intriguing talent with top-line upside if he can build up his core strength to endure the rigors of the NHL.
Laplante is a different type of forward, a hard-working checker and antagonist who is a low-risk prospect for a future Phoenix checking line. The Coyotes took a nice flyer in the sixth round on netminder Brendan Burke, the son of ex-NHL goaltender Sean Burke, who has a large, projectable frame and a wicked glove hand.
Coyotes Grade: B+
Phoenix entered the draft needing a top-line center and may have left with a pair of them. Neither Domi nor Dauphin are can't-miss, but Domi has plied his trade at the NHL conveyor belt known as the London Knights and has outstanding offensive upside. Another thirty pounds of muscle on Dauphin's lanky frame and teams might wonder a few years down the line how they let him slip into the second round.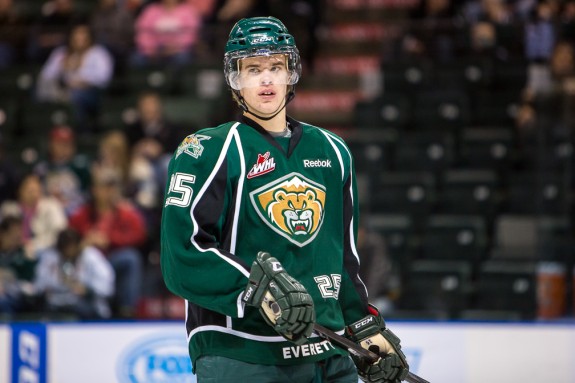 San Jose Sharks
1st Round: D Mirco Mueller (18)
2nd Round: LW Garbryel Paquin-Boudreau (49)
Late Round Sleeper? D Gage Ausmus (151)
The Sharks entered a very deep 2013 draft with the 20th overall pick and three second rounders. With a depleted prospect pool from years of competing for Western Conference supremacy, it seemed the perfect opportunity for a quick rebuild. It was not outlandish when, at the outset of the draft, it was announced that San Jose traded one of their second rounders for Penguins' checking-liner Tyler Kennedy. It did however seem strange when the Sharks traded a second second-round pick to move up two spots, from #20 overall to #18. It was a steep price to pay in a deep draft to move up just two spots, and soon it was announced that the Sharks selected Mirco Mueller, a two-way defenseman with some late helium among certain draft pundits.
I, for one, was baffled. The Sharks likely could have traded down  a half-dozen spots and still had Mueller. Giving up a second rounder to move up for a player they certainly could have had if they stood pat? Simply mystifying. With their three second-rounders whittled down to just the #49 pick, it seemed increasingly crucial that San Jose draft a can't-miss or high-upside forward. But with potential stud forwards like Bailey, Lehkonen, Sanford, Buchnevich and Lodge on the board the Sharks went way off it, taking Paquin-Boudreau, an undersized checking-line center. Though hulking rearguard Ausmus may have been a late steal with the 151st pick, by then it may have been too late.
Sharks Grade: F
It is difficult for even the most ardent Sharks fan to rationalize that they did not have the worst draft out of all 30 NHL teams. Mueller has potential as a second-pairing defenseman, but what second-pairing defenseman is worth the 20th and 58th overall picks? Paquin-Boudreau could have been have in the third or fourth round. In the 50th pick which San Jose traded away they could have taken defenseman Dillon Heatherington, whom many hockey pundits would argue has higher upside than Mueller. Though I personally find it difficult to lambaste a team on hockey's most optimistic day, there is no way to argue that San Jose's draft was anything less than a complete and utter abomination.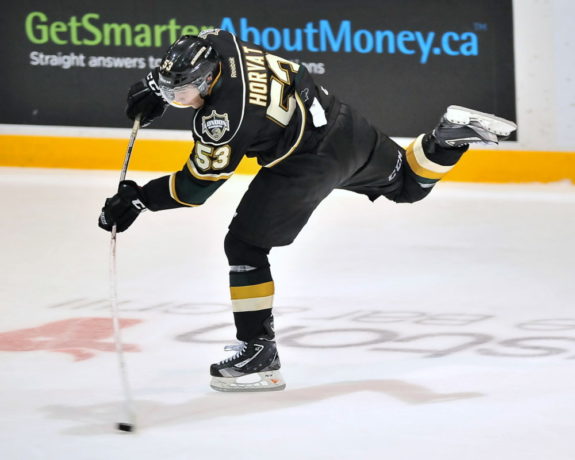 Vancouver Canucks
1st Round: C Bo Horvat (9)
1st Round: LW/RW Hunter Shinkaruk (24)
3rd Round: C Cole Cassels (85)
Late Round Sleeper? D Jordan Subban (115)
The Canucks hit the headlines quickly when the announcement was made early in the first round that Vancouver had traded goaltender Cory Schneider for the home-town Devils' ninth overall pick in the draft. Whether or not Vancouver fans like the trade, it is difficult not to like their first selection: Bo Horvat is quite simply the most complete two-way center to come out of the NHL entry draft in years. A face-off whiz and absolutely tenacious defender, Horvat has also made a living out of scoring huge goals and is as at home on a scoring line as in a shut-down defensive role. Quite simply, he is the second coming of Patrice Bergeron.
With their own 24th overall pick in the first round, the Canucks were shocked to find WHL scoring ace Hunter Shinkaruk still on the board. A fierce  competitor with incredible puck skills and first-line upside, Shinkaruk may not have been worthy of the top-ten pick some predicted, but he was certainly a huge value late in the first round.
Son of ex-Canuck Andrew, Cole Cassels projects to a depth center and may have been available had the Canucks waited until the fourth round. Still, though lacking his father's playmaking acumen, he has the character and talent to one day make the NHL. The Canucks took another legacy player in the fourth round with a shrewd selection of Jordan Subban — not as big or defensively sound as his Norris Trophy-winning brother, but an offensive force who compares at the same age to retired all-star Brian Rafalski.
Canucks Grade: A-
Throw out whether you thought the Canucks got apt value for Schneider: they had a terrific draft. Horvat is, quite simply, the type of player a team needs to win Stanley Cups. Shinkaruk has incredible offensive upside for where the Canucks took him at 24th overall. And Subban is one of the better sleepers in the draft — a player with as much offensive upside on the blueline as Shea Theodore, who was taken nearly 100 picks earlier.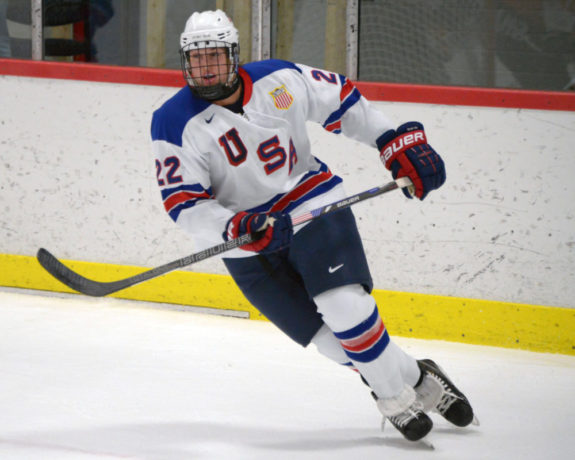 Conference A Awards:
Best Forward: Sean Monahan, Calgary
Best Defenseman: Darnell Nurse, Edmonton
Best Value Pick: Valentin Zykov, Los Angeles
Head Scratcher Pick: Shea Theodore, Anaheim
Best Late-round Sleeper: Hudson Fasching, Los Angeles
Agree? Disagree? Feel free to comment in the allotted section below or hit me up on Twitter: @StIves72