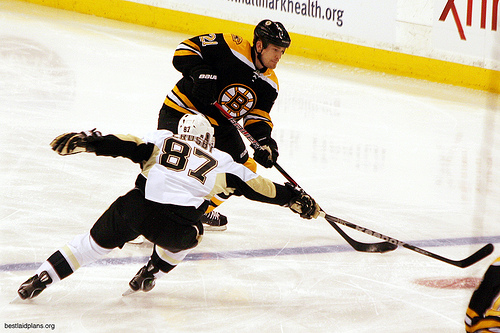 Andrew Ference meant a lot to the Boston Bruins. A lot. So, it came as some sort of a shock when the Boston Bruins announced that they would not re-sign him for the 2013-14 season. Ference was a leader on the ice and kept his teammates loose of the ice. Simply put, it is going to be very difficult to replace all the hats that Ference wore.
The Bruins do have some in-house options, and possibly free agency but not likely, on how to replace the blueliner affectionately known as "Ferknuckle".
Dougie Hamilton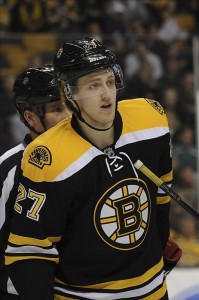 The final selection from the stockpile of picks received from Toronto for Phil Kessel, this may be the time that Dougie Hamilton will get his chance.
Although he was a healthy scratch for the remainder of the playoffs following the Bruins Game 4 loss to the Rangers, Hamilton played 42 of 48 games this season. Hamilton has shown flashes of brilliance at times, but can frustrate you at times. Perhaps you can chalk that up to being a rookie, but Hamilton needs to step it up if the Claude Julien gives him a bigger role with the absence of Ference.
During his time in the playoffs as a healthy scratch, Hamilton watched his teammates and learned from them and made him eager to start his second year. Hamilton said about sitting out those eleven games,
"I think I learned probably more throughout the year playing, but I think in the playoffs as well just watching the games and it's definitely different from up there. It's a different game in the playoffs as well, so I think it's a good experience to be able to go through at such a young age, and I think it'll help me in the future."
That's what Bruins fans like to hear and Hamilton is expecting to play better in a full 82 game NHL season next season. In my opinion, Hamilton will break out and show everyone what he is made of.
Torey Krug
Torey Krug has definitely played his way into the Bruins lineup for next season. Krug came out of nowhere and played at a torrid pace in the Stanley Cup Playoffs, especially in the Rangers series scoring five points in five games. After that though, he was pretty much non-existent scoring just one more point, an assist in Game 2 of the Eastern Conference Finals.
Krug has shown that he has a lot of talent and can play under the Bruins system. However, Krug has only played in three regular season games in his career, so, the chance of being a flash-in-the-pan is very much there. Krug, much like Andrew Ference, is a leader. Krug was captain of the Michigan State Spartans and has a great work ethic that fits in very well with these Bruins.
Krug has absolutely played his way into the lineup, but can he take that momentum and confidence he built up during the playoffs and use that next season? Claude Julien and the Bruins are hoping so.
Matt Bartkowski
Matt Bartkowski isn't supposed to be here. He's supposed to be in Calgary and, by all accounts, he was. However, Jarome Iginla spurned the Bruins in favor of the Pittsburgh Penguins and Bartkowski's future in the Bruins system was saved. Good thing for them too because Bartkowski scored a goal in a very tight and miraculous comeback in Game 7 against the Toronto Maple Leafs.
Bartkowski isn't going to wow you with his skills, but he can be a solid player that the Bruins could utilize. Bruins fans got a look at Bartkowski's tough as nails play during the final month when the injury bug hit Boston.  He recorded his first two career NHL points during his time his the Bruins this season.
Bartkowski is still young, but I think he's only going to develop to become a back end defenseman in his NHL career. I think he starts the season in Providence and will see a few games with Boston next season. He'll see some playing time, but he's not the answer for replacing Andrew Ference.
Free Agency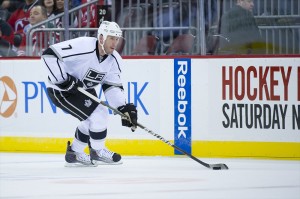 The Bruins could also look at free agency to fill the gap. However, it is slim pickings for defensemen this season, in fact the best one on the market is, well, Andrew Ference.
The other options could be the Los Angeles Kings' Rob Scuderi and the Detroit Red Wings' Ian White. However, both Scuderi and White each made more than Ference last season. Ference made $2,250,000 last season compared to Scuderi's nearly $3.5M and White's $2.875M. If the Bruins couldn't afford to re-sign Andrew Ference, they sure aren't going to go out and sign Scuderi or White.
The Winnipeg Jets' Ron Hainsey is another option, but he made even more than Scuderi did, so, forget that. It is highly unlikely that the Bruins spend money on a defenseman with other pressing issues like replacing Nathan Horton and trying to lock Tuukka Rask into a long term deal.
What do you think the Bruins' best bet is to replace Andrew Ference is? Comment below or send me a Tweet, @MarkWGraham