Heading into the 2013 NHL Entry Draft, pundits everywhere declared this draft class perhaps the deepest since a storied 2003 draft class that has produced 18 All-Stars to date.
Of special note to the Philadelphia Flyers was the deep stock of defense prospects available in the loaded pool of teenagers.
After a rough shortened season that saw inexperienced and, frankly, unprepared names like Oliver Lauridsen, Brandon Manning and Matt Konan skating in the Flyers' lineup, it was clear that the draft would be the prime means to improve a lackluster blue line.
The Flyers entered the draft with the eleventh selection of the first round. While Seth Jones surprisingly fell all the way to Nashville at pick number four, but other consensus top prospects Darnell Nurse and Rasmus Ristolainen went to Edmonton and Buffalo with picks seven and eight respectively.
With the top three defensemen off the board, the Flyers were discouraged but certainly nowhere near out of options.
Among the names being barked out through the Twitter-sphere were those of Brandon Wheat King prospect Ryan Pulock and London Knight and Russian-born Nikita Zadorov.
Flyers Decide on Morin, Continue to Think Big
Despite the overwhelming support for the prior two prospects, the Flyers were deeply intrigued in a big defenseman. Perhaps watching Zdeno Chara participate in the Stanley Cup Final for the second time in three seasons drew some of the inclination.
The Flyers landed on Rimouski Oceanic stalwart Samuel Morin. Standing at 6-foot-6, 202 pounds, the soon to be 18-year old played the expected role of stay-at-home banger given his size, registering 16 points and 117 penalty minutes in 46 games this past season.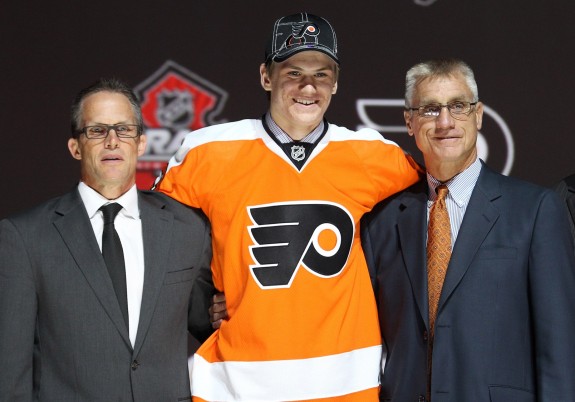 Broad Street Hockey compiled a list of pros and cons from various experts and scouts. It seems like a relatively safe bet that Morin can be a sound defensive zone player, but his footspeed and offensive potential are the two factors that will determine whether his 11th overall pick placement was warranted.
The decision was met with great angst in the Flyers' fan community. With four regular defensemen already 6-foot-2 or taller on roster (Andrej Meszaros, Braydon Coburn, Nicklas Grossman, Luke Schenn), Pulock was a widely preferred option, if nothing else, to provide an element of offense in the Flyers' future.
Perhaps the 2012 drafting of Union College's offensive blueliner Shayne Gostisbehere gave Paul Holmgren the confidence to look into a bigger defenseman in 2013.
What may win Morin over with Flyers fans is his idolization of Chris Pronger and his hopes to emulate the future Hall of Famer.
This vicious display of fisticuffs against Alex Pawelczyk of the Shawinigan Cataractes, to some people's surprise, might be met with smiles to Philadelphia fans.
Continuing the Defense Trend
The Flyers were not content with one defenseman, however, as they should not have been. Other than Gostisbehere, there are no high-profile prospects on the blue line anywhere in the Flyers' farm system, and with Luke Schenn as the only regular defenseman under age 28, there is no doubt the Flyers needed the help long-term.
Quickly below you will see a recap of the Flyers' draft picks. Three more blue line prospects join Morin as newest properties of the orange and black.
D Robert Hagg: 2nd round, 41st overall (Modo JR, Sweden)
The 6-foot-2, 193-pound Swede was thought to be a late first-round talent, but he fell to the second and the Flyers were quick to take him.
This video montage from his time on Sweden's World Junior Championship team shows Hagg's composed style of play.
He certainly is nowhere near the physical specimen that Morin is, but Hagg has more of a knack on the offensive side of the puck, having registered 24 points for Modo's junior team in Sweden. You may recognize Modo as being the same organization that produced the likes of Swedish forward greats Markus Naslund and Peter Forsberg.
LW Tyrell Goulbourne: 3rd round, 72nd overall (Kelowna, WHL)
This 5-foot-10 inch pest screams Zac Rinaldo in terms of play style. He will not light up anyone's eyes scoring-wise (27 points in 64 GP w/ Kelowna). However, his toughness cannot be questioned, and 135 penalty minutes support it.
This display against a much bigger opponent should get Flyers fans salivating.
D Terrance Amorosa: 5th round, 132nd overall (Holderness HS, NH, USA) 
This future New Hampshire commit may spend time in the USHL this upcoming season. The unheralded Kirkland, QC native scored nine goals and added 13 assists with the Holderness School in New Hampshire last season over 27 games.
G Merrick Madsen: 6th round, 162nd overall (Proctor Academy, NH, USA)
Sticking in the state of New Hampshire, the Flyers chose the future Harvard goaltender with their 6th round selection.
Broad Street Hockey provides some information on what to expect from Madsen. For a 6-foot-4 inch raw prospect, his lateral movement is seen as a strength, but the glove hand leaves something to be desired.
D David Drake: 7th round, 192nd overall (Des Moines, USHL)
Listed at 6-foot-4 but only 170 pounds, it is easy to see why Drake is a seventh round selection. He obviously would need to bulk up to be a force at the next level. He racked up just six points and 16 penalty minutes in 40 games with the Chicago Fury of the MWEHL last season. He will be playing for the Des Moines Buccaneers of the USHL this season.
Ryan Smith is a proud graduate of Penn State University, having attained a degree in broadcast journalism. His experience in hockey is extensive, having covered PSU Men's ice hockey for USCHO.com as an Arena Reporter for its first NCAA season in 2012-2013 while also serving as Penn State Athletics' voice of women's ice hockey home games. He was also the sports director for Penn State's ComRadio, a student based radio station endorsed by the College of Communications. In that position, he broadcasted Penn State hockey since for four years. He can be followed on Twitter @RyanSmithHockey.